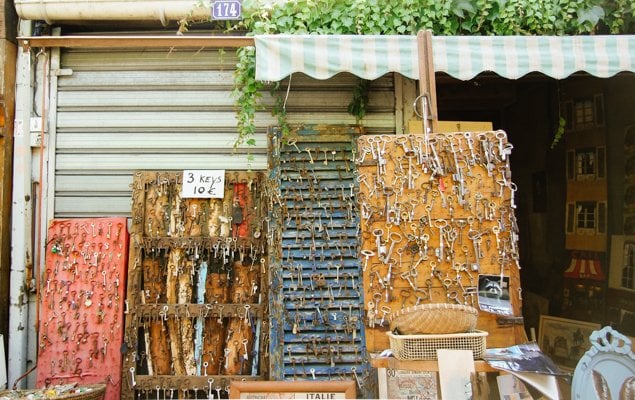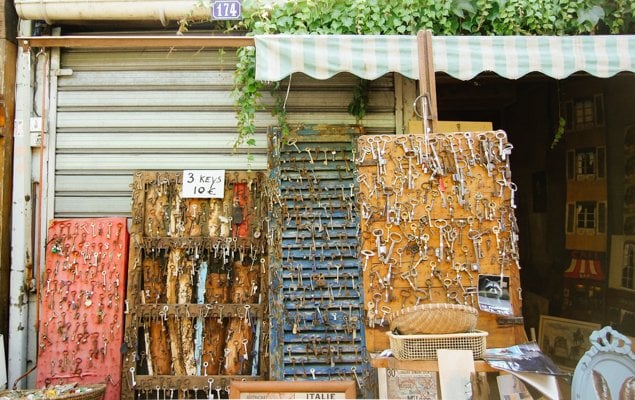 If you love digging through other people's old things or admiring gorgeous French antiques from bygone eras, then you must visit the flea market of Saint-Ouen, also called the Marché aux Puces de Saint-Ouen, or just les Puces, for short. Perched on the northern edge of Paris, all it takes to get there is a metro ride and a short walk.
For being the largest antiques market in the world, it's surprisingly hidden from plain sight. That's why I've put together this step-by-step guide, so you know what to expect. You can always book a taxi or Uber, but it's often easier and quicker to take the metro. It can be confusing and a little intimidating, but if I can get there, anyone can!
The easiest way to get to the Puces is via metro line 4. Get off at the end of the line, station Porte de Clignancourt. Inside the station, look for signs that point you to the right exit for "Marché aux Puces." You can also take line 13 and exit at station Garibaldi – this will drop you on the opposite side of the market, but the directions below are specific to Porte de Clignancourt.
For a quick guide, scroll down to our step-by-step directions below!
I'm not going to lie, the area around Porte de Clignancourt is not what I would call nice. There are lots of street peddlers trying to sell you watches and sunglasses that have most likely been previously stolen. All you have to do is remain focused, make a beeline towards your destination and they won't bother you.
Be sure to keep all your valuables in a securely closed handbag, never in your pockets where they could easily be snatched by a pesky pickpocket. Another tip I like to share with foreigners when traveling in areas like this is to limit your English speaking. If a pickpocket hears you speaking English, they'll assume you're a tourist, and you instantly become a bigger target. But don't worry, violent crime is rare in Paris! Just keep a good hold on your bag and you'll be absolutely fine. Once you make it into the Puces you can relax a little!
When you exit the metro station, you'll see a McDonald's behind you – just walk north, away from the McDonalds, and towards a KFC. You'll also see a highway overpass in the distance – walk towards that.
As you walk towards the rather unattractive overpass, you might see what I like to call the fake flea market. It's a collection of tents that sells mostly cheap, mass-produced junk that's not really worth your time, so keep walking! You're almost there.
The overpass pictured above is known as the Périphérique, the circular highway that loops around the edge of Paris. After you walk one block past it, you'll see a sign that lists the various individual markets that make up the Puces. Turn left on Rue des Rosiers and you've made it to the main artery of the flea market!
My personal favorite market to start with is the Marché Vernaison. The entrances look like little alleyways between buildings that branch off of Rue des Rosiers. Once you step inside, it's like a whole new world!
The Marché Vernaison is filled with unusual knick knacks: tableware, vintage fabric and clothing, beads, buttons, old tools, jewelry boxes, skeleton keys and framed paintings. You can really explore here, get dirty and dig for that special gem.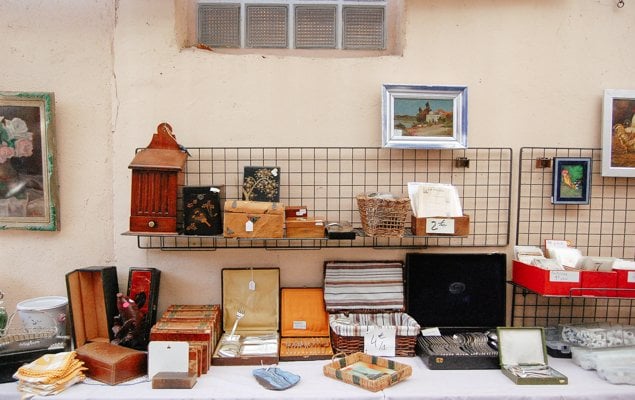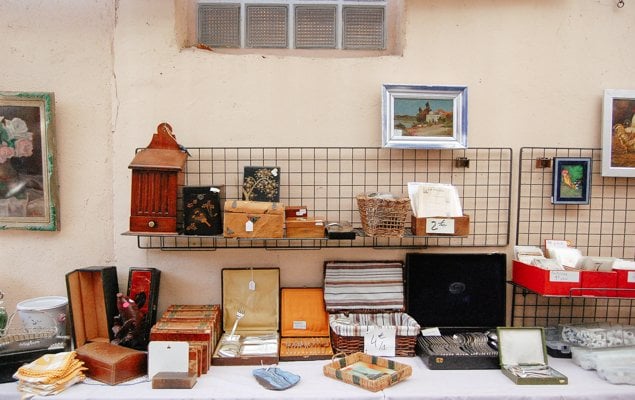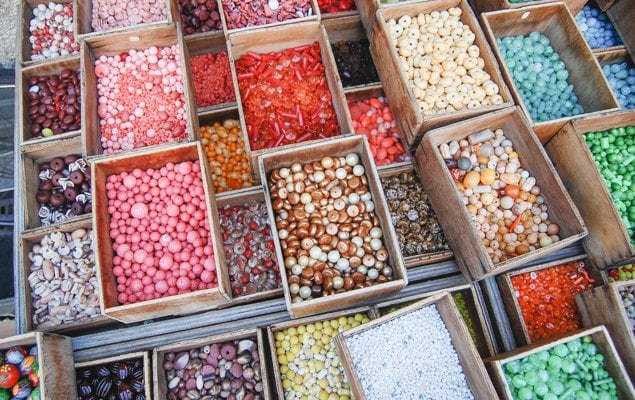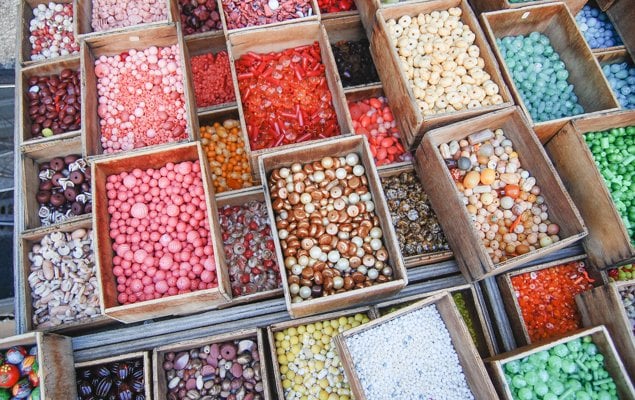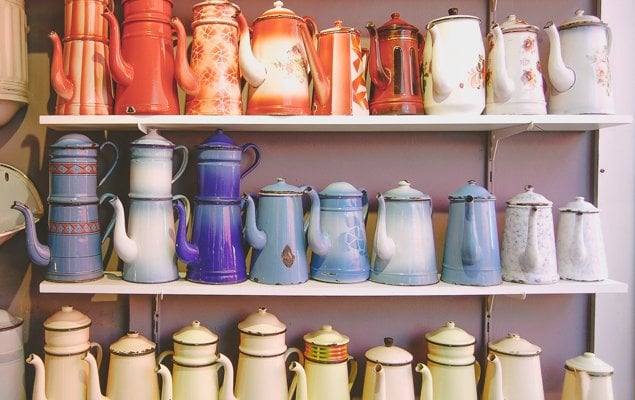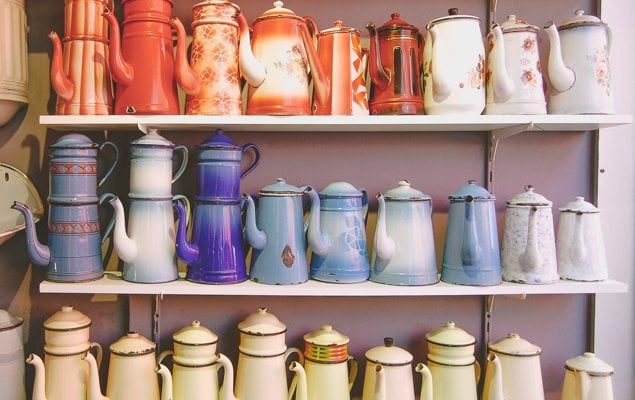 There are 15 separate markets that make up the Puces, each with their own individual character. If you prefer exquisite decorative arts from the 17th century, head to the Marché Paul Bert, which is situated further along Rue des Rosiers. For books, postcards and vintage clothing, head to Le Passage. For bulkier items like mantelpieces, bookshelves and stairs, head to Marché L'Entrepôt. For a more thorough guide to the Puces, see our longer guide here.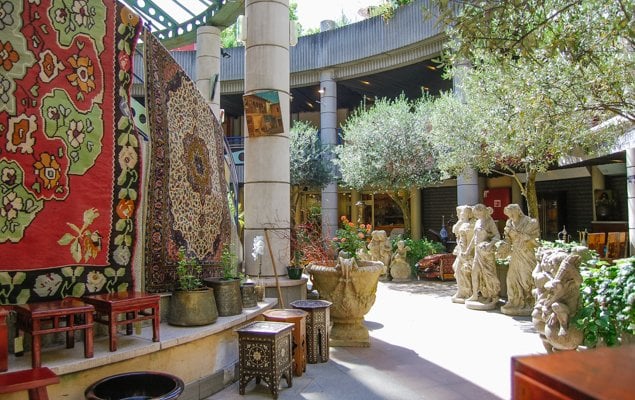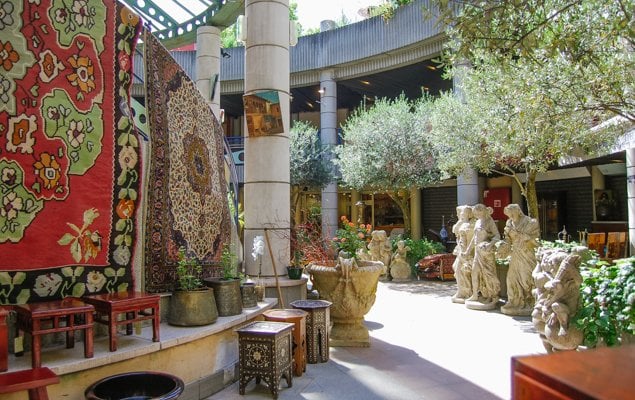 How to get to the Flea Market, step-by-step:
Take metro line 4 to Porte de Clignancourt.
Once you exit the metro station, walk away from McDonalds and towards KFC.
Continue walking in the direction of a highway overpass.
You'll see a bunch of stalls before the overpass – ignore them. It's souvenirs and junk.
Walk under the overpass – looks a bit sketchy but it's fine!
After the overpass, take the second left onto rue des Rosiers.
Visit Marché Vernaison, hidden through alleys on the right side of rue des Rosiers, or keep walking and discover all the other markets!
A little tip from our blogger, Hannah:
If you're feeling hungry after hours of flea marketing, you could certainly stop in at McDonalds or KFC, but I would recommend paying a visit to the La REcyclerie. Housed in a now defunct train station, it's an expansive cafe and coffee shop filled with natural light and quirky, mismatched chairs. Out back, along the old train tracks, they've created an urban farm, complete with vegetable garden and chicken coop. Here's a tip: their filtered American-style coffee is only 1€ per cup!
The Saint-Ouen flea market isn't the only Puces in Paris! Check out our other blog posts:
Treasures & Trinkets at the Vanves Flea Market
Treasure Hunting at the Rue Cler Brocante
_____________
Marché aux Puces de Saint-Ouen (Les Puces)
Information Office: 7 Impasse Simon, 93400 Saint Ouen
Markets: Area between Avenue Michelet, Rue Jean Henri Fabre, and Avenue Gabriel Péri, main thoroughfare along Rue des Rosiers.
Métro : Porte de Clignancourt (ligne 4) / Garibaldi (ligne 13)
Website
Saturday 9:00 a.m. to 6:00 p.m.
Sunday 10:00 a.m. to 6:00 p.m.
Monday 11:00 a.m. to 5:00 p.m.
Reduced activity on Mondays and from August 1st – 15th
La REcyclerie
83 boulevard Ornano, 75018 Paris
Metro: Porte de Clignancourt (ligne 4)
Website
(All images by the Hannah Wilson)