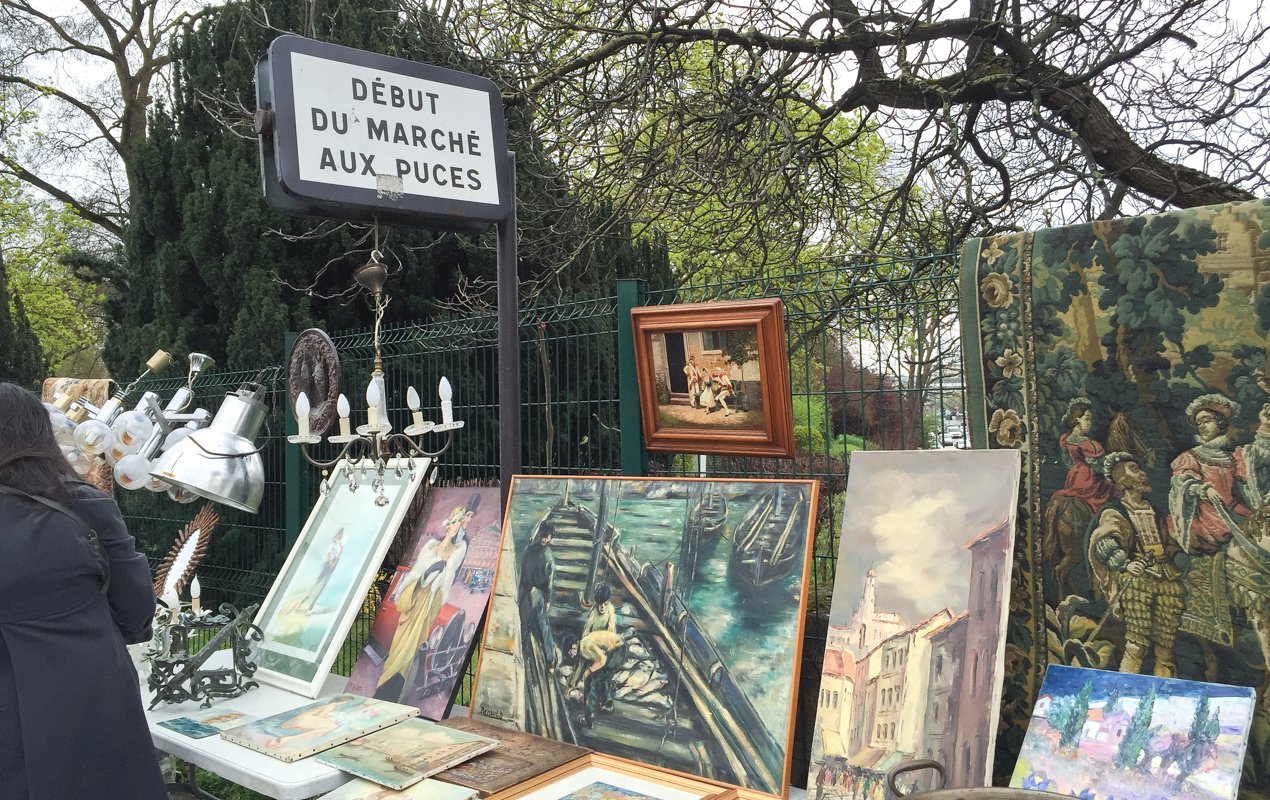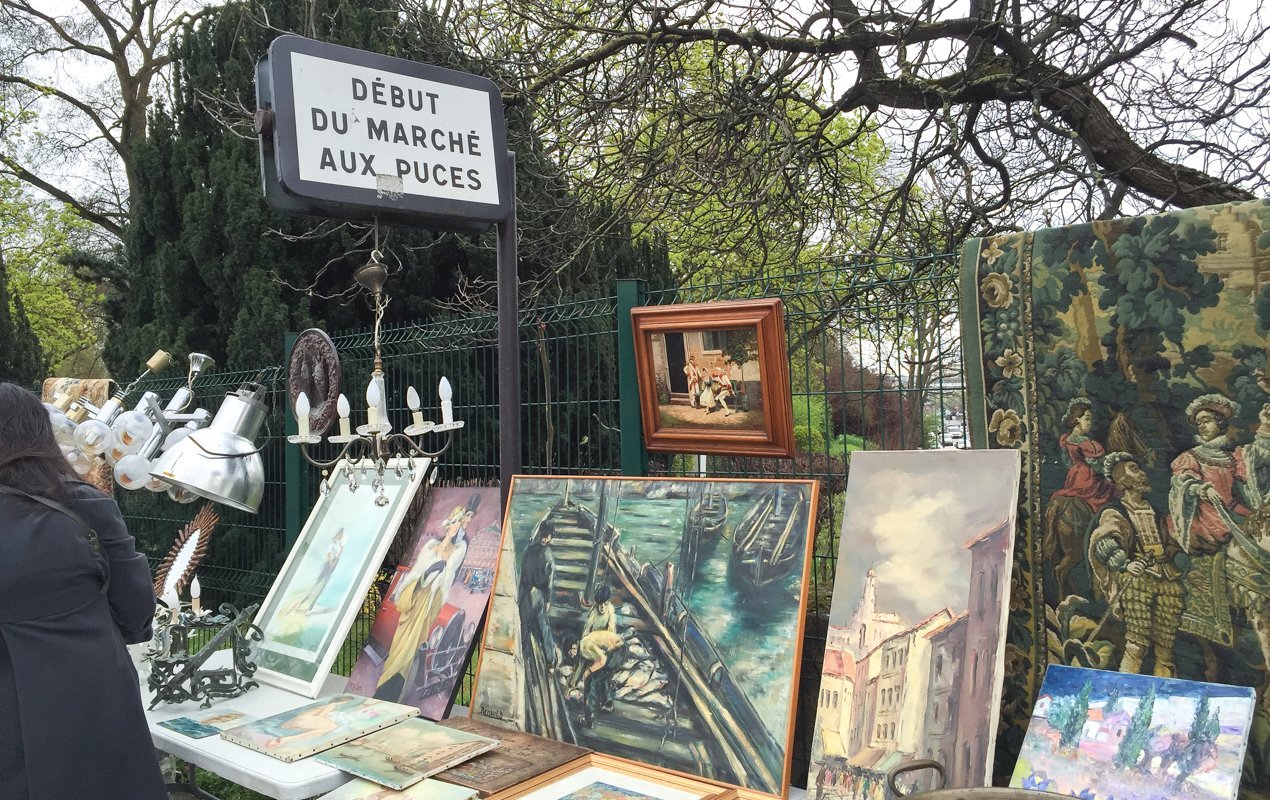 Every couple of months, I love to revisit the two best flea markets in Paris: the Puces de Vanves and the Puces de Clignancourt. Recently, I took new apartment owner, Julie and her daughter Dorothy, on a flea market shopping spree. The mission for the day: find some beautiful paintings and mirrors to adorn the walls of our new apartments, including those at La Place Dauphine.
The Vanves flea market is smaller than the famous Clignancourt market, and a good portion consists of home clearance stuff, but even the junk in Parisian attics consists of more vintage and antique treasures than the average attic of an American suburb! This isn't your average garage sale – there are still some wonderful gems to be found. We started at 9:30 a.m., but we could have started a bit earlier to beat the dealers.
Here I am combing thru boxes from a house clearout — dealers head for these stands first, hoping for a hidden treasure. I didn't see anything that I could use, but some dealers were excited to find some carvings from church pews and vintage clothing.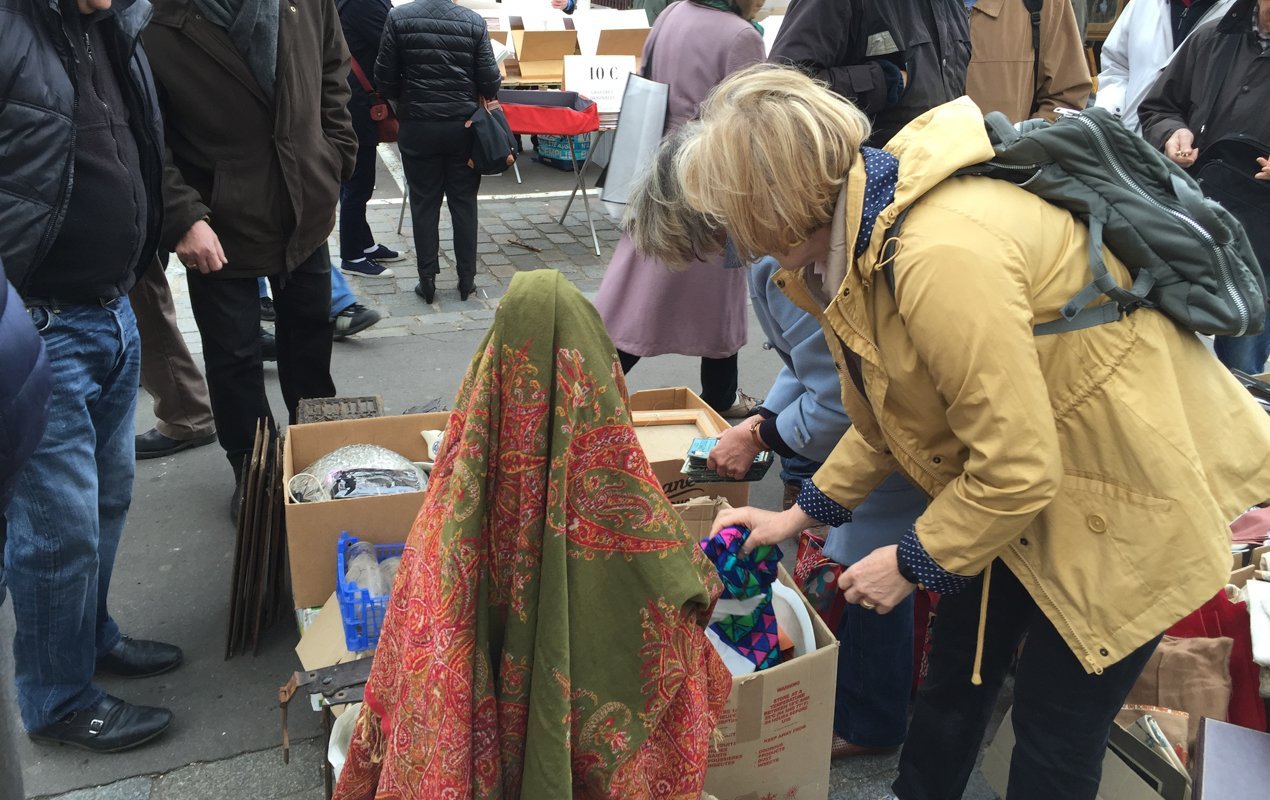 I combed through the paintings at dozens of stalls and found some interesting gouaches. I plan to add mats and larger frames to really make them stand out. I even found a painting of the Pont Neuf, perfect for La Place Dauphine, since the building is just steps away from that historical bridge!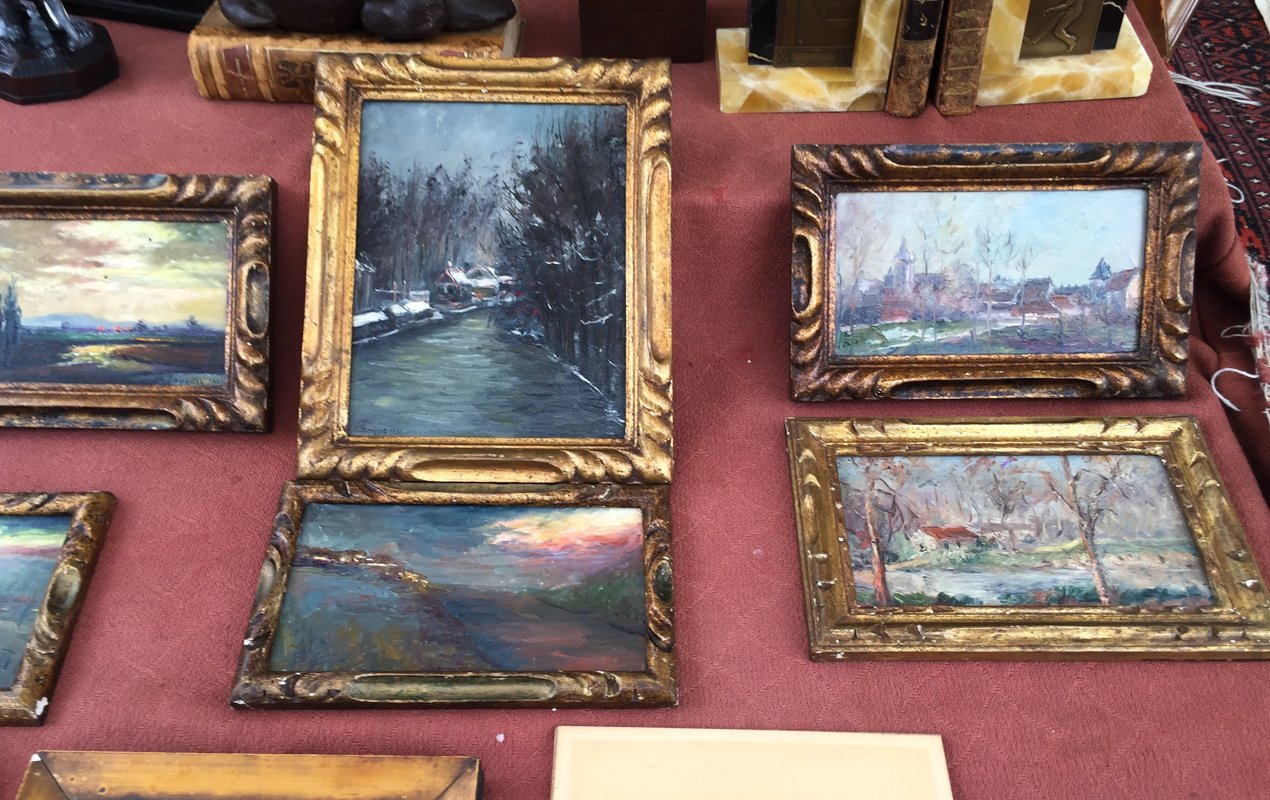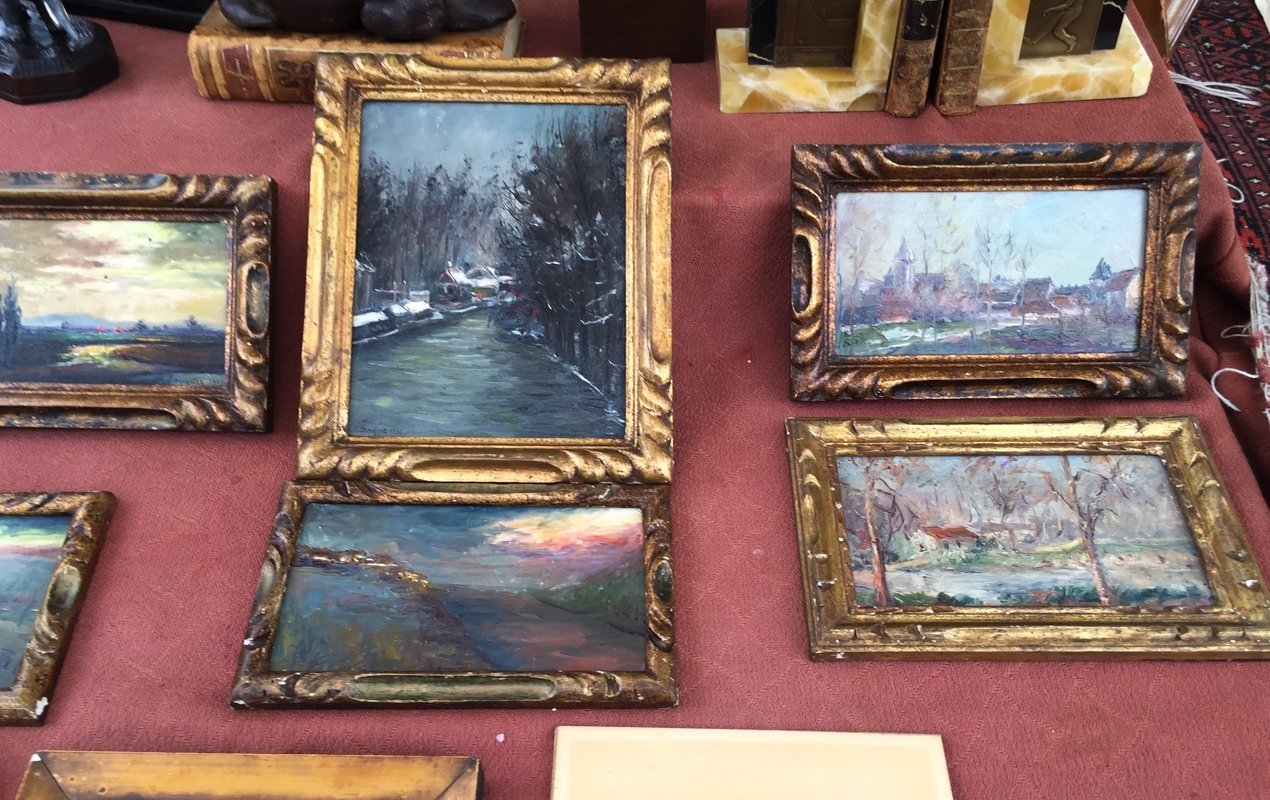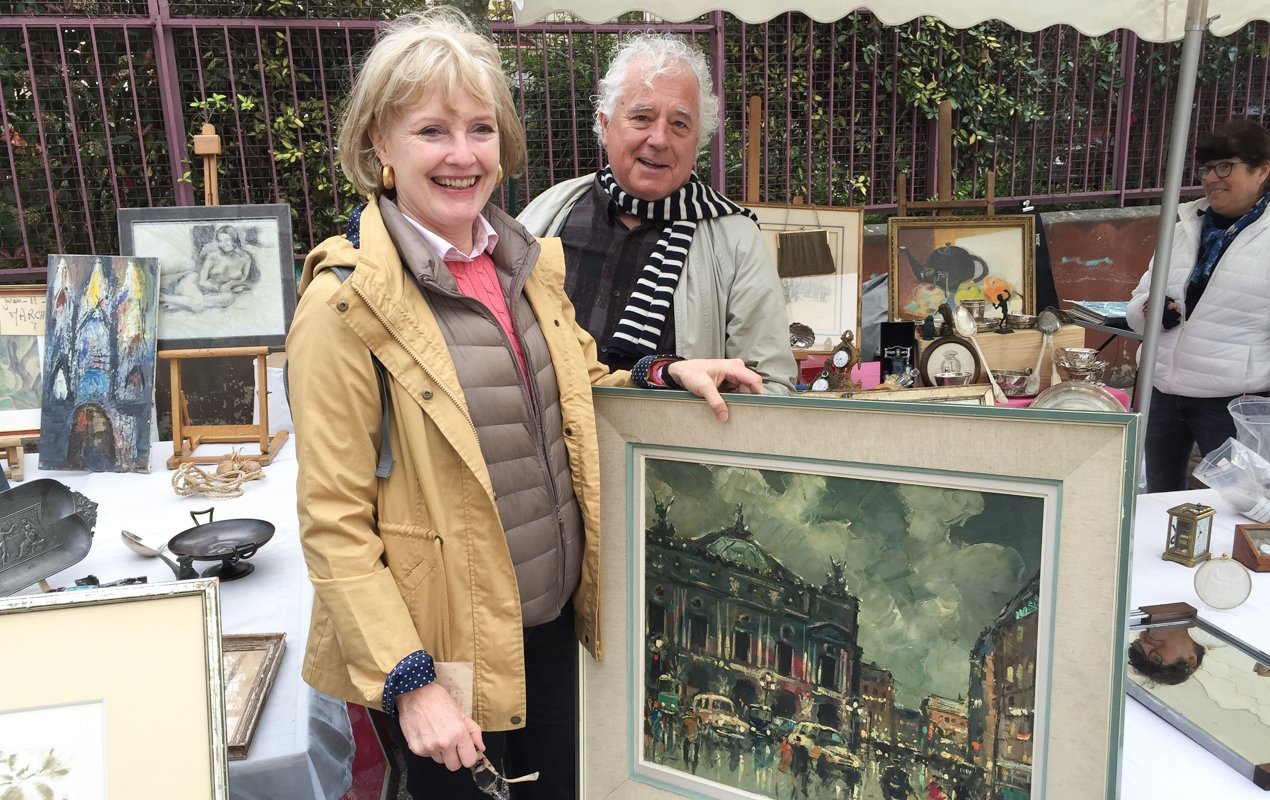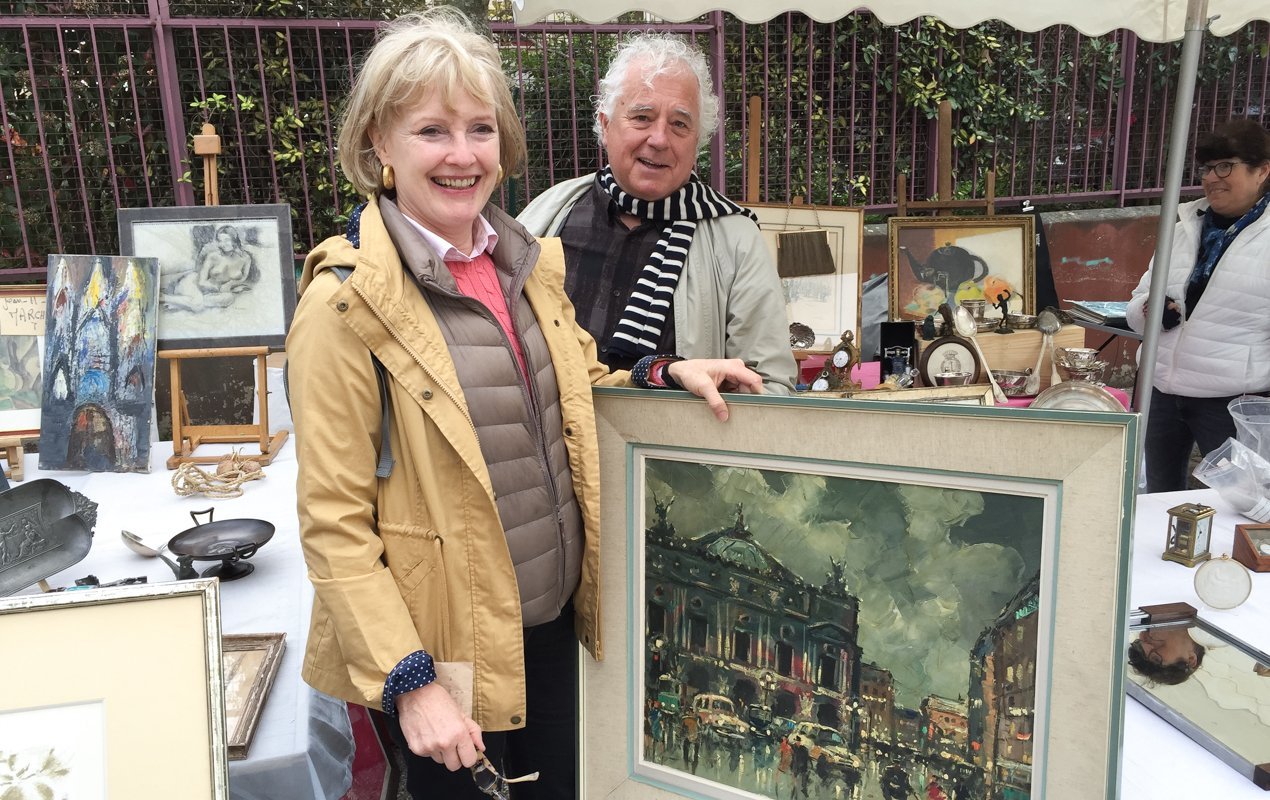 Afterwards, we headed to the largest flea market in Paris on the opposite side of town, the Marché aux Puces de Clignancourt, also known as the Puces de Saint Ouen. Our mission at this market was to find some beautiful antique mirrors for Julie's new apartment, the Monthelie, which is situated just one block away from the Eiffel Tower. She was so happy to find what she was looking for: simple gold frames at excellent prices!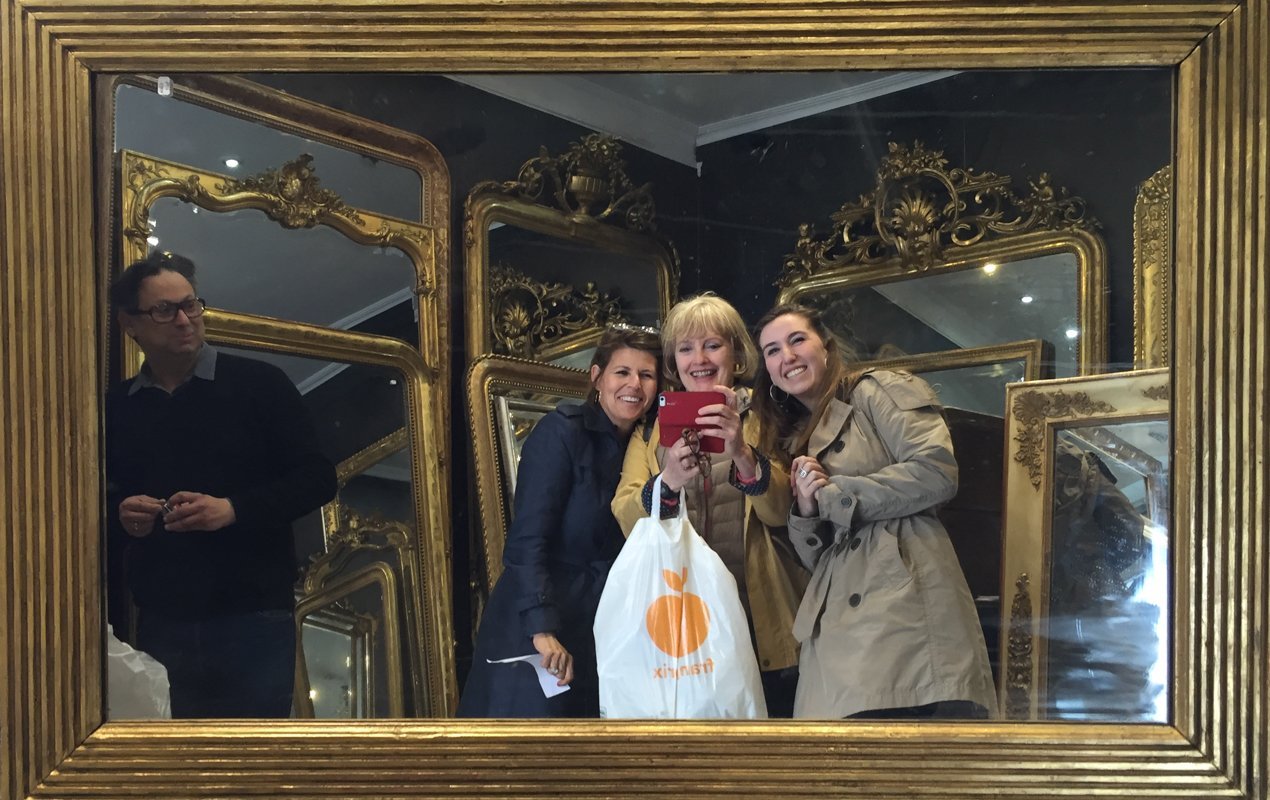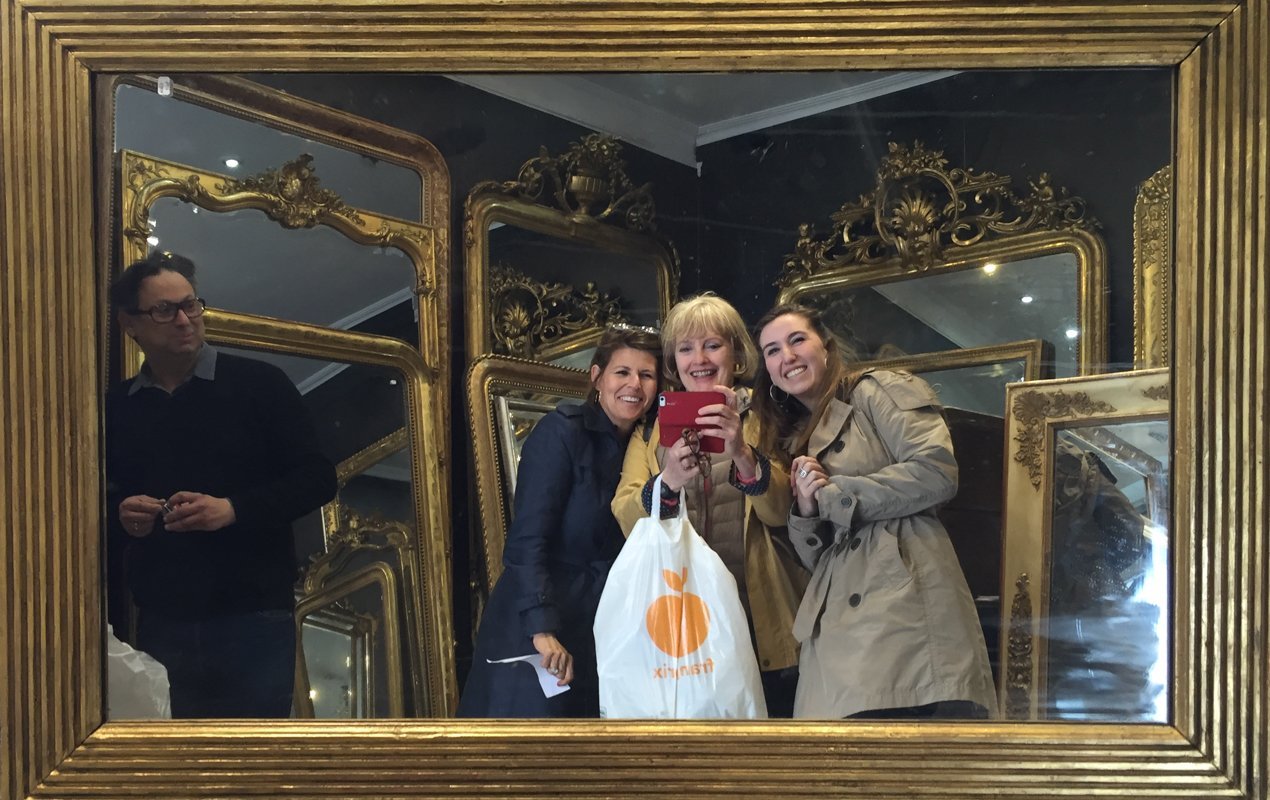 After enjoying a delicious lunch, we had enough energy to wander through dozens of allies before heading home. In addition to the mirrors, Julie found an old oak farm table for her dining room. All in all, it was a very successful flea market day!
Even if you don't end up buying anything, simply browsing through all the fascinating objects is always so much fun. You never know what you'll discover!
If you're interested in buying antiques, vintage clothing, antique jewelry – even 30s Art Deco or 70s modern –  now is the time. The slowdown in Europe and China has meant fewer buyers from those locations. The strong dollar means prices are 20% lower than a few years ago, and the dealers are hungry to make a deal. You couldn't do better than now!
I simply adore the Paris flea markets! Check out all of our other blog post on the topic:
_____________
Marché aux Puces de Vanves
14th Arrondissement, avenue Marc Sangnierand and avenue Georges Lafenestre
Metro Porte de Vanves (line 13)
Bus 58 & 95
Tram T3
Website
Marché aux Puces de Clignancourt/St. Ouen
Information Office: 7 Impasse Simon, 93400 Saint Ouen
Markets: Area between Avenue Michelet, Rue Jean Henri Fabre, and Avenue Gabriel Péri, main thoroughfare along Rue des Rosiers.
Métro : Porte de Clignancourt (ligne 4) / Garibaldi (ligne 13)
Website
(All images by the Author)