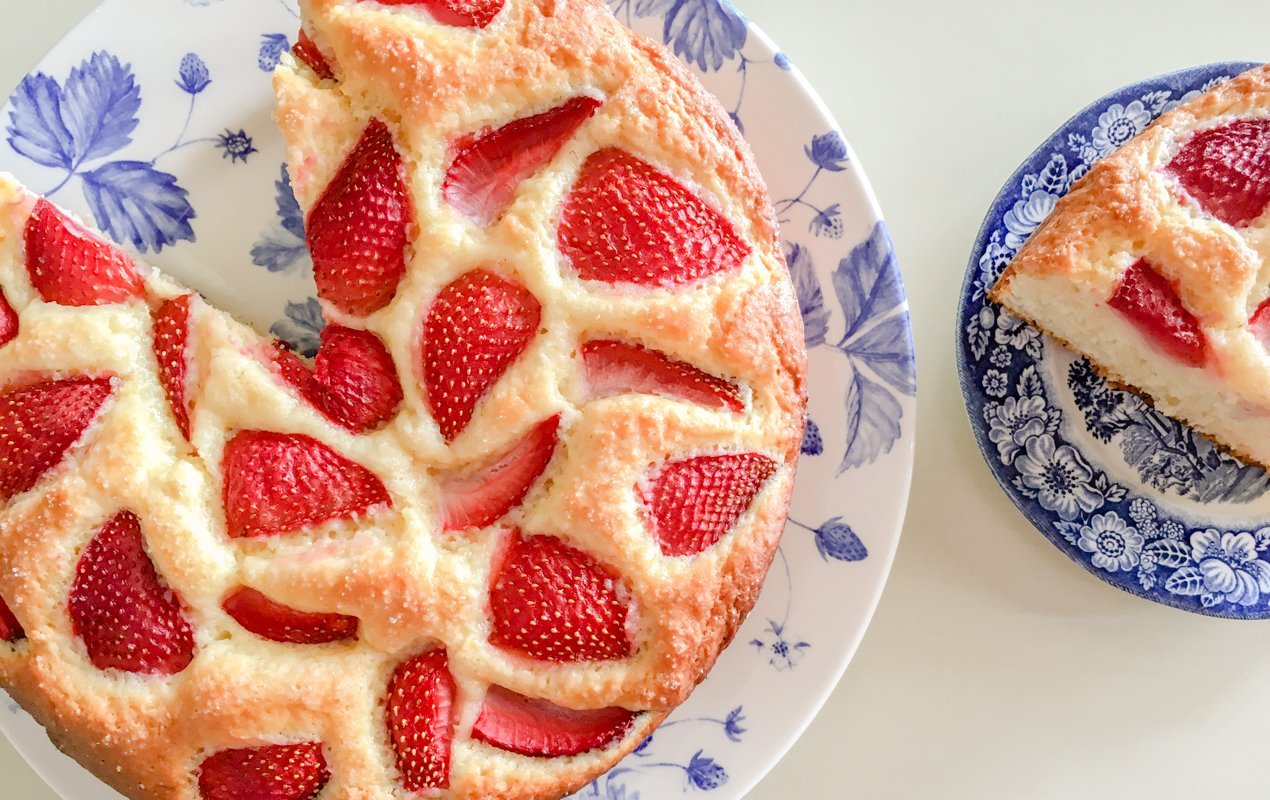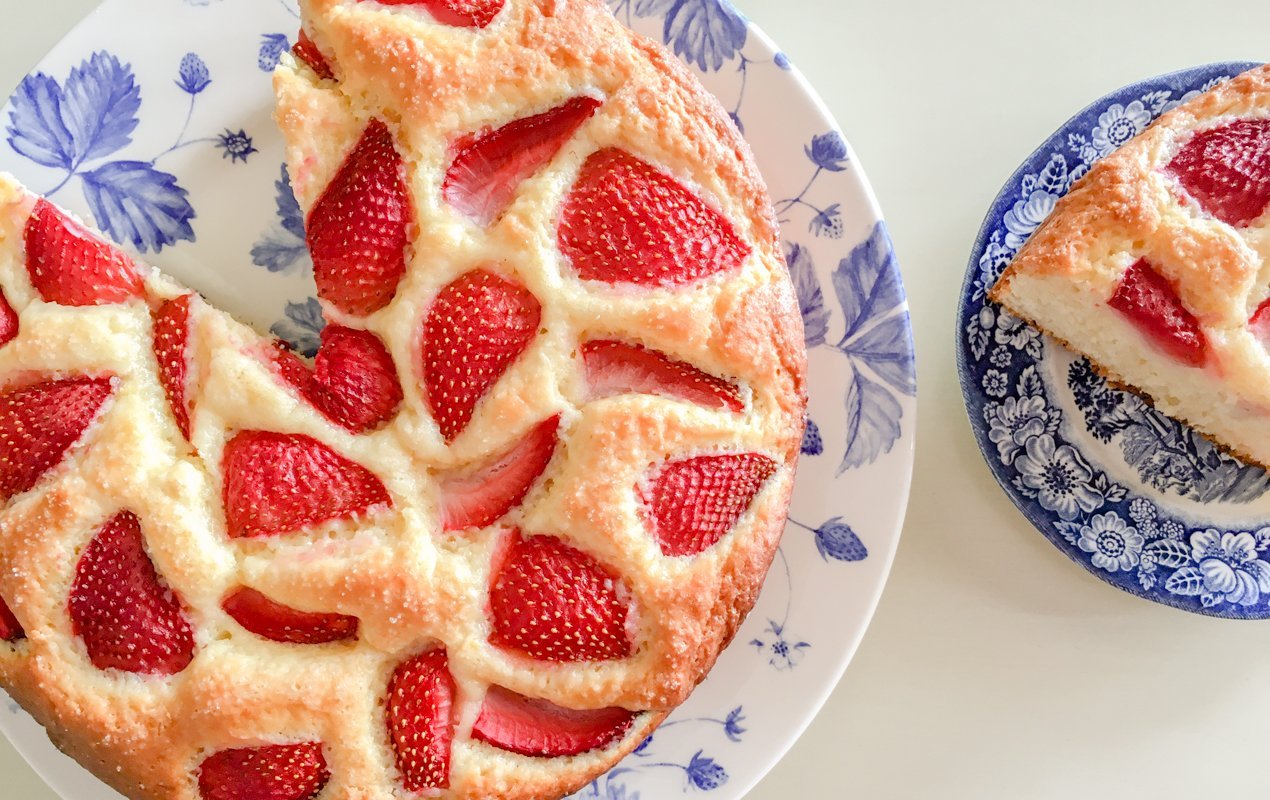 If you've been to the market recently, you know that strawberries have come into their full harvest! During the late spring and early summer months, these bright red beauties are plentiful – making it the perfect time to bake a summer cake bursting with strawberry and lemon flavor.
This recipe is a variation of the well-known gâteau au yaourt, a simple and quick French cake. Traditionally, the ingredients are in ratios that would allow you to use the yogurt container to measure out your other ingredients, making it a fun recipe to introduce children to baking. You can follow this method by washing out one 12ml yogurt tub (the French standard) and using it to measure out the sugar (1 1/2 tubs), oil (1/2 tub) and flour (4 tubs).
Paris Perfect Tip: If you'll be baking this cake in your Paris apartment, be sure to seek out the Gariguette strawberry variety in your local market, these are widely considered to be the best in France! They're naturally candy-sweet, very soft, and fragile – you have to use them up quickly before they start to go bad. These strawberries are very difficult or impossible to find outside of Europe, so be sure to give them a try when in Paris!
Strawberry Lemon Gâteau au Yaourt (Yogurt Cake)
Makes one 9″ round cake
Prep Time: 20
Cook Time: 40
Total Time: 60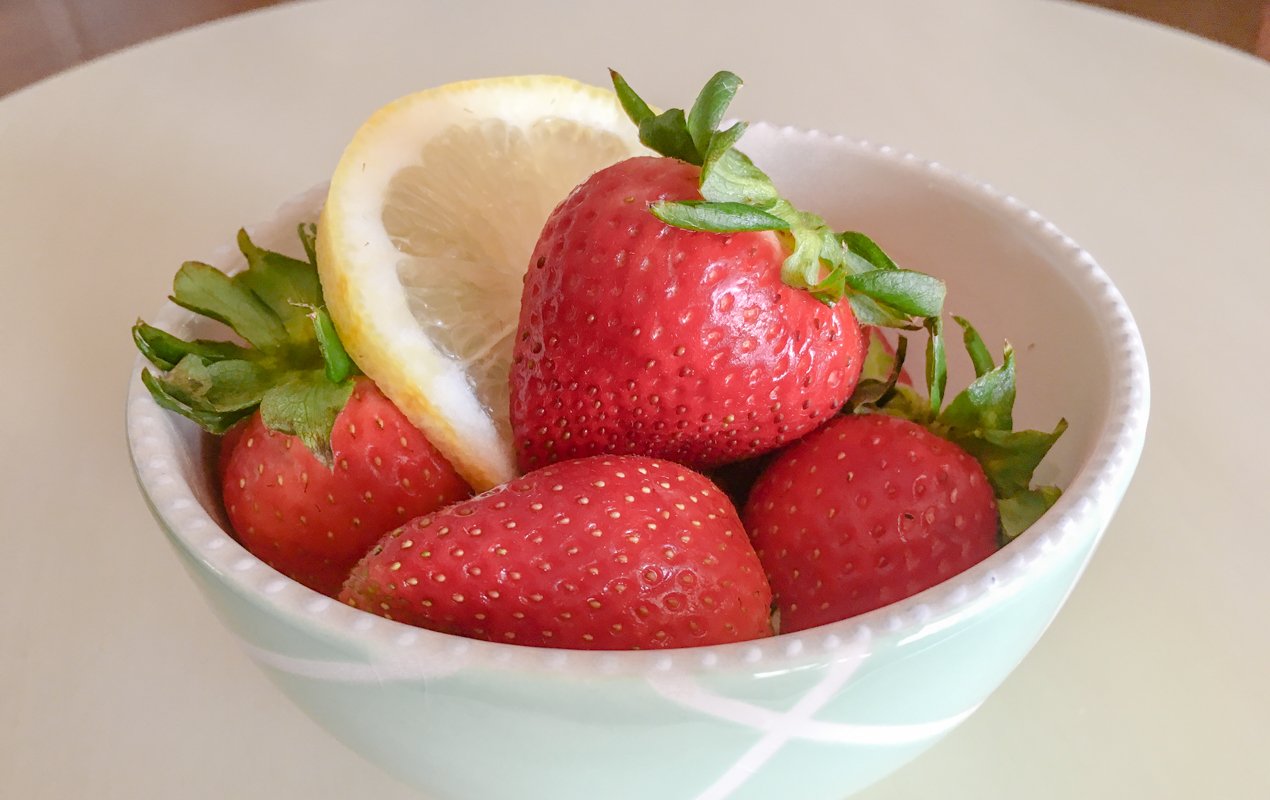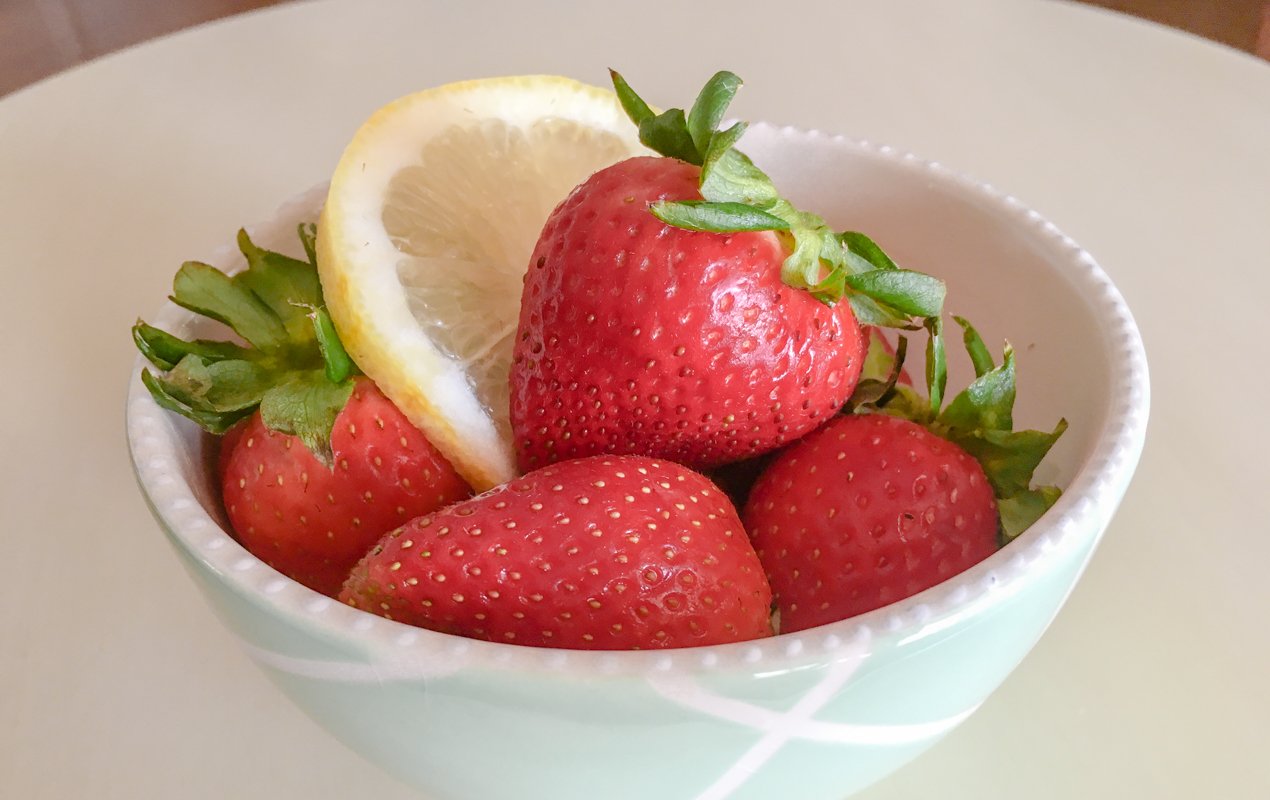 Ingredients:
1 cup (250ml) plain yogurt
3/4 cup sugar, plus more for sprinkling
1/4 cup neutral baking oil (such as canola)
3 eggs
2 cups flour
2 tsp baking powder
1/4 tsp salt
zest of one lemon
juice of one lemon (about 1 tbsp)
300g fresh strawberries, quartered
Instructions:
Preheat oven to 360ºF (180ºC). Grease and flour a 9″ round cake pan.
In a large bowl, combine the yogurt, sugar and oil. Whisk in eggs, one at a time, mixing well.
In a separate bowl, combine flour, baking powder and salt. Add this dry mixture to the bowl of wet ingredients in three stages, ensuring each dry addition is incorporated sufficiently before adding the next. Stir until just combined, then stir in lemon zest and juice.
Pour batter in pan, spreading with a spatula to smooth out the top. Scatter with quartered strawberries, pressing each down into the batter slightly. Sprinkle top with sugar.
Bake for 35-40 minutes, until cake is golden and a toothpick inserted into the middle comes out clean. Let cool for 15 minutes, then turn out onto a plate or rack to cool completely before slicing.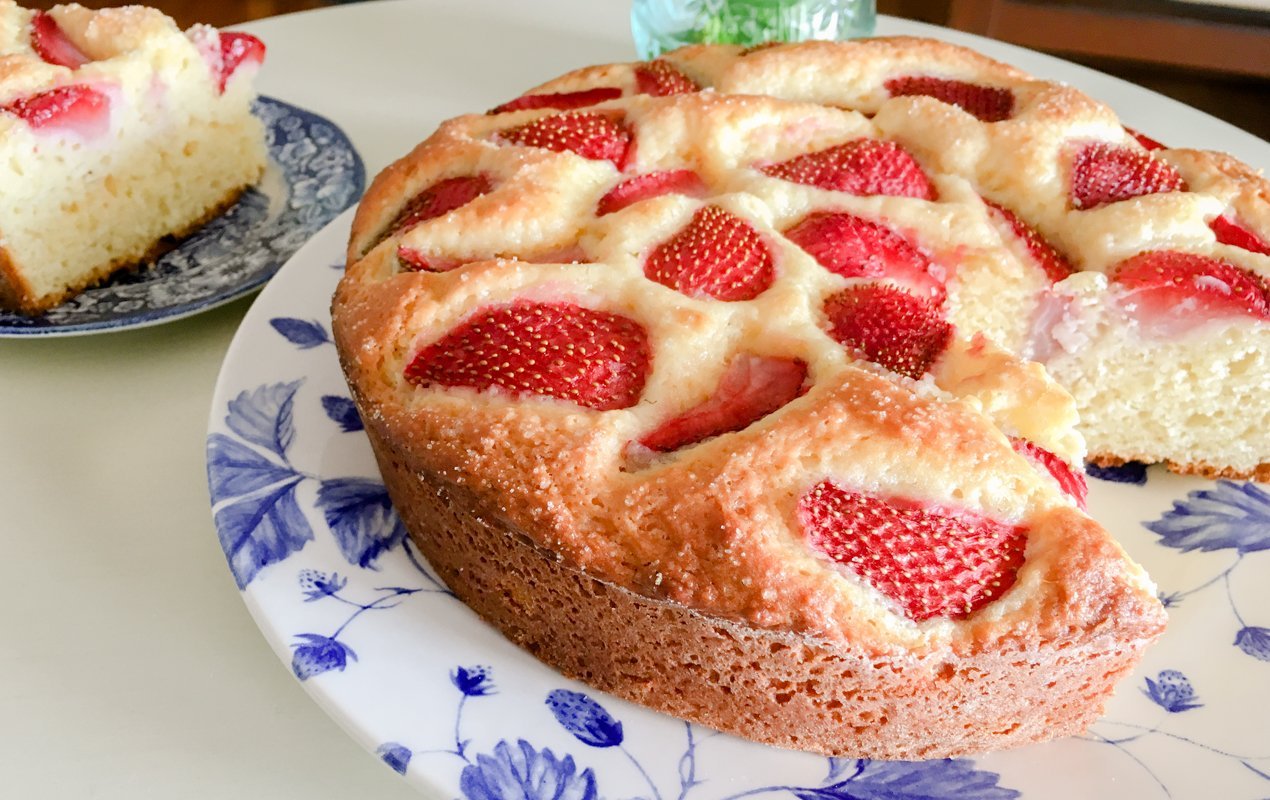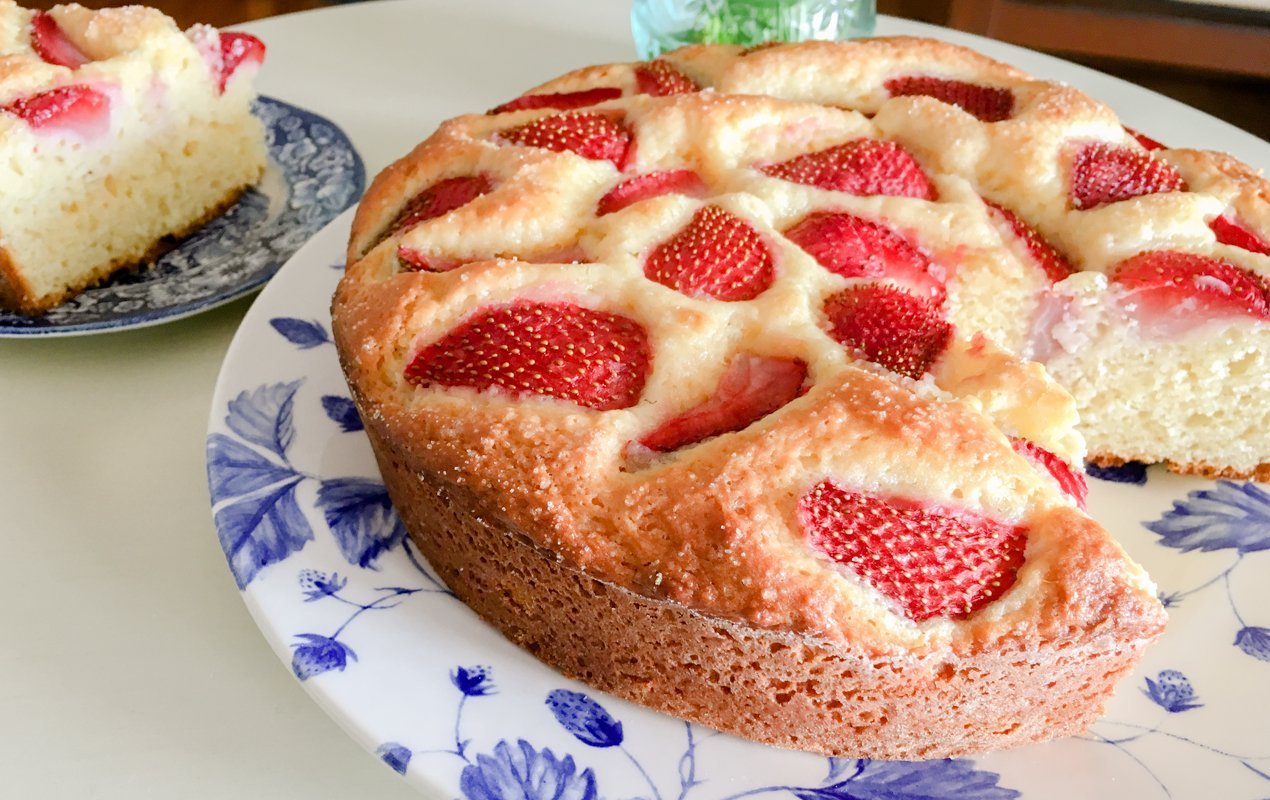 There you have it – a simple, summery, delicious and easy cake! It's not only yummy, but also extremely cute too. It would be the perfect dish to serve at a party or potluck for its charming red and yellow appearance. To make this extra special, pair with a glass of bubbly Champagne or Crémant (a less pricey version of champagne), and a perhaps a sneaky little bit of chocolate on the side!
(Recipe adapted from Chocolate & Zucchini. All images by the Author)
Summary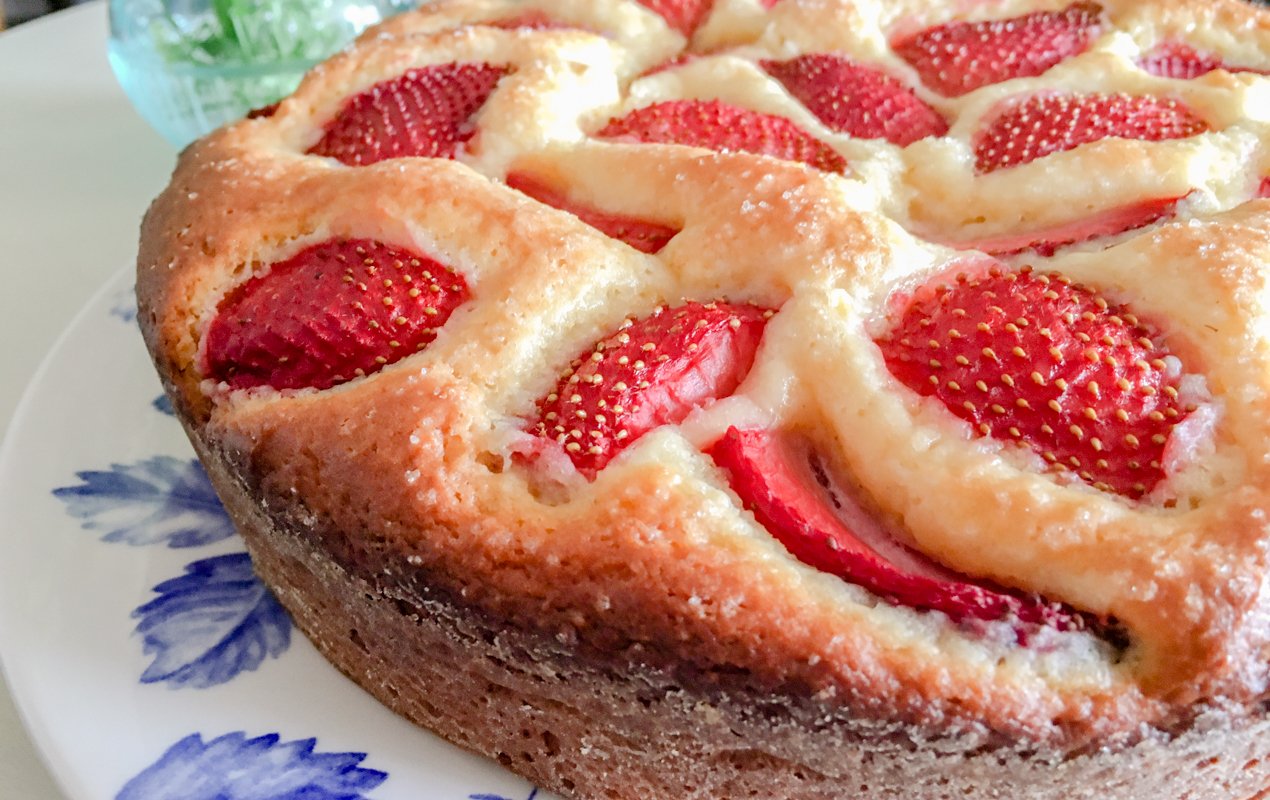 Recipe Name
Strawberry Lemon Gâteau au Yaourt Recipe
Published On
Preparation Time
Cook Time
Total Time
Average Rating