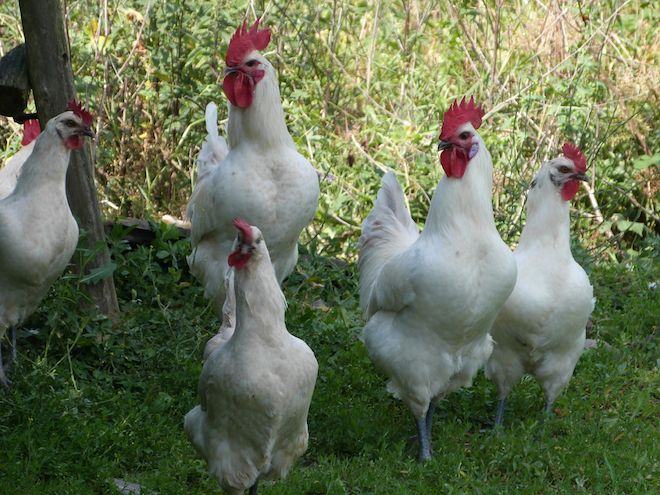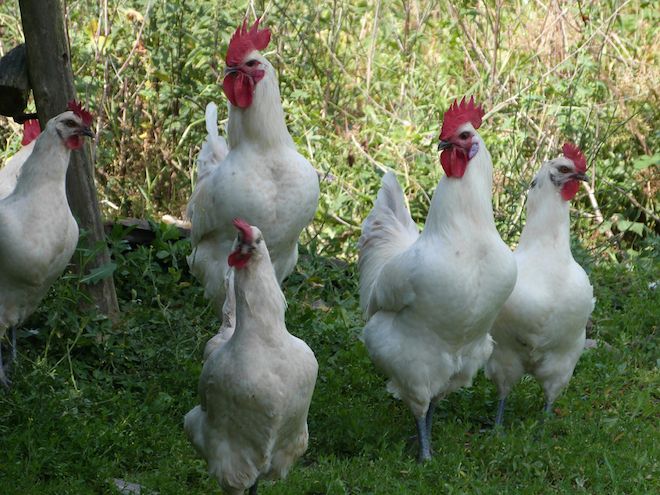 I was an ignoramus about food and wine until I met Philippe and discovered that the French possess an extra gene, the food gene. Unfortunately, one doesn't have a choice when it comes to DNA, and I'm still quite clueless about food – except, of course, when it comes to pastries and chocolate. I do keep exploring and learning though, and I love discovering wonderful stories about French quality standards!
My culinary discoveries have been a source of teasing in our family, even when the situation appears perfectly normal to any non-French person! I am lovingly tormented with exclamations like this: 'Remember when mom bought a bunch of frozen fish to feed us, until our grandmother found out…'  or 'when mom bought Comté cheese produced from winter cow's milk instead of summer cow's milk!' But that's a story for another blog post soon.
What a lesson that Comté was – and after studying the cheese closely, I was amazed at what I learned about the care that goes into food production in France. In fact, this extreme attention to detail and quality is common in so many types of French food, one of which I'm about to share with you!
Dorothy, We're Not Eating Chickens in Kansas Anymore
Poultry is one of my favorite basic meats to cook with, as you've noticed from the recipes I've shared over the years: Chicken with Gingerbread Crust and Mustard Sauce, and Maple-Roasted Turkey with Sage, Bacon, and Cornbread Stuffing. I especially love chicken, but as the daughter of a thrifty mom who raised 6 girls on my father's Air Force income, we never thought about anything other than price when it came to food. Everything changed when Philippe and I were buying a grilled chicken and I noticed that one type cost a lot more per-kilo than all the rest; If there were a Chateau Margaux of chickens, it would be the Poulet de Bresse. After learning about their élevage, or the way they are raised, even I have started to pay the premium price for our family
The Poulet de Bresse: The Most Delicious Chicken in France
So what is it about the chickens from Bresse that makes them more expensive?
They are so delicious and tender that they've been famous since the 1600s when the Duc de Savoie offered the most plump roosters from Bresse to King Henri IV, who praised them highly. They are raised exclusively in the small town of Bresse, which lies in the east of France.
Like French wine, it all starts with the terroir: the particular and localized combination of soil, climate and ecology that defines this micro region. The soil of Bresse dates back to the tertiary period in geologogic terms, which means it has very little chalk. In contrast, the soil from the nearby village of La Dombe is strikingly different, containing a large amount of chalk.
The lack of chalk in Bresse means that their chickens have lighter, thinner skeletons. As a result, the buyer gets more actual meat for the money. Furthermore, the acids in the soil of Bresse act as a bleach, rendering the feathers white and the feet blue. The grit they peck at, as well as the insects and herbage they eat all come from the same soil, adding even more to their unique upbringing. Their white color with red comb and blue feet reminds me of…. Of course! The flag of France! The Bresse chicken reflects the bleu, blanc et rouge.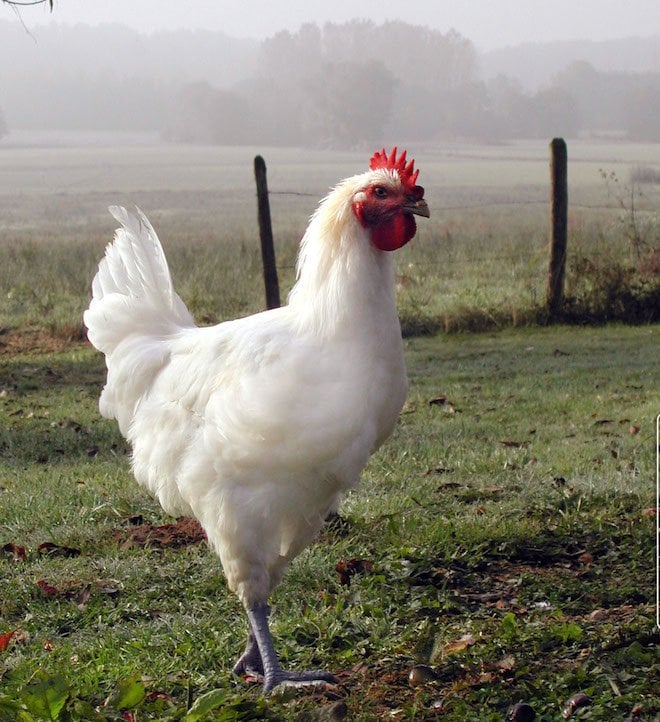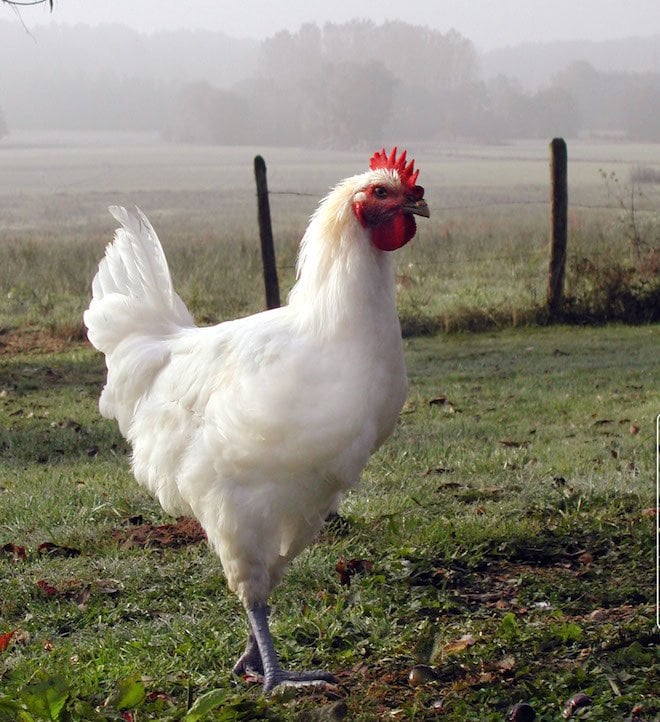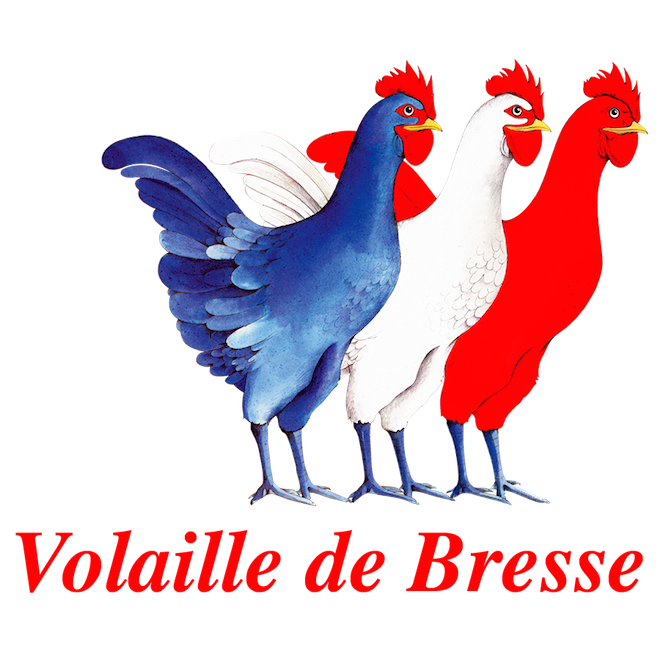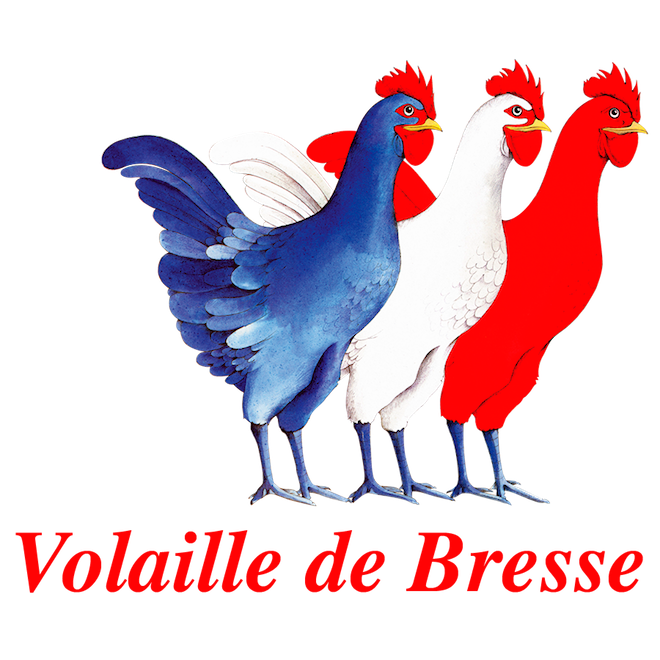 In 1936 the Bresse chicken farmers got their famous AOC label, or Appellation d'origine contrôlée, most commonly awarded to French wines and cheeses; It is the highest honor of food production in France. In fact, they are the only chicken to be awarded their own AOC! Their upbringing and feeding are carefully controlled, meeting extremely strict standards.
Here are some rules to maintain the prestigious AOC label:

The birds must live most of their lives out of doors.
They must be put outside during the day as soon as they are 5 weeks old.
They must be shut up at night to protect them from foxes but they are out early every morning until dark. But even this is regulated: each chicken must have sufficient space to itself inside the coop.
Each bird must have an area of pasture that measures at least 12 square yards (10 square meters). Compare that to factory-fed or even free-range chickens – In fact, most of them have much more space to roam around and it's delightful to see them running free in the fields and forests around the farms.

Here are some of the strict dietary guidelines:

Other than native insects they find in the field, they can eat only special maize from the region, along with wheat and milk.
The maize must be at least 70% or more off their diet, while wheat can only represent 20%. Milk, which can be in powdered form, makes up 6-10% of their food.
It is absolutely forbidden to feed them any hormones, antibiotics or chemicals! In fact, due to their healthy way of life, Bresse chickens are amazingly free from disease.
The capons must be at least eight months old and weigh a minimum of 8.25 pounds.  Capons are the most expensive to buy due to their longer life cycle and the process of castration; they only have a 50% survival rate.

Controllers check at irregular times to make sure all is being done according to the rules.
The farmers of Bresse are fiercely proud of their chickens for excellent reason. The next time you visit France, you definitely should try a Bresse chicken, roasted from your local butcher or made from a popular local recipe below! For even more about these famous chickens, have a look at this YouTube video produced by one of the proud farmers (in French): Élevage Volaille de Bresse.
_____________
Recipe: Poulet de Bresse with Cream and Morel Mushrooms by Paul Bocuse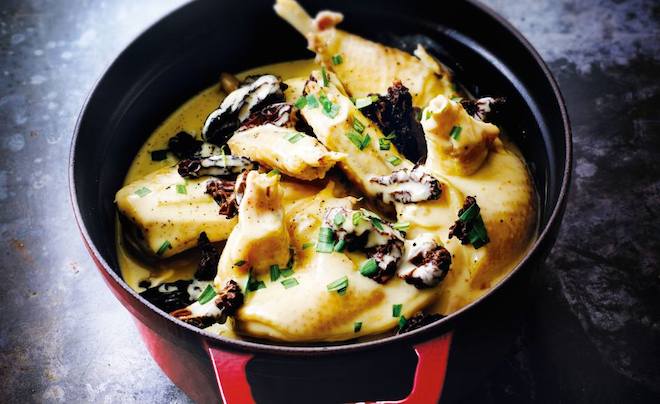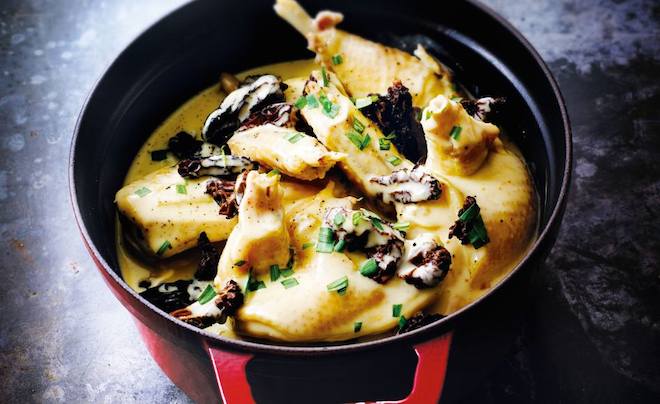 Where to buy your Bresse chicken: If you're staying the 7th Arrondissement and would like to prepare this French meal in your Paris Perfect kitchen, these streets all have fine butchers: Rue Cler, Rue de Grenelle, Rue St. Dominique and Marché Saxe (outdoor market).
Serves 4
Ingredients
– 1 chicken, approximately 3 pounds poultry from Bresse. Remove the feet, cut into 8 pieces
– 1 oz (about ¼ C) dried morel mushrooms
– ½ C Madeira Wine or Port
– 2 tablets chicken cubes
– 1 C of ordinary mushrooms
– 6 small shallots
– 3 sprigs of tarragon
– 10cl Noilly Pratt or other dry vermouth
– ½ C white wine
– ¼ g soft butter
– 1/4 g flour
– 2 Cups crème fraiche or sour cream
Pour the morel mushrooms in a bowl, cover with hot water and let soak at least 30 minutes. Drain them and cut each mushroom in half. Pour the Madeira into a pan and let it reduce. Add the mushrooms and ½ chicken stock cube. Cover with water and cook 40 minutes uncovered over medium heat.
Cut the chicken into 8 pieces. Salt each piece.
Remove the stems from the ordinary mushrooms. Peel the shallots and cut into strips.
Rinse and dry the tarragon. Pour 25cl (about 1 cup) of water in another pan with the white wine and Noilly. Add tarragon, shallots, mushrooms and 2 cubes chicken stock.
Heat over high heat. Put all the chicken pieces in the pan and let them cook for 12 minutes, uncovered. After 12 minutes cooking, remove the pieces of white and let the pieces of dark meat (drumsticks and thighs) cook 13 minutes more.
Make a classic roux by gently melting the butter, then gradually adding the flour while mixing well.
Remove the dark meat from the casserole and remove the tarragon. Reduce liquid until the cooking juices are dry. When nothing remains but the fat and juice, add the roux, then the crème fraiche or sour cream cream and cook 5 minutes, stirring. Return the chicken pieces to the pan. Turn them over and over in the sauce to warm up. Drain the mushrooms and add them to the pan with a little chopped fresh tarragon.
The result is one of the tastiest and most tender chickens in the world!