Chicken Tagine with Preserved Lemons and Purple Olives
with Chef Charlotte Puckette
So many of the guests who have attended our weekly Market Tour and Cooking Class with Charlotte have raved about her mouth-watering take on the tasty chicken dish 'tagine de poulet au citron confit' that we thought we'd share it with you, by popular request!
In any given Paris market there will most likely be several stands dedicated to the grains, dried fruits, nuts, olives, spices and other ingredients that go into making North African dishes, testimony to the importance of Moroccan, Algerian and Tunisian cuisine in the French diet.
This is probably one of Morocco's best-known tagines featuring two ingredients indispensable to  Moroccan cuisine;  tangy salt-cured lemons and slightly bitter, half-ripe purple olives.
Traditionally this savoury stew is cooked on top of the stove in a conical earthenware tagine pot. A heavy Dutch oven makes a good substitute.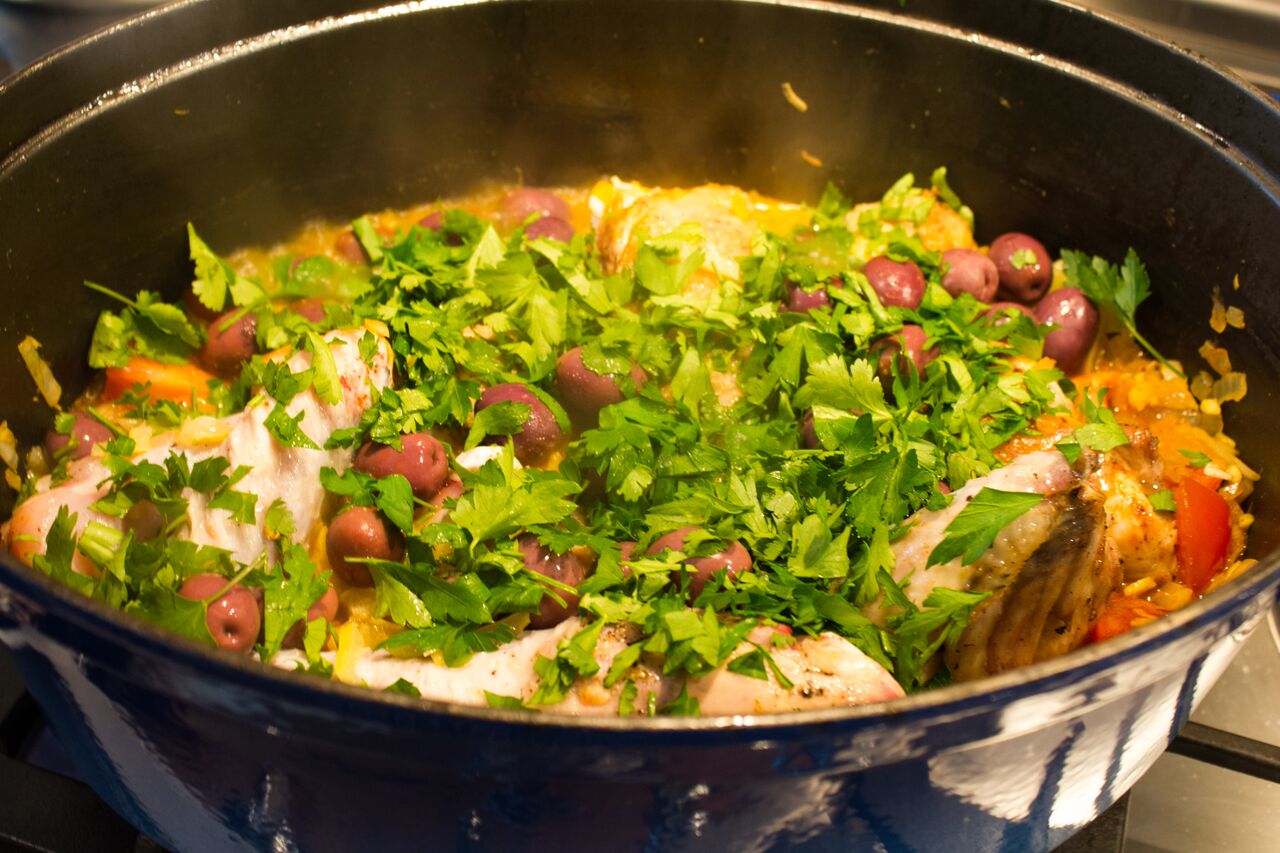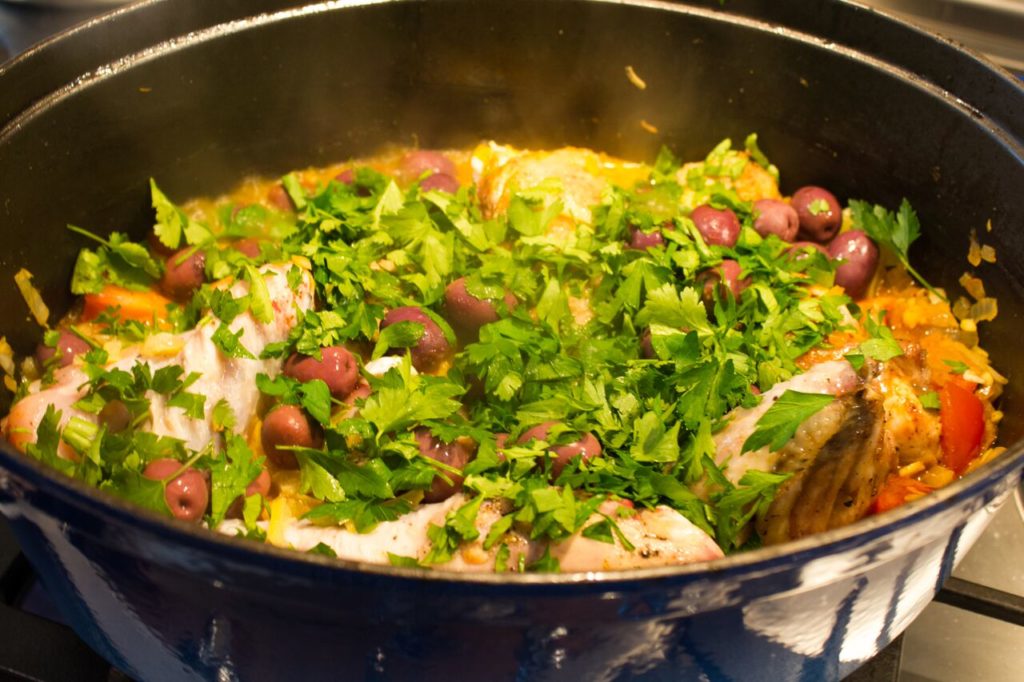 Ingredients:
1 chicken, cut into 8 pieces
2 tablespoons olive oil
1 tablespoon butter
2 onions thinly sliced
1 tablespoons minced ginger
2 cloves garlic, minced
1 stick cinnamon
Large pinch of saffron
1 teaspoon cumin
Salt and pepper
1 teaspoon paprika
1 tomato, diced or 1 can chopped tomatoes
½ bunch fresh parsley, chopped, plus extra for garnish
½ bunch fresh cilantro, chopped
3 cups water or chicken stock
1 cup of Moroccan cracked purple olives or good quality Greek Kalamata or Italian Gaetes
1 preserved lemon, diced (salt-cured lemon)
Squeeze of lemon juice from a fresh lemon
Instructions:
In a tagine or Dutch oven heat the oil and butter over a moderate flame until hot but not smoking.  Lightly salt and pepper the chicken and add half of the pieces to the pot, skin side down.  Cook without turning,  until the skin is golden brown, about 10 minutes, transfer to a plate.  Continue with the remaining pieces.
Mix in the onion and minced ginger, and cook, uncovered,  stirring frequently, until soft, about 8 minutes.  Add garlic and cook, stirring occasionally about 3 minutes.  Then add the saffron, cinnamon, cumin and paprika and stir to coat the onion mixture.  Lastly, add the diced tomato and chopped preserved lemon,  but only half of the olives, parsley and cilantro.  Return the chicken to the pot along with any juices accumulated on the plate.  Add just enough of the water or chicken stock to almost cover the chicken.  Bring to a boil, cover and reduce to a simmer.  Let cook 35-40 minutes, or until the chicken is tender.
When the chicken is done, transfer to a serving dish with a slotted spoon, cover and keep warm.  Taste the sauce, if the flavors need to be more concentrated bring to a boil and reduce. When ready, stir in the rest of the olives, the remaining chopped herbs and the fresh lemon juice.   Taste and adjust the seasoning for salt and pepper and more lemon juice if needed.  Pour the sauce over the chicken and sprinkle with parsley.
Serves 4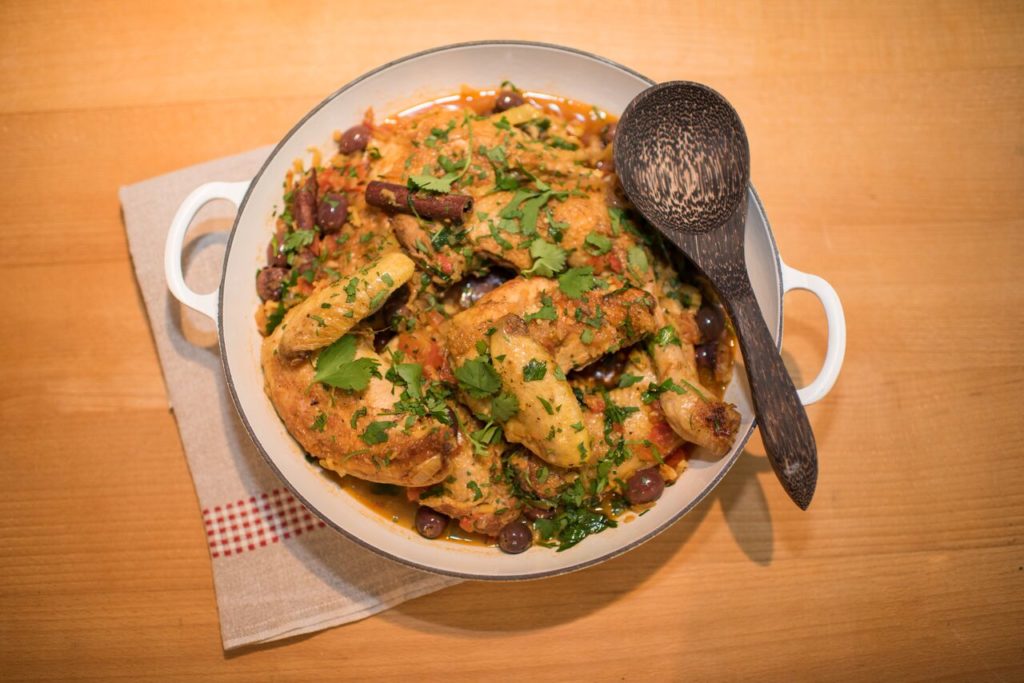 Photo credits : Lindsey Kent & Michelle Waring
For your next stay in Paris, our friendly reservations team are on hand to help you select one of our stunning family vacation rentals.