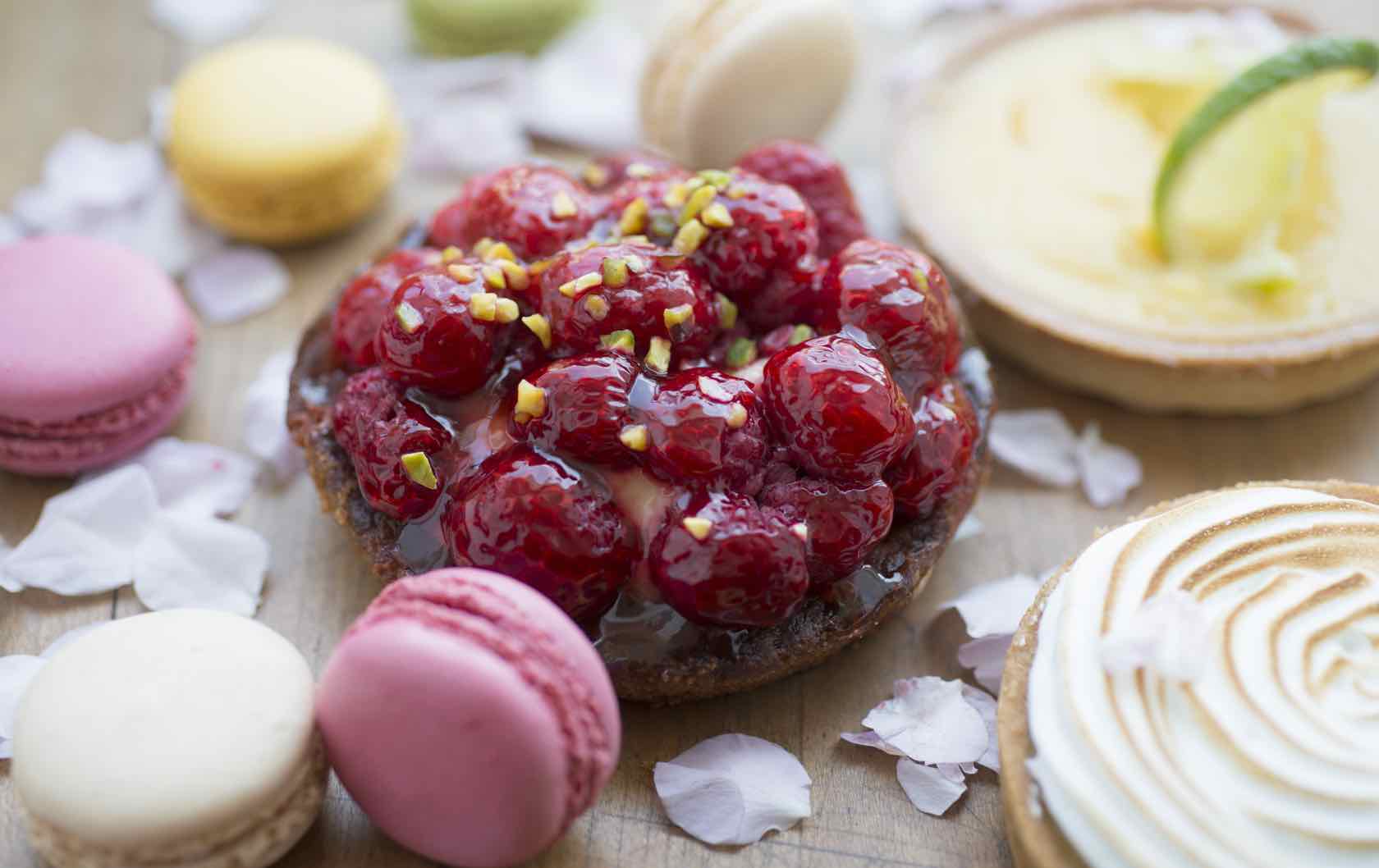 The French have a passion for pastries, cakes and chocolates and have created some of the world's most sensational sweets. We've selected 15 tempting desserts to eat in Paris. It would be a sin to leave town without trying at least half of these heavenly treats!
Desserts to Eat in Paris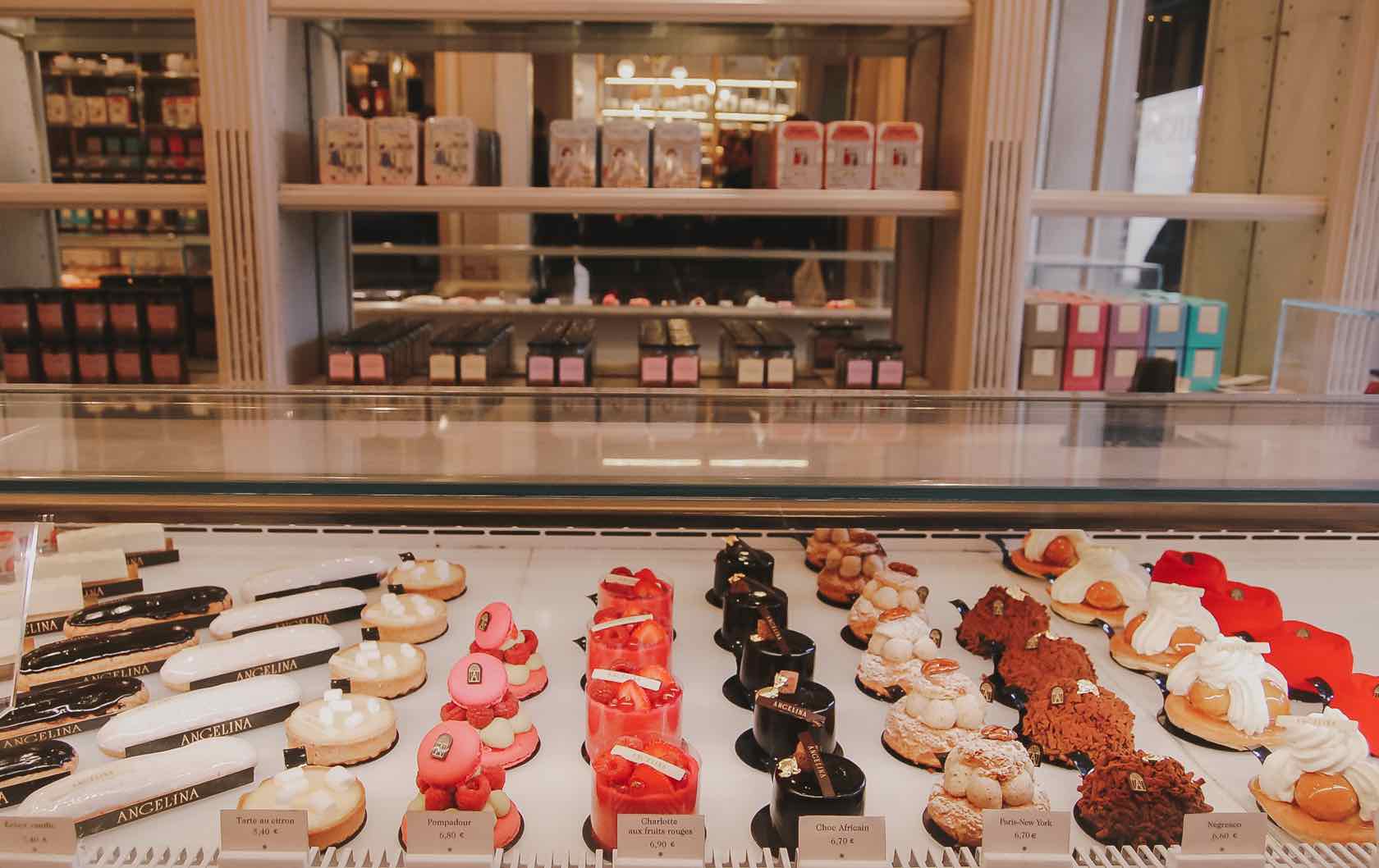 Mousse au Chocolat
Simple but delicious, French chocolate mousse is made from melting chocolate and blending it with egg yolks and whipped, stiff egg whites, before refrigerating it. Mousse is French for foam so the result should be rich, dark but airy. You'll see decadent versions with vanilla, sugar, butter or whipped cream.
Try at: Chapon, Chez Janou or La Fontaine de Mars
Opéra Cake
Seeking sophisticated desserts to eat in Paris? Invented in 1955 by Cyriaque Gavillon of Paris pâtisserie Dalloyau, the legendary Opéra Cake's flat-topped, rectangular shape was inspired by the Opéra Garnier. It's made with layers of Joconde almond sponge cake, soaked in coffee syrup, interspersed with chocolate ganache and coffee buttercream, and topped with glossy dark chocolate glaze.
Paris-Brest
A Paris-Brest is a French choux pastry filled with praline-flavored cream and sprinkled with almonds. It was created in 1910 by pâtissier Louis Durand to promote the Paris-Brest-Paris bicycle race, hence the round wheel or bike seat shape. The sweet treat proved popular with riders and is still a hit today.
Try at: Cedric Grolet, Durand or La Pâtisserie des Rêves
Tarte Tatin
One of the most iconic – and yummiest – desserts to eat in Paris is tarte tatin. A more-ish mix of apples caramelized in butter before the tart is baked, it was originally created by accident by two sisters at Hôtel Tatin, south of Paris, in the 1880s. An upside-down cooking disaster turned delicacy? Sign us up!
Try at: Au Petit Tonneau, La Closerie des Lilas or Des Gâteaux et du Pain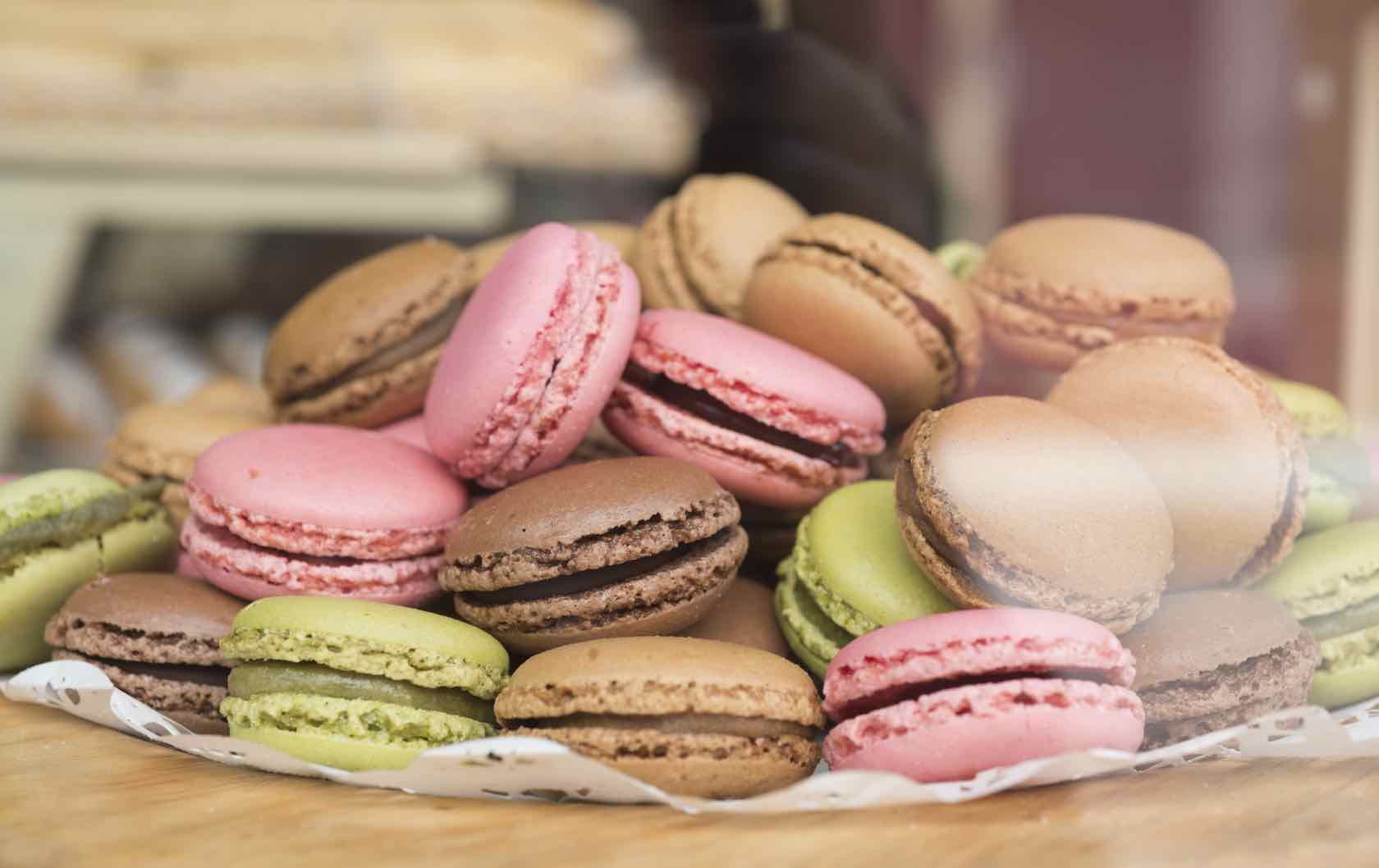 Macarons
These cute, pastel-pretty meringue-based confections are made with icing sugar, egg whites, granulated sugar, ground almonds and food coloring. First produced in Venetian monasteries, they were introduced to France during the Renaissance by queen Catherine de' Medici's Italian pastry chefs. These dainty circular delights were eventually served in pairs, stuck together with ganache or buttercream, with Pierre Desfontaines of Paris pâtisserie Ladurée claiming credit for the innovation. Modern flavors include rose, salted caramel, lemon, vanilla, raspberry, pistachio and coffee.
Try at: Ladurée or Pierre Hermé
Clafoutis
This seasonal baked French dessert traditionally celebrates sour cherries, arranged in a buttered dish and covered with a thick, flan-like batter. Hailing from the Limousin region, Clafoutis is often dusted with powdered sugar and served warm with cream.
Try at: Maison Mulot or Maison Othon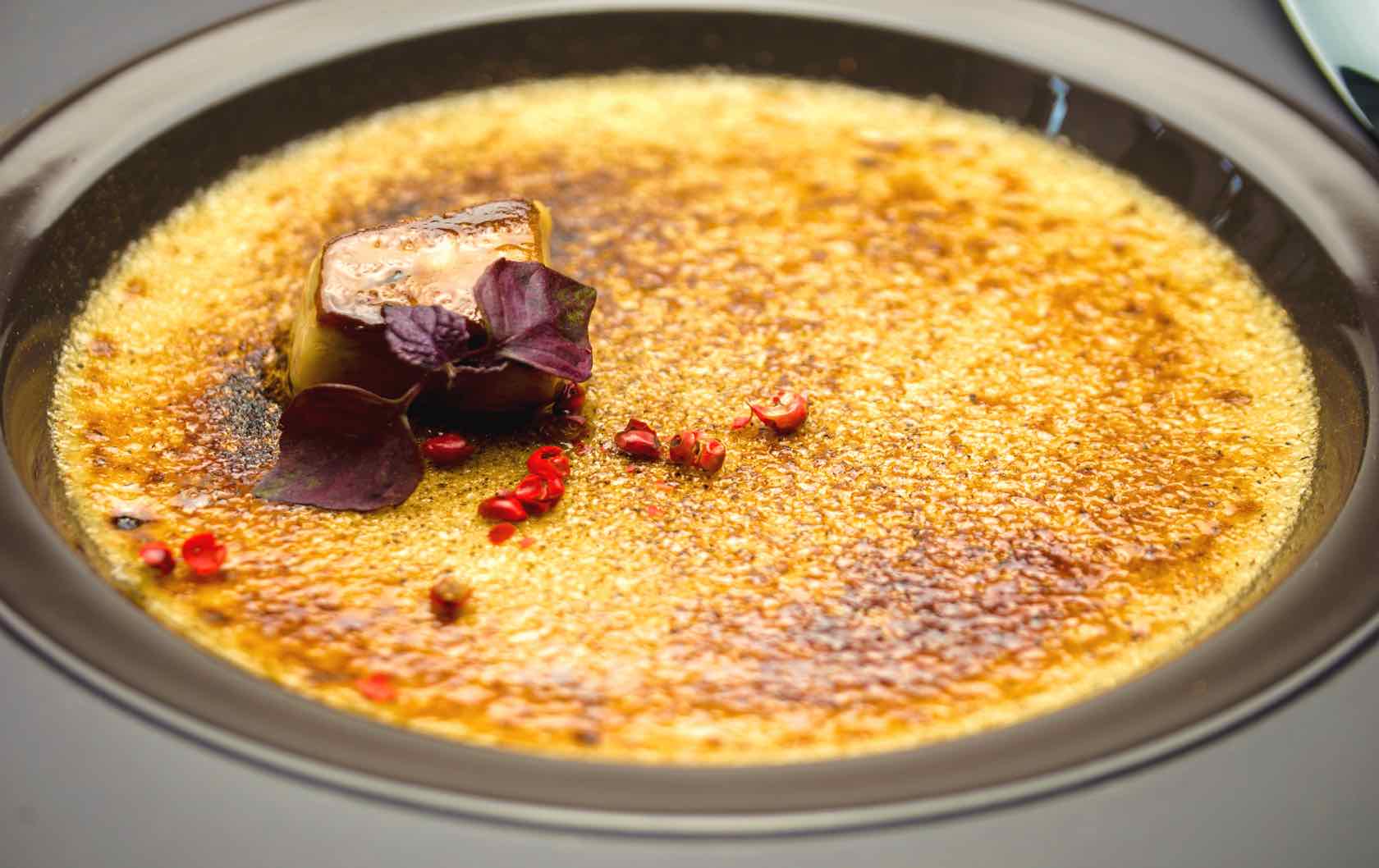 Crème Brûlée
When it comes to divine desserts to eat in Paris, it's hard to beat crème brûlée. Served in individual ramekins, its rich custard base is topped with caramelized sugar – half the fun is cracking the burnt surface with your spoon! Modern twists include vanilla, espresso, raspberry and lavender flavors.
Try at: La Fontaine de Mars or Les Cocottes
Kouign-Amann
Fans of sweet, flaky pastry will adore Kouign-amann, named after the Breton words for cake and butter. Layers of dough, butter and sugar are slow-baked until crisp and caramelized on the outside. Invented by mistake in Brittany in the 19th century, this round delight isn't diet-friendly but it's delicious!
Try at: Maison Georges Larnicol or Arnaud Larher
Baba au Rhum
One of the most famous desserts to eat in Paris, the rum baba was invented by the city's oldest pâtisserie Stohrer. Created by King Louis XV's pastry chef Nicolas Stohrer, it's a yeast pastry soaked in rum syrup. Individual portions are topped with candied fruit, vanilla Chantilly cream or vanilla crème and rum-macerated currants (the Ali-baba).
Try at: Stohrer or La Pâtisserie Cyril Lignac
Profiteroles
These little French choux pastry balls are a sweet treat, usually filled with whipped cream, custard, pastry cream or vanilla ice cream. The French equivalent of cream puffs, profiteroles are sometimes served with warm chocolate sauce as a dessert.
Try at: Le Relais de l'Entrecôte or Café de Flore
Galette des Rois
Eaten at Epiphany on January 6th, this round French puffed pastry cake has a creamy almond frangipane filling. The name "King Cake" commemorates the visit of the three kings to Christ's stable. If you find a fève or charm hidden inside you'll be crowned king or queen for the night!
Try at: Du Pain et des Idées, Blé Sucré, Nelly Julien or Joséphine Bakery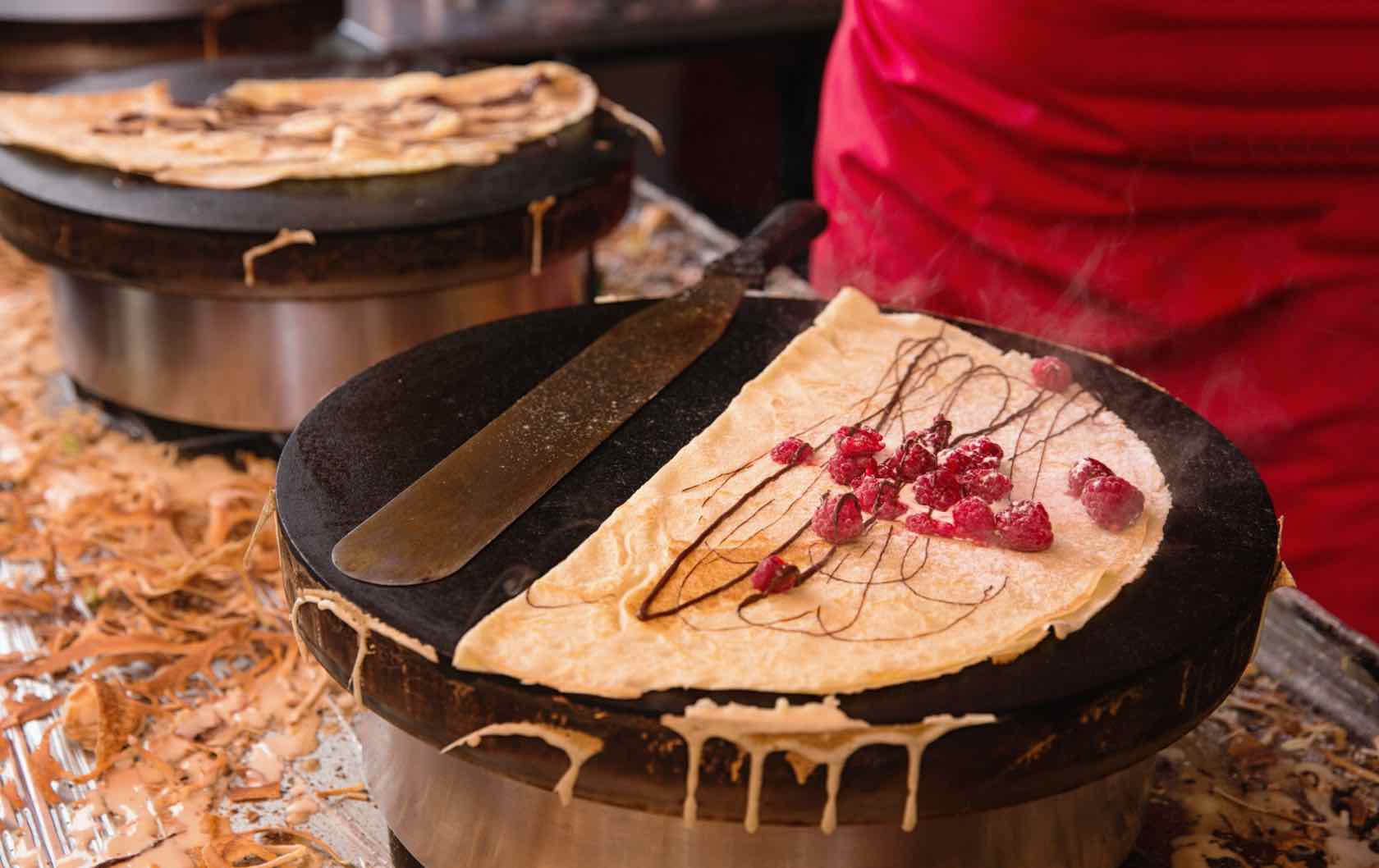 Crêpes
France's famous slim Brittany-born pancakes can be found everywhere from street stalls in the Latin Quarter to upscale restaurants. Taste savory options such as cheese and ham or spinach and egg, or go sweet with lemon and sugar, Nutella, chestnut cream (crème de marrons) or orange-flavored Grand Marnier liqueur!
Try at: Breizh Café or Au P'tit Grec
Café Liégeois
Served in a tall glass, this cold dessert is made from coffee ice cream, lightly sweetened coffee and Chantilly cream. Originally called Café Viennois (Viennese Coffee), it was renamed after World War I's Battle of Liège to honor the Belgian city's heroic resistance. You'll see it with chocolate or vanilla ice cream too. Naughty but nice!
Try at: Berthillon or Le Relais de l'Entrecôte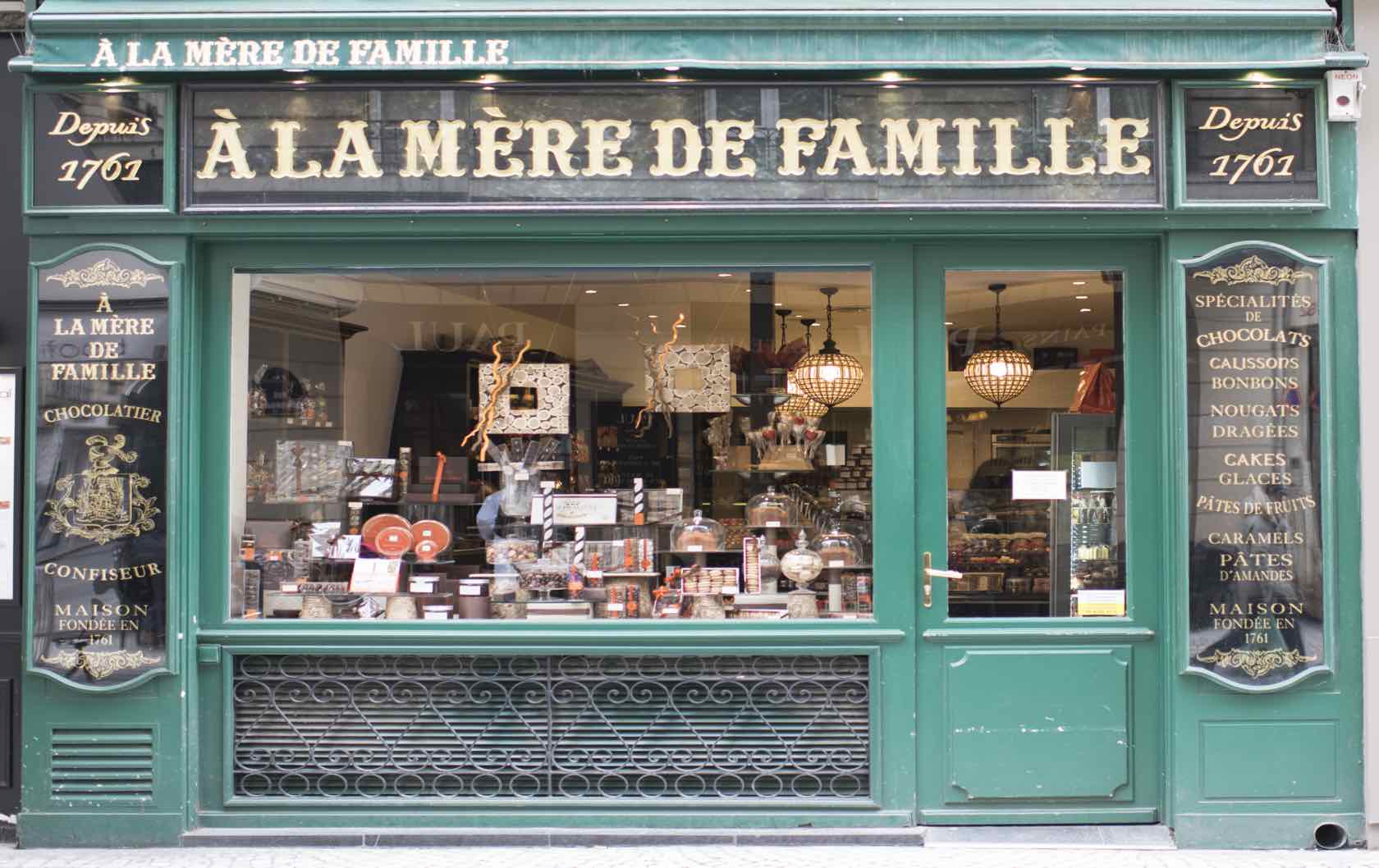 Chocolate
Exquisite chocolates are a Paris specialty, from single origin dark squares to bars and bonbons. Choices include ganaches, truffles, pralines and fabulous flavors. These works of art also make great gifts.
Try at: Jacques Genin, A la Mère de Famille, Jean-Paul Hévin  or Le Chocolat Alain Ducasse
Tarte au Citron
Tarte au citron – lemon tart – is a French classic, with a crumbly shortcrust pastry shell and lemon-flavored filling. It makes a light, zingy pâtisserie treat or enjoy it as a restaurant dessert. Modern incarnations feature Japanese-inspired yuzu while old-school ones are topped with meringue or whipped cream.
Try at: Stohrer, Sébastien Dégardin or Philippe Conticini
Our apartments are located near some of the best places to sample pastries in Paris. Whether sampling them for yourself or taking a guided pastry walking tour, you're sure to get a sugar high during your trip. Get in touch with our reservations team to find a sweet apartment to go along with the sweet treats you'll discover. Give our reservations team a call at 1-888-520-2087 from the USA or email [email protected].