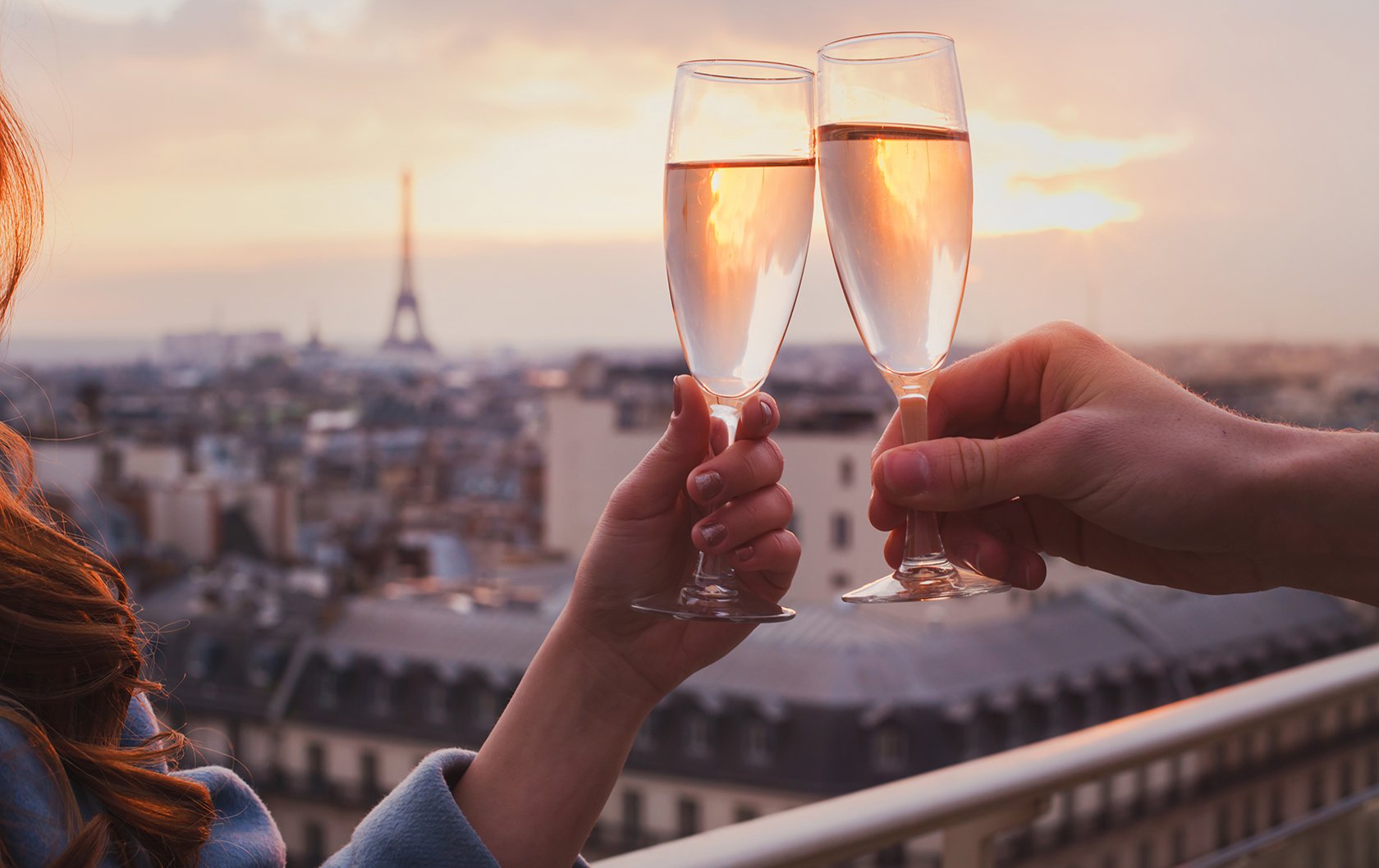 The French capital is the ultimate city for lovers making it perfect for a Valentine's Day date. We've rounded up some of the most romantic spots in Paris, from beautiful buildings to seductive walks and alluring art, as well as simple ways to channel the flirtatious spirit of Paris at home. So whether you're planning a future stay in one of Paris Perfect's romantic retreats or simply dreaming of the City of Light, here's some Paris inspiration to get you in the mood for love.
The Eiffel Tower at Night

It looks stunning at any time of day, but the Eiffel Tower is especially captivating when lit up at night. At "sparkle o'clock" after sunset every evening the tower is illuminated with shimmering golden lights for five minutes each hour, making Gustave Eiffel's epic creation even more magical. It can be admired from parks and streets around town, but is best seen from the balcony of a romantic Paris Perfect rental apartment, such as Chambertin or Cabernet, where lucky couples can toast it with a glass Champagne or bottle of French wine for two.
Artistic Inspiration in Paris

One of the most romantic spots in Paris has to be standing in front of iconic sculpture "The Kiss" at the Rodin Museum. This smooching statue, showing two marble lovers entwined, captures the French flair for romance and is one of artist Auguste Rodin's most famous works. Commissioned in 1888, it's known as "Le Baiser" locally, which sounds even cooler. The museum's setting in the historic Hôtel Biron is stunning and the sculpture garden is a lovely spot to stroll. For more Paris romance, check out Marc Chagall's vibrant 1964 frescoes on the ceiling of opera house Palais Garnier (or admire them online), including his signature flying lovers. Musée Rodin, 77 rue de Varenne, 75007; Palais Garnier, Place de l'Opéra, 75009
TAKE IN THE TUILERIES GARDEN
Wander the ornamental Jardin des Tuileries, one of Paris's most gorgeous gardens, dotted with ornate statues, verdant trees and pretty ponds. Set between the Louvre art museum and the Place de la Concorde, it was originally created by Catherine de Medici in the 16th century, but was re-landscaped in 1664 by King Louis XIV's gardener André le Nôtre in this formal French style. For a romantic park, the Parc des Buttes-Chaumont in the city's north-east offers hilltop views, a dramatic temple, caves, waterfalls, and an artificial lake. Place de la Concorde, 75001; Parc des Buttes-Chaumont, 1-7 rue Botzaris, 75019
Stunning Sainte-Chapelle
Romance can feel spiritual in Paris, so take time to admire the beautiful stained glass windows at the royal chapel Sainte-Chapelle, a Gothic gem on the Île de la Cité. Consecrated in 1248, it's beloved for its breathtaking stained-glass windows, soaring above the space and full of dazzling color, including a dramatic rose window. The fifteen nearly 50 foot high windows depict religious scenes from the Old and New Testaments, but the appeal of this architectural jewel is eternal. Find it a skip from Paris Perfect's chic La Place Dauphine holiday stays. 10 boulevard du Palais, 75001
Enjoy a winter walk
Romantic spots in Paris are best appreciated on foot. You can't go wrong with a crisp winter walk along the scenic banks of the Seine river near central island Île de la Cité. For a less obvious romantic walk in Paris, try the Promenade Plantée (aka the Coulée Verte René-Dumont), an elevated walkway in the east of town captured in the movie Before Sunset, with the lead characters walking and talking together here. This leafy footpath runs for 4.5km along a disused railway line from Bastille (avenue Daumesnil) to Bois de Vincennes (rue Edouard Lartet), taking in wild foliage and modern landscaping with striking city views. To recapture the mood of rom-com Amélie, stroll the banks of Canal Saint-Martin in the 10th, popular with locals out on a date. Coulée Verte René-Dumont, avenue Daumesnil, 75012; Canal Saint-Martin, quai de Jemmapes, 95010
View Paris from Montmartre
Who needs drone photography when you can enjoy an amazing aerial perspective of Paris from Montmartre? The forecourt of the iconic Sacré-Coeur Basilica, up the steps atop the Butte Montmartre hill, is a particularly good spot in this arty northern "village" to soak up the seductive panoramas of Paris spread below you, before exploring the quarter's charming streets, windmills, and cafés. Perhaps bring a picnic to share with your partner with birds'-eye views. Parvis du Sacré-Coeur, 35 rue du Chevalier de la Barre, 75018
Stroll Père Lachaise Cemetery
Vast Père Lachaise Cemetery, in the city's east, may not seem like one of the most obvious romantic spots in Paris, but with its atmospheric tombs and trees it's a serene place for a winter wander. Steeped in history and full of famous names, such as composer Frédéric Chopin and singers Édith Piaf and Jim Morrison, its cobbled lanes look dreamy in the soft light, and there's a peaceful sense of escapism for lovers keen to walk hand in hand. See our earlier blog guide to Père Lachaise for details or discover more charming Paris cemeteries. Cimetière du Père Lachaise, 16 rue du Repos, off boulevard de Ménilmontant, 75020
Add a touch of Paris to your Valentine's Day
Even if you can't travel to Paris this month, here are three ways to recreate Parisian romance at home:
Peruse the pages of Paris in Bloom, photographer Georgianna Lane's utterly romantic Paris book capturing the city of love, light, and flowers! The pretty-in-pink spring blossoms will transport you straight to the banks of the Seine.
Watch a classic French romantic movie such as Midnight in Paris (2011) by Woody Allen, in which a nostalgic screenwriter (Owen Wilson) mysteriously goes back in time to the ravishing 1920s each night. We also adore chatty relationship movie Before Sunset (2004) by Richard Linklater, starring Ethan Hawke and Julie Delpy as a couple rekindling their lost love in Paris. And for a musical with lashings of doomed romance, see Baz Luhrmann's Moulin Rouge! (2001), with Nicole Kidman and Ewan McGregor as star-crossed lovers in the bohemian Paris cabaret scene.
Savor a dreamy French dessert. Either pick up a French sweet treat from your local patisserie or create your own, such as a delicious crêpe pancake with a dash of orange-flavored Grand Marnier liqueur. You'll find plenty of inspiration in our blog on 15 French Desserts to Eat in Paris.
Missing London? Find more inspiration for Valentine's Day with our guide to Romantic Spots in London.