With a festive atmosphere, beautiful lights and excellent shopping, there are so many reasons why Christmas in Paris is a magical experience. This year, celebrate the holidays Parisian-style with a stay at elegant La Place Dauphine, a 17th-century residence transformed into luxurious and comfortable vacation rentals. With six of the apartments located in one historic building, and two more properties available nearby, there's plenty of space for your family and friends to gather together with the added convenience of fully-equipped kitchens and beautiful private spaces to relax. Here are a few of our favorite things that make La Place Dauphine the perfect place to stay this holiday and winter season!
1. Enjoy Christmas Charm Parisian-Style
Located on the Île de la Cité island in the Seine, the charming Place Dauphine is the most central location for enjoying Paris. Not only are you right in the heart of the city, but you're just a short stroll away from sights and shopping on both the Right and Left Banks. The historic Place Dauphine is decorated beautifully for the holidays. But just cross over to the Right Bank to find an "Enchanted Forest" in front of the Hôtel de Ville. Complete with light displays, a merry-go-round, and a cute winter market, this is festive spot from December 3-January 2.
Across the Seine on the Left Bank is the lovely little Marché de Noël Paris Notre Dame, a Christmas market in Square Vivani (near Shakespeare & Company bookstore – another great holiday shopping spot to support this iconic independent bookstore!) with artisan sellers from December 9-26.
Of course, you won't want to miss a stroll down the Champs-Élysées to see the Christmas lights and a visit to the Tuileries Garden Christmas Market, which is the biggest in Paris.
During the holiday season, don't miss seeing the elaborate window displays and decorations at Paris's Grands Magasins department stores. The decorations inside Galeries Lafayette as well as their windows are always over the top! See Primtemps while you're in the area and then head to La Samaritaine for gorgeous holiday shopping. From there, it's just a quick stroll across the Pont Neuf and you're back home at Place Dauphine! Paris's covered passages are also a lovely spot for shopping and holiday decorations.
While Place Dauphine is charming year-round, it's absolutely magical if you happen to catch it under a blanket of snow. All of our bedrooms at La Place Dauphine overlook this pretty square. Just imgaine opening your window in the morning to this view!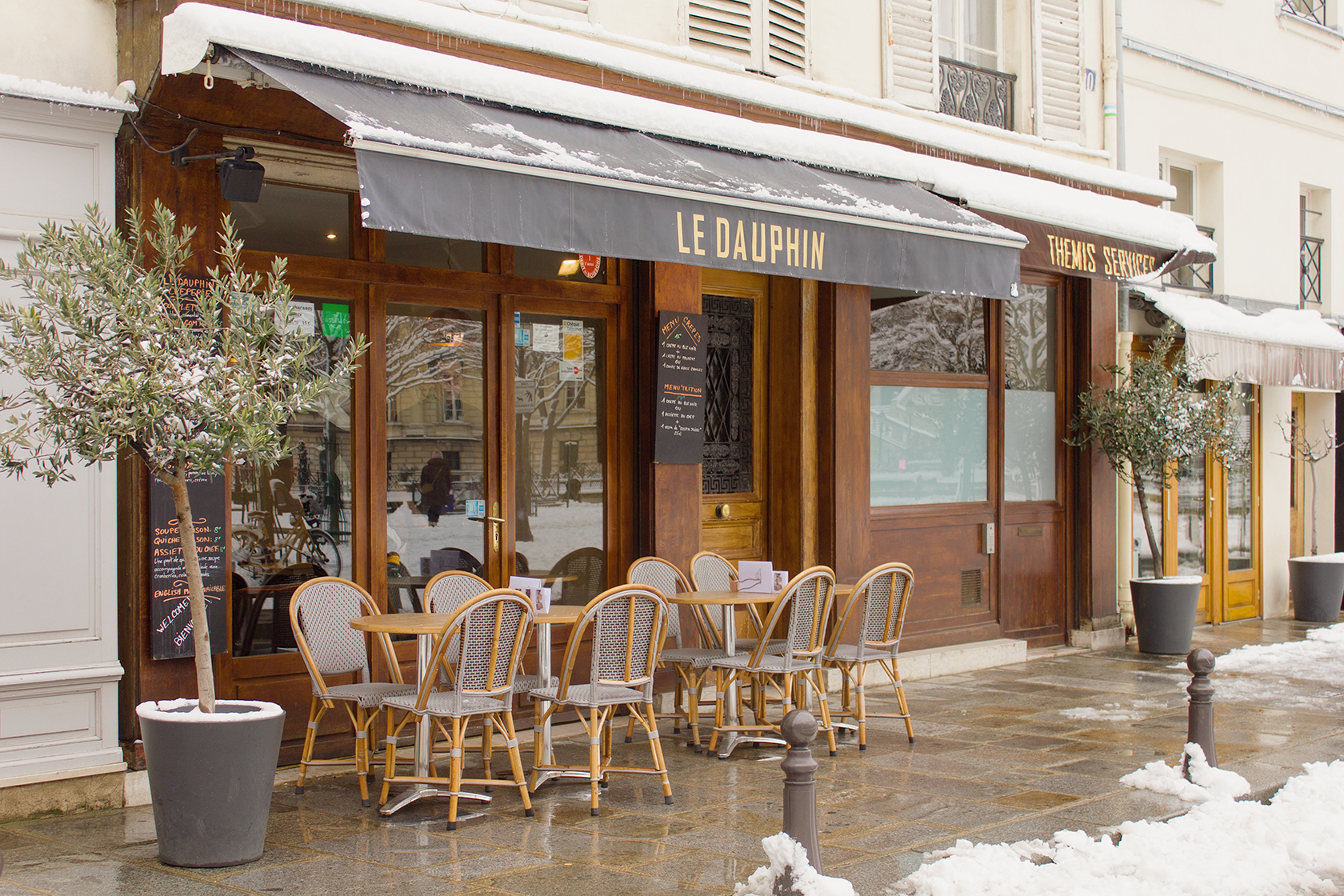 2. Warm Up at a Cozy Cafe
During the chilly time of the year, there's nothing quite so inviting as a cozy Parisian cafe. Warm up with a vin chaud or rich hot chocolate while you're out and about exploring. Place Dauphine has several charming restaurants and cafes that you can enjoy right at your doorstep while staying at La Place Dauphine. It's the perfect location to try traditional French winter foods. Or, with your full kitchen, you can even recreate delicious seasonal recipes at home during your stay!
3. Come for the Holidays, Stay for the Sales!
After the holiday season is one of the best times of the year for shopping in Paris. There are two set sale periods in France and the winter sales will take place from January 11 to February 7, 2023. You can find deep discounts during these seasonal sales. Discounts often increase as the sales continue, starting at 20% off and reaching up to 50% off (or more!) in the last days of the sales period. You'll love the convenience of being in the heart of Paris at La Place Dauphine with the best shopping spots on the Left and Right Banks just a beautiful stroll away!
Enjoying viewing and discovering more about La Place Dauphine and contact our team to book a magical stay this winter in Paris!