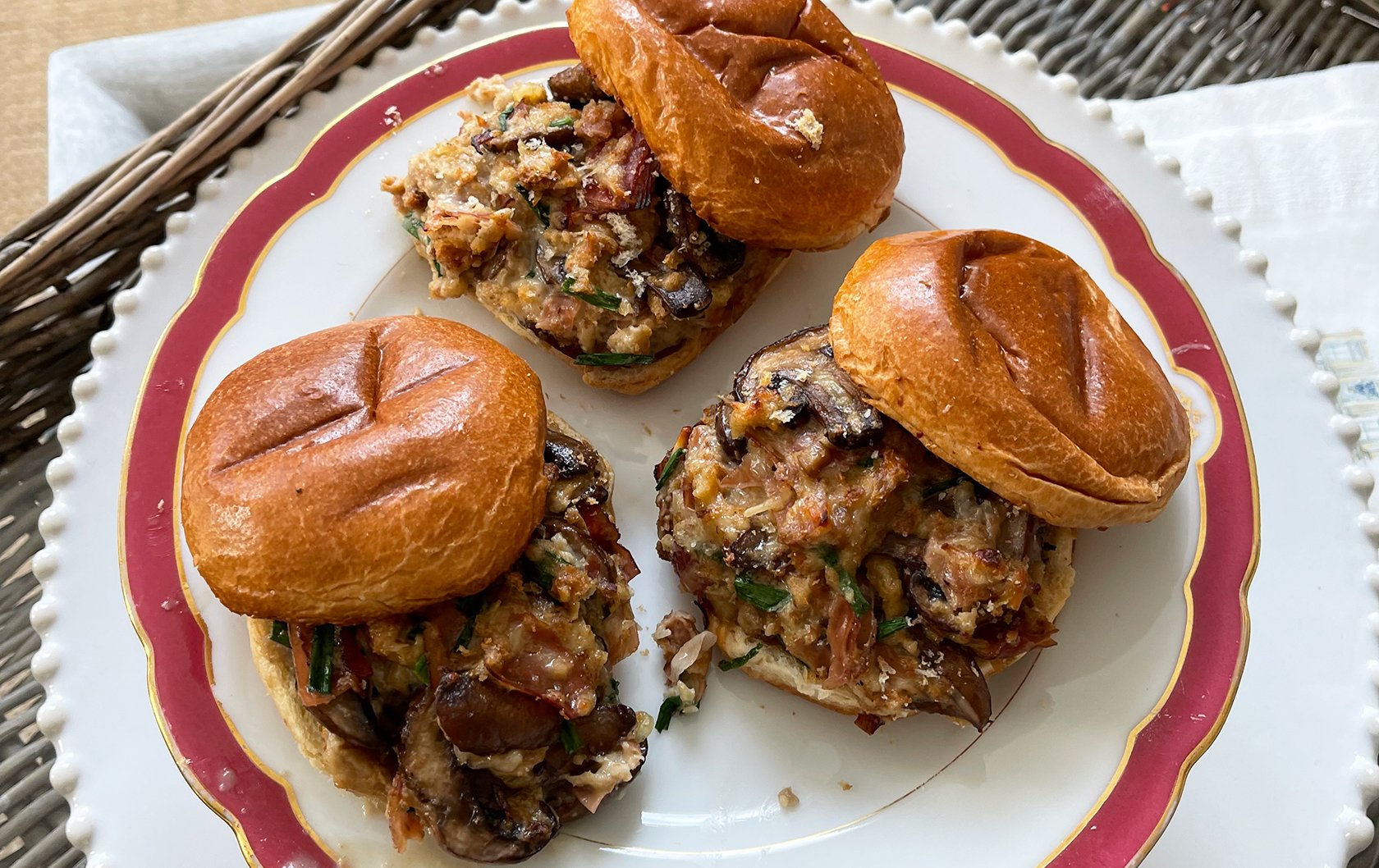 This is a delicious and incredibly simple recipe to make yourself! It's super easy to substitute ingredients and the result will always be delicious. The secret is the combination of sweet brioche with mushrooms cooked in olive oil with garlic – so good!
Delicious French Brioches Stuffed With Mushrooms, Cheese and Ham
INGREDIENTS:
4 round brioches or 1 loaf of brioche type bread (unsliced)
1 lb of fresh mushrooms; button mushrooms or similar
Olive oil
2 cloves garlic
2 shallots
Red wine/Port/sherry – whatever you have on hand
Small bunch of chives – chopped into 1/8" pieces
Cup of grated Emmenthal cheese (or Swiss or Conte)
1 ¾ cup cream (I used light "lower calorie" cream)
1 egg
8 oz bacon or ham (I used prosciutto because that's what I had on hand)
Salt and Pepper
Brioches:
If round brioches, slice in half. Use a fork to scrape out insides of top and bottom.
Put this inner bread filling in the oven to bake at a low temperature until dried out.
Put in a bowl and use fork to break apart.
Filling:
Slice mushrooms.
Add a couple of tablespoons olive oil to skillet.
Add garlic and shallots.
When they've started to brown, add the mushrooms.
Sauté at low temperature for 10 to 15 minutes:  Reserve a few mushrooms to top the finished brioches.
Add bacon/ham to mushrooms and cook a few minutes more.
At the end, add 1/2 cup (or more as desired) of red wine or sherry or whatever you have on hand for that final touch.
Assemble:
Add mushroom mixture to the bread crumbs.
Add egg.
Add cream.
Add chives.
Mix all ingredients together and add salt and pepper to taste.
Stuff and Cook:
Put the stuffing into bottoms of each brioche.
Cook at 360 degrees Fahrenheit (180 degrees C) for 10 minutes.
Last 5 minutes: add the tops of the brioches to brown.
When finished, place the mushrooms you put aside on top and serve with tops.
If you liked this recipe, try more of our French recipes on the Paris Perfect Blog.