It's easy to see why Paris is called the City of Light during the winter when it takes on an extra layer of magic. As the Eiffel Tower twinkles with festive lights and the scent of mulled wine fills the air, there's no better time to experience the enchantment of the French capital. Whether you're traveling before Christmas for some fabulous holiday shopping or planning to enjoy the season in France this year, we're revealing some of our cherished holiday hot spots and must-attend events. If you haven't experienced the charms of winter in Paris, find out why you should plan a visit to the City of Light this holiday season!
Spectacular Decorations
Parisians take their holiday decorations seriously. As you wander the city's iconic streets and squares, you'll be greeted by dazzling displays of lights, festive wreaths and beautifully adorned Christmas trees. The Champs-Elysées, Avenue Montaigne and Galeries Lafayette are renowned for their extravagant holiday decorations that turn the city into a mesmerizing winter wonderland.
Paris Perfect Favorites:
Galeries Lafayette: This iconic department store in Paris is a must-see during the holiday season. We love it because it embodies the enchantment of the season, and it's a must-visit for us year after year. The centerpiece is their magnificent Christmas tree, standing at over 20 meters (65 feet), which always leaves us in awe. It's one of our first stops every year, and it's become a cherished holiday tradition. Outside, the store's displays add to the magic with intricate lighting and decorations, turning the area into a winter wonderland.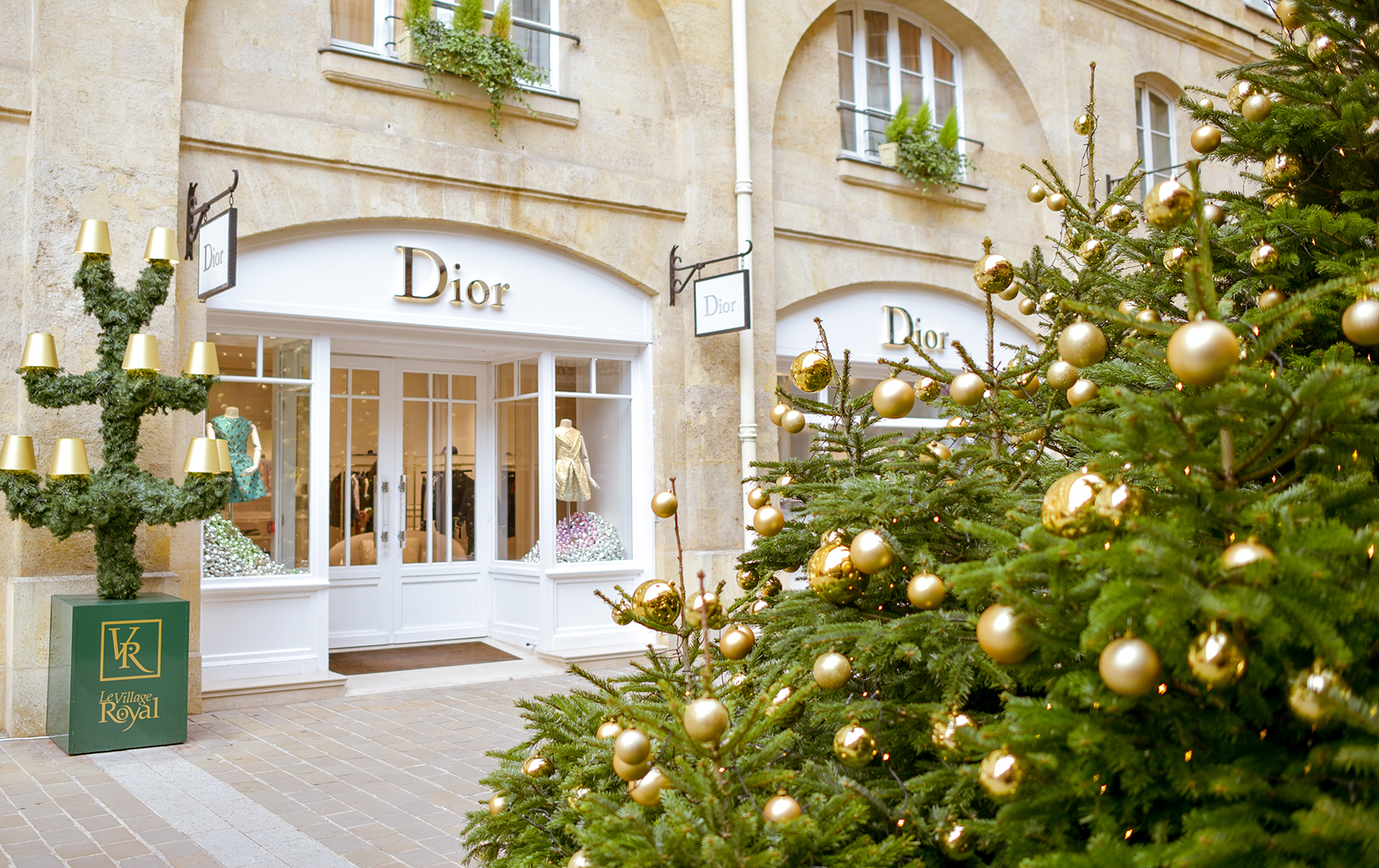 Avenue Montaigne: We love taking a leisurely stroll down this iconic avenue, not just for the designer boutiques but also for the charming holiday ambiance. It's a perfect spot for some luxurious window shopping and soaking up the festive atmosphere.
Cozy Cafés and Festive Treats
Parisians know how to savor the flavors of the winter season. You'll find charming cafés serving up steaming cups of hot chocolate and mulled wine, perfect for warming up on chilly days. Don't forget to indulge in festive treats like galette des rois (king cake) and bûche de Noël (Yule log cake) at local patisseries.
Paris Perfect Favorites:
Jean-Paul Hévin: Jean-Paul Hévin holds a special place in our hearts as one of our favorite chocolate shops year-round. Conveniently located just a short walk from several of our vacation rentals in the 7th arrondissement (23bis Av. de la Motte-Picquet, 75007), it's a place we often pop into for a sweet treat. During the winter season, their decadent hot chocolate is the perfect way to warm up on a chilly Parisian day!
View this post on Instagram
Auberge Bressane Paris: Auberge Bressane Paris is the perfect cozy setting for a winter's day in the city. It's where we retreat to enjoy some traditional French winter comfort food. Amidst the warm and inviting ambiance, don't miss the opportunity to try their signature sweet or savory soufflés. This delightful dish is not only a feast for the taste buds but also a captivating tableside performance that adds an extra touch of magic to your dining experience in Paris. (16 Av. de la Motte-Picquet, 75007 )
World-Class Shopping
Paris is a shopper's paradise year-round, but during the holidays it reaches a whole new level of excellence. The city's luxury boutiques and department stores, such as Galeries Lafayette and Printemps, go all out with holiday window displays and exclusive seasonal collections. It's the perfect opportunity to find unique gifts for your loved ones.
Paris Perfect Favorites:
Le Bon Marché: Le Bon Marché, with its enchanting holiday decor, is a winter wonderland that captivates us every time we visit. The store's holiday displays and festive ambiance add an extra layer of charm to our shopping experience. But what truly sets it apart is the perfect blend of luxury goods and local treasures.
In the heart of the department store, you'll find booths set up that house an array of unique pieces crafted by local artisans and designers. These hidden gems, nestled among well-known brands and luxury goods, are a testament to the spirit of Paris. It's here that we've discovered some of our favorite one-of-a-kind holiday gifts and souvenirs.
La Samaritaine: Just under a 5-minute walk from our vacation rentals at La Place Dauphine, La Samaritaine is another gem that we hold dear. This iconic department store recently underwent a spectacular transformation, and we've had the privilege of witnessing its grand reopening. We love it because it's now a modern haven for luxury shopping, dining and cultural exploration.
La Samaritaine undergoes a remarkable transformation during the winter season. The store's holiday decorations and innovative displays make it a place we eagerly anticipate visiting. What sets it apart is its ability to seamlessly blend tradition with innovation.
Christmas Markets
Paris boasts a variety of enchanting Christmas markets, each with its own unique charm. The Champs-Elysées, Montmartre and Notre-Dame Christmas markets offer a delightful blend of artisanal gifts, traditional crafts and delicious food. They are the ideal place to find one-of-a-kind souvenirs and soak in the holiday spirit.
Paris Perfect Favorites:
Tuileries Garden Christmas Market: We come here every year without fail! What we love about it is the festive atmosphere that appeals to everyone, but it's especially perfect for families. There are lines of charming wooden chalets where we find unique artisanal gifts, treats and holiday decorations. What makes it perfect for families are all of the family-friendly activities, from ice skating and soaking in Paris views at the top of the carousel to carnival games. There are even surprise guest appearances by Père Noël (Santa Claus) and Rudolph le Renne (Rudolph the Reindeer)!
La Défense Christmas Market: La Défense Christmas Market, set in a more modern backdrop, has become another cherished holiday tradition for us. Our favorite part about this market is the sheer scale of offerings. With numerous vendors, it's a paradise for food, drinks and shopping. Whether we're in the mood for traditional holiday treats or innovative culinary delights, we find it all here.
Cultural Delights
Paris is a cultural hub year-round, but during the holidays it offers a host of special events and performances. Attend a classical concert, enjoy a ballet at the Opéra Garnier, or immerse yourself in the festive atmosphere of Christmas-themed exhibitions at the city's museums and galleries.
Paris Perfect Favorites:
Paris Ballet at Palais Garnier & Opera Bastille: One of our favorite winter traditions in Paris is enjoying the city's vibrant ballet scene. With over 180 performances annually by the renowned Paris Ballet Company, it's an integral part of our holiday season. Whether it's at the iconic Palais Garnier or the modern Opera Bastille, being inside these venues is an experience in itself. Every winter, we make it a point to watch classics like "The Nutcracker" come to life on stage. It's a visual delight that becomes a cherished memory of the season.
To ensure you don't miss out on this cultural delight, discover the schedule and book your seats in advance on the Paris Ballet Company's website. While not all shows and events for 2023-24 have been released, follow us on social media for updates to make sure you don't miss out on being part of this enchanting ballet season and other exciting cultural events in Paris this winter.
The city's breathtaking decorations, world-class shopping, festive treats, and cultural offerings create an unforgettable experience. Whether you're sipping hot chocolate by the Seine or exploring the charming Christmas markets, Paris during the holidays promises warmth, wonder and pure enchantment. And what better way to fully immerse yourself in this magical atmosphere than by staying at one of our Paris vacation rentals this winter? Our cozy and stylish accommodations will provide you with a home away from home, allowing you to enjoy the city's holiday splendor to the fullest. Paris awaits, ready to share its festive magic with you!