Our Favourite Shopping Streets
Shop 'til you drop along the beautiful streets of Paris and get a taste of Parisian life along the way. Put together your dream shopping itinerary with our list of the best shopping in the city.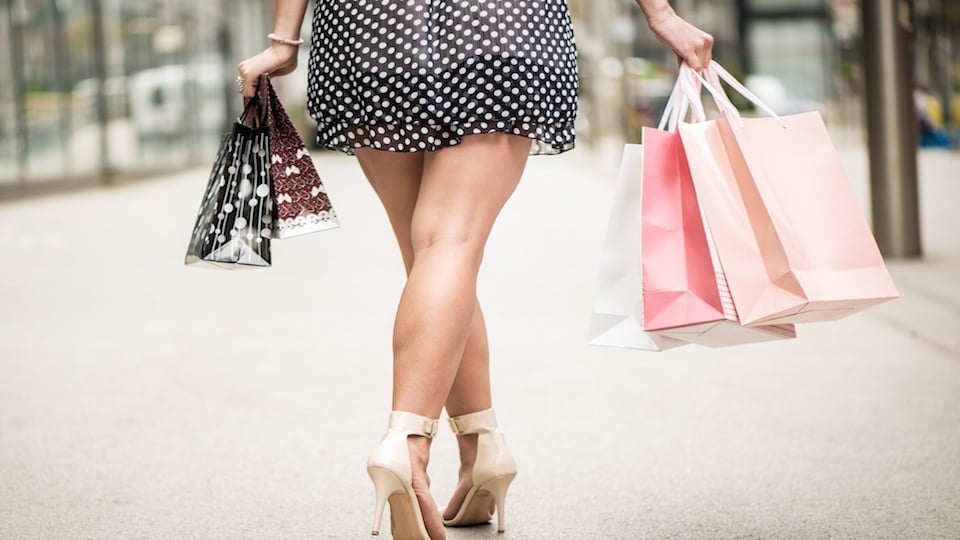 Looking for the latest in Paris high fashion? Great sales? Or perhaps the most unique Parisian shopping experience? Here's a list of some of the best shopping areas to give you a jumpstart on where to go and what to expect as you shop your way through the best of Paris!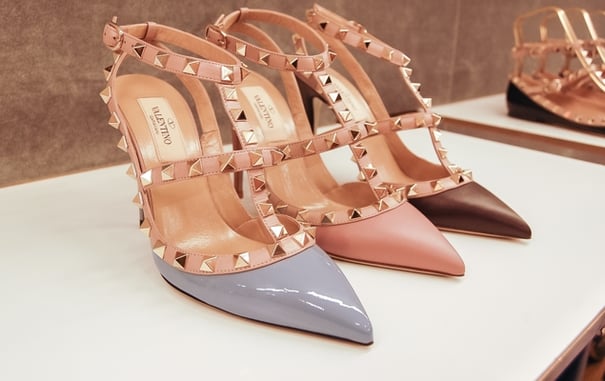 Boulevard Saint Germain, Bon Marché & Rue du Bac
Running through the elegant 7th arrondissement, the heart of Saint-Germain-des-Prés and into the lively Latin Quarter, Boulevard Saint Germain is a street shoppers won't want to miss in Paris. Starting at the Seine River in the 7th, this pretty street is lined with trees and beautiful Parisian buildings. It's a great spot for home décor shops, fashion boutiques and gourmet food shops. As you reach the intersection with Rue du Bac and Boulevard Raspail, you'll enter a fabulous shopping neighborhood. Follow Boulevard Raspail down to Rue de Rennes, and along the way you'll find many interesting stores, including Genevieve Lethu for dishes, tablecloths and so on (95 Rue de Rennes). Plastiques (103 Rue de Rennes) is great for home gift ideas, including cool cheese trays, salad bowls out of clear plastic with Provencal flowers inside and so on.
Enjoy exploring the neighborhood and streets leading to Bon Marché, the Left Bank's fabulous department store (See Department Stores section below for more details). Nearby, gourmands will want to visit Le Grande Épicerie at Bon Marché where you can find everything for a gourmet meal at your Paris Perfect apartment or a great selection of food items to take home as souvenirs or gifts.
Follow Rue d'Assas and the streets leading by the Luxembourg Gardens and deeper into the Latin Quarter for fun shopping finds. Le Mouton à Cinq Pattes (The Sheep with Five Legs) has several stores on Rue St. Placide — to the left as you face the Bon Marché and the second block on the left. If you can stand it, try the buy-out stores and designers' stock overage stores — a lot of junk but you might find some bargains. More bargain stores, especially DPAM for children, are further down.
For a classic Paris shopping experience, follow Boulevard Saint Germain into the 6th arrondissement and enjoy the famous literary cafés—Les Deux Magots, Café de Flore and Brasserie Lipp— and high-end shopping around Saint-Germain des Prés. You'll find some of fashion's top names here, which is a delightful mix of luxury shopping blended with the artistic and literary roots of the neighborhood. Continue down Boulevard Saint Germain right into the heart of the Latin Quarter where you'll find bookshops, unique fashion shops and a more avant-garde younger style. Read more about our favorite bookshops and brunch spots on our Blog here.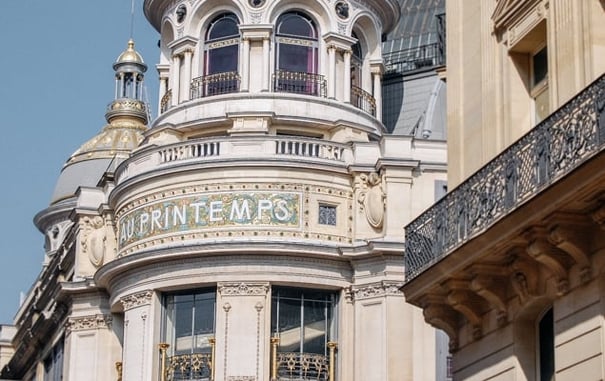 Grand Magasins on Boulevard Haussmann, Rue Tronchet & La Madeleine
Start exploring this shopping area in Paris by strolling around the Place de la Madeleine. The streets surrounding the church—with its stately neoclassical temple design—are lined with trees and elegant shops, cafés and gourmet food shops such as Fauchon. Follow Rue Tronchet from La Madeleine and you'll head directly toward the huge department stores Printemps and Galeries Lafayette on Boulevard Haussmann (See Department Stores section below for more details). Along the way you'll pass lots of neat shops. Keep your eyes out for a super handbag and luggage store called La Maroquinerie Parisienne on the right as you approach Boulevard Haussmann. The streets here are lined with shops all along Boulevard Haussmann leading toward the beautiful Opéra Garnier. Stop in the huge Monoprix store near Galeries Lafayette for a uniquely Parisian shopping experience. This area is a shopping haven all day long and also after dark when the Opéra creates a dramatically beautiful backdrop.
La Maroquinerie Parisienne
Everything is 15-20% cheaper here. The selection of bags and luggage is good, and you'll get your 20% détaxe refund after spending €150. Look for the display window and then walk up to the first floor.
Monoprix
Located just off Boulevard Haussmann behind Printemps and Galeries Lafayette, take a break from the big department stores to shop at the Monoprix store. Here you'll find great deals on fashions as well as make up, skin care products, home décor and a little of everything in between.
Website: www.monoprix.fr
Address: 56 rue du Caumartin
Phone: (01 44 53 79 79)
Location: 8th & 9th arrondissements, Place de la Madeleine, Rue Tronchet, Boulevard Haussmann, Place de l'Opéra
Métro: Madeleine (8, 14), Havre Caumartin (3, 9), Auber (RER A), Opéra (3, 7, 8), Chaussée d'Antin – Lafayette(7, 9)
---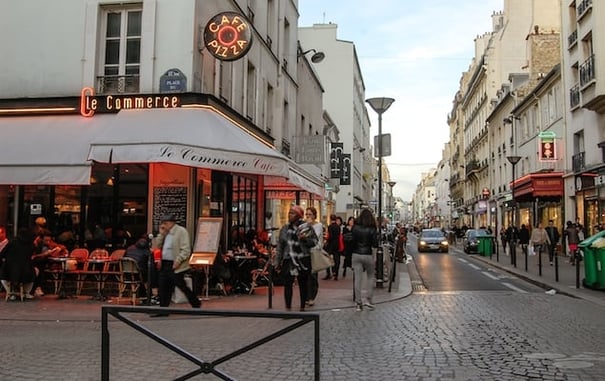 Rue du Commerce
We've named Rue du Commerce the Best Hidden Shopping Street in Paris for its excellent selection of popular brand shops, small boutiques and traditional Parisian charm. Located in the 15th arrondissement just a short stroll from the Eiffel Tower, this is where Parisians head when looking for the latest trends without the expensive price tags. There's something for everyone along Rue du Commerce with over 100 shops along the way! With limited traffic along the narrow one-way street, you can easily crisscross your way down the street hitting your favorite shops.
Monoprix: Don't miss a stop here. At the corner of Rue du Commerce and Boulevard de Grenelle, be sure to visit the Monoprix store for a truly Parisian experience. Much like Target in America, you'll find a little bit of everything at the Monoprix, including fashion, make up, skin care products, home decorations and a full supermarket on the upper level.
After a stop in Monoprix, head down Rue du Commerce, where you'll find an excellent selection of shops, including: Sephora, Libertie, Marionnaud (great for discount perfumes), Princesse Tamtam, Comptoir des Cotonniers, Kookaï, Gap, André, Pimkie, Etam, L'Occitane, Petit Bateau, Geox, The Body Shop, Esprit and so many more.
This street is very popular with local families and residents and is conveniently close to many of our apartments in the neighboring 7th area. It is lined with shops, cafés, bakeries and the pretty Place du Commerce for resting your feet is a good choice for a leisurely morning or afternoon's shopping in Paris.
Location: 15th arrondissement, Rue du Commerce from Boulevard de Grenelle to Rue des Entrepreneurs
Métro: La Motte-Picquet Grenelle (8), Commerce (8), Avenue Emile Zola (10)
---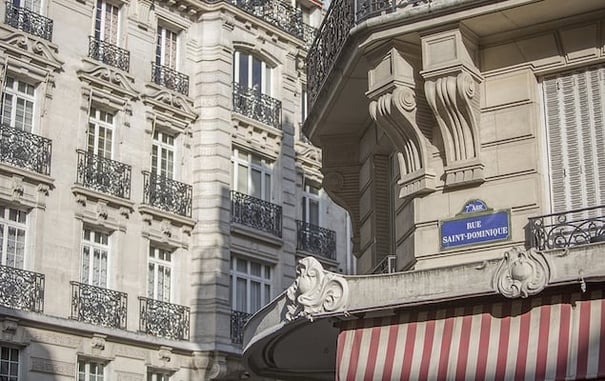 Rue Saint Dominique, Rue de Grenelle & Rue Cler
The village-like charms, excellent boutiques, cafés and pretty streets that you'll discover in the 7th arrondissement between the Champ de Mars gardens and the Esplanade des Invalides makes this our favorite neighborhood in Paris. Most of our apartments are located nearby, where you'll experience the authentic Parisian lifestyle that we love. Enjoy strolling along the Rue Saint Dominique and Rue de Grenelle, both lined with lovely shops, restaurants and cafés. Be sure to walk up and down the small cross streets as you explore this neighborhood.
Don't miss visiting the famous Rue Cler market street in the 7th arrondissement. We think you'll fall in love with the charms of this neighborhood just as we have! Rue Cler has a wonderful selection of food shops, including Davoli (fabulous Italian delicatessen), La Sablaise Poissonnerie (one of the finest fish merchants in Paris), several fruit and vegetable shops, our favorite cheese shops, Oliviers & Company (lovely olive oils), Le Repaire de Bacchus wine store, A la Mère de Famille Chocolatier, Famille Mary Miel et Nature (natural shop specializing in honey) and many more.
Location: 7th arrondissement, Village-like neighborhood between Champ de Mars gardens and Esplanade des Invalides
Métro: Ecole Militaire (8), La Tour-Maubourg (8)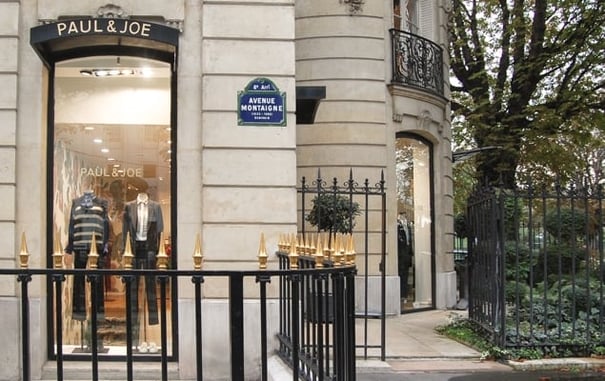 Triangle d'Or
When it comes to Paris fashion, the Triangle d'Or is where every woman dreams of shopping in Paris. This shopping mecca is formed by Avenue Montaigne, Avenue George V and Rue Francois 1er in the 8th arrondissement just across the Seine from the Eiffel Tower. This is the heart of Paris' Haute Couture shops and the finest fashion houses in the world, including Dior, Chanel, Ferragamo, Dolce e Gabbana, Prada, Valentino, Bulgari, Gucci and many more. The Grand Couturiers (major designers) of Paris are mostly clustered around the famous Avenue Montaigne. When you shop in the Triangle d'Or in Paris, there are so many flagship stores on this street that you will be overwhelmed with the Paris shopping possibilities.
Yves Saint Laurent made a monument of their flagship store in Paris, where one of Paris' most influential designers established his headquarters. Continue your Paris shopping spree at Bulgari where you'll find their gorgeous jewelry on display. Shop at S.F. Dupont for the most prestigious writing instruments in the world. Shopping in Paris for luxurious designer linens? Porthault Linens (Linge de Maison) is based here. Looking for that special perfume in Paris? No problem! Caron's shop, located in the Triangle D'Or of Paris, is a French institution for Parisian women.
Continue your Paris Shopping excursion around the corner on Avenue George V where you can shop at Louis Vuitton, Hermes, Gianfranco Ferré, Givenchy, and Kenzo. Along Rue Francois 1er, enjoy shopping at Rochas, Courrèges, and Balmain on this beautiful street.
Head toward the Champs Élysées to shop at trendy Zara and the last word in cosmetics, Sephora's flagship store. You will pass the Louis Vuitton flagship store and won't be able to resist a stop, even if it's just to enjoy a look at their gorgeous luggage and bags.
For an elegant break during your Paris shopping spree in the Triangle d'Or, stop in at the legendary Four Seasons, George V or the Plaza Athénée (famous for the last episode of Sex and the City) for tea or a three-star meal!
Opening Hours: Most stores are open from Monday to Saturday, from 10 am – 7 pm. Remember that if you aren't ready for the price tag of an original Chanel suit, the Paris sales are in January and July and are often well worth a visit.
Location: 8th arrondissement, The Triangle d'Or is the posh neighborhood contained by Avenue George V, Avenue Montaigne and Rue François 1er
Métro: Alma Marceau (9), George V (1)
---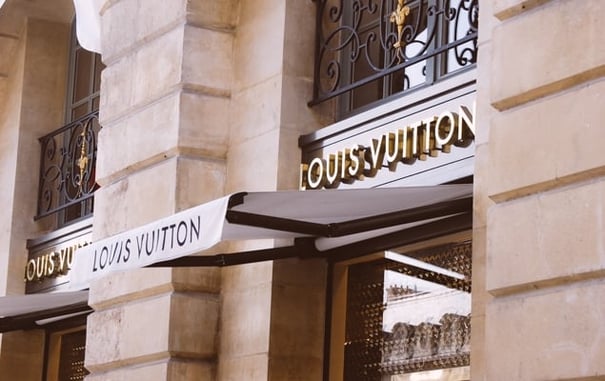 Rue de Rivoli, Palais Royal & Place des Victoires
The 1st arrondissement is a heavenly spot for shoppers! Elegant and trendy shops line the refined Rue de Rivoli, popular Place des Victoires and surround the beautiful gardens at the Palais Royal. Located within easy walking distance of the Louvre Museum, these are spots dedicated shoppers won't want to miss!
Rue de Rivoli
Only in Paris can fashion, shopping and elegance be combined in such a fabulous way like the arcaded Rue de Rivoli running along the Tuileries gardens and Louvre Museum. Walking down the shop-lined street, be prepared to find so many stores you won't be able to visit them all in one day. And it doesn't even end there, because then you have all the side streets to explore, which are filled with tons of original boutiques and fashion stores. Follow Rue de Rivoli all the way to the Place de l'Hôtel de Ville where you'll find BHV – one of the biggest department stores in Paris where you'll find fashions, home décor and everything in between (See Department Stores section below for more details)
Jardin du Palais Royal
After a day of visiting museums and shopping, the peaceful Jardin du Palais Royal is a wonderful spot to rest. Surrounded on three sides by arcaded buildings, the Palais Royal gardens are more intimate and private than the larger Tuileries Gardens nearby. After relaxing in the beautiful garden setting, explore the surrounding arcades lined with restaurants, art galleries and boutiques.
Place des Victoires
The Place des Victoires is an elegant circle designed in the 17th-century by the well-known French architect Jules Hardouin-Mansart, the architect behind the splendor of Versailles. Situated on the border between the 1st and 2nd arrondissements, the Place del Victoires is located in an upscale neighborhood filled with shops by some of Paris' top designers as well as boutiques by up and coming and cutting edge designers. Enjoy window shopping along the refined streets around Place des Victoires.
Place Vendôme
Place Vendôme is one of the seats of elegance in the 1st arrondissement. This grand square is surrounded by 18th-century arcaded buildings and at the center stands the tall column built by Napoleon to celebrate the victory of the Battle of Austerlitz. For a taste of opulence, stop by the Ritz Hotel, where you can find Michelin starred restaurants and a wonderful bar to relax in. If you're staying in one of Paris Perfect's luxury rental apartments near Place Vendôme, you can enjoy all of the perks of the neighborhood without breaking the bank with a stay at the Ritz. Stroll around Place Vendôme, where you'll find some of the biggest names in fashion and jewelry in the world, including Cartier, Bulgari, Chanel, Tiffany's, Dior, Van Cleef & Arpels, Rolex, Montblanc and many more.
Location: 1st arrondissement, Rue de Rivoli, Place Vendôme, Jardin du Palais Royal, Place des Victoires
Métro: Concorde (1, 8, 12), Tuileries (1), Palais Royal Musée du Louvre (1, 7)
---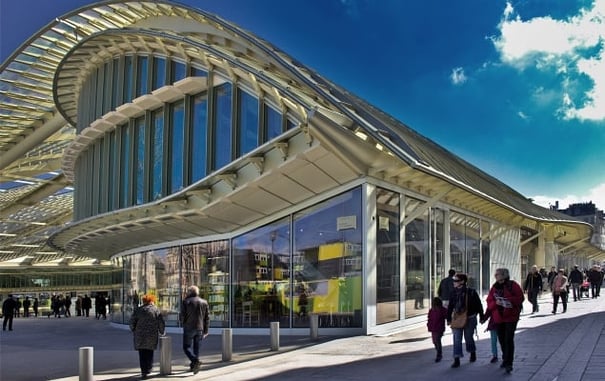 Les Halles
Once described as "the belly of Paris" by Emile Zola, the Forum des Halles used to be Paris' main market, selling fruits and vegetables for restaurants throughout the city. This area was transformed in the 70s into a multi-level underground shopping center dominated by the curves of the modern glass and metal designed building. While not very intuitive to navigate, this popular shopping area features small boutiques, trendy large chains as well as restaurants and cinemas. Above Les Halles is a large pedestrian area with many open-air cafés and bistros. Settle down at an outdoor table on a sunny day and you can sit out for hours and watch the world go by.
Enjoy the lively street scene along the Rue Montorgueil market street, where you'll find everything you need for a wonderful meal at your Paris Perfect apartment. This neighborhood is filled with inviting cafés and restaurants ideal for taking a shopping break to enjoy a moment of Parisian daily life.
Forum des Halles
This huge underground shopping center is a popular spot for finding the latest fashions all under one roof. You'll find Kookaï, Benetton, Zara, Naf-Naf, Promod, Princesse Tam Tam, Mango, Sephora, Etam, H&M, Manfield, Darjeeling, Celio, André, Esprit, Du Pareil au Même, Pimkie, Quicksilver, L'Occitane and many more.
Location: 1st arrondissement
Métro: Les Halles (4), Louvre Rivoli (1)
---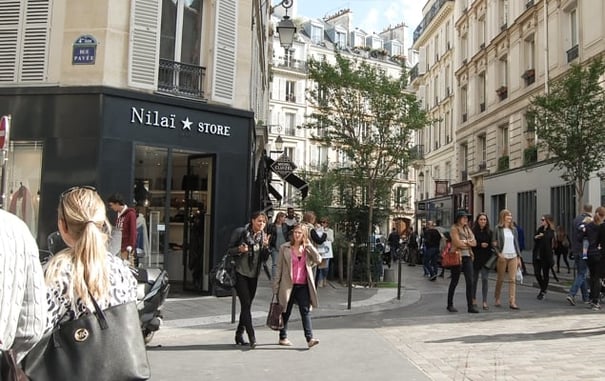 Place des Vosges & Le Marais
Once the haunt of old nobility, the Le Marais neighborhood in Paris' 3rd and 4th arrondissements is a lively neighborhood known for its trendy boutiques, vintage shops, restaurants and vibrant gay community. Tourists and Parisians alike crowd the narrow pre-Revolutionary streets to absorb the atmosphere of this quaint neighborhood. Sunday morning is a popular time for strolling along the streets when many of the shops are open, which is unusual in other parts of Paris. Start your stroll in the picturesque Place des Vosges, a beautiful historic square surrounded by an arcade lined with a great mix of elegant and artistic shops. Top-Tip from us - take advantage of the Marais Walking Tour, an introduction to one of the trendiest areas of Paris. Guided by an expert, you can explore the fascinating history of the area whilst noting down the hottest fashion stores as you pass by to revisit after and shop like a real local!
Location: 4th arrondissement, Place des Vosges and neigborhood streets toward Centre George Pompidou and down toward Hôtel de Ville
Métro: St-Paul (1), Bastille (1, 5, 8)
Sign up for our Vacation Perfect newsletter and real estate updates.