Where to Buy: Find your Perfect Paris Neighborhood
We get to know our favorite neighborhoods and streets so well that we don't even need to view the building or apartment in order to decide about an apartment.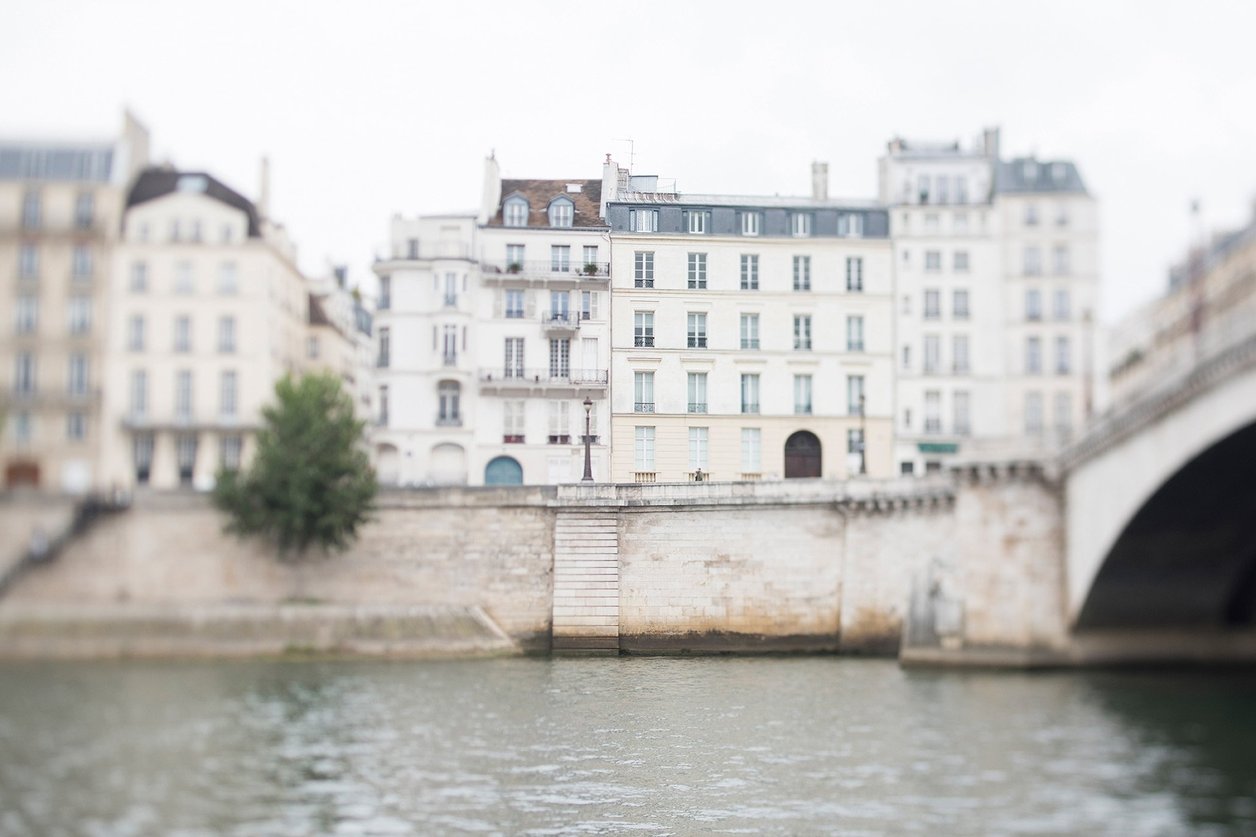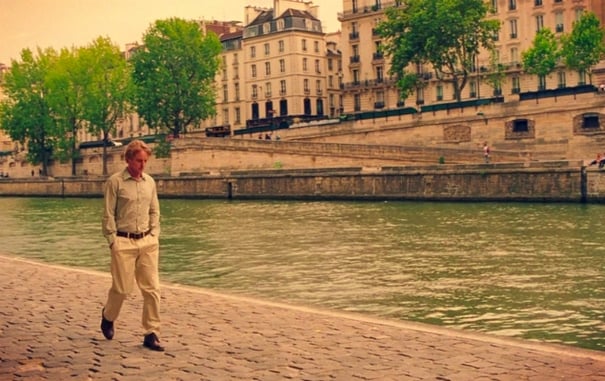 The single best advice in terms of finding the best neighborhood is to do what Paris is famous for - wandering. Wander and enjoy, just as Owen Wilson did in Midnight in Paris. You'll savor those moments! Definitely visit at dawn and dusk, or at least in daylight and in the evening, because a location can change completely depending on the time of day. For example, some arrondissements feel sadly "closed up" during the day because there are so few markets and shops; the 16th arrondissement is one of them from our perspective. There are very few local shops or open-air markets, and everyone drives to Passy.
The area around the Sacre Coeur is a favorite for me when I'm looking for fabrics for curtains and upholster, but it feels a little creepy at night.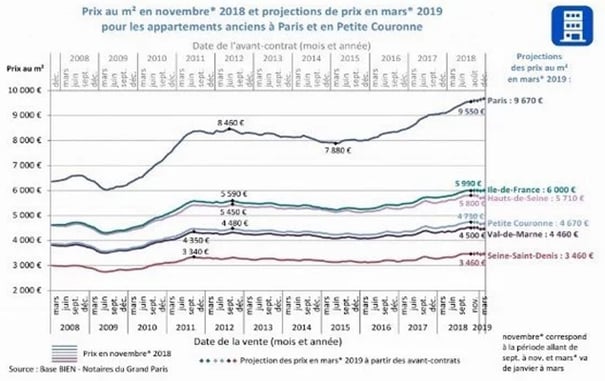 Think Ahead: As a former financial analyst, Madelyn asks "What would happen if I want to sell quickly?" In the old days, it was whether the stock or bond was liquid enough to sell easily, if the thesis for purchase was solid. In the case of property, the question is, "Would a local Parisian, one who knows the market, buy your apartment in this location in a heartbeat?"
If it's an upcoming area, but still on the fringe, you may want to reflect. Foreigners will have backed away in a weak market, so your buyer profile will be a local, looking for a great price in the best area. That's where the A+ neighborhoods stand the test of time. Learn more by reading our real estate analysis from 2019.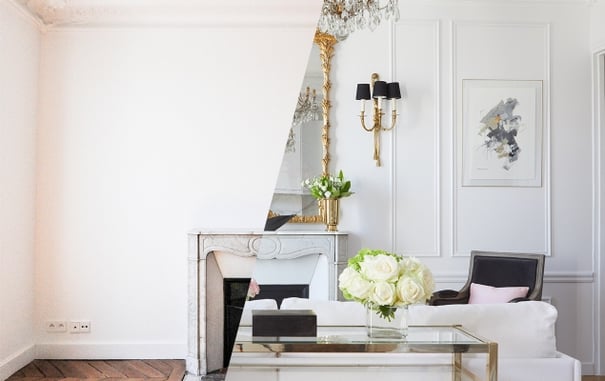 Remodeling Costs Are the Same so Buy in the Best Paris Location
This is our motto, and we repeat it again. Wherever you buy, most apartments need remodeling. The costs to remodel are the same whether you buy in an emerging neighborhood or in the best. Having completed dozens of Paris remodels to a quality standard, we estimate remodeling costs between €2,500 and €4,000 per square meter, depending on the level of works.
The lesson is simple: 'Don't be penney wise and pound foolish. Saving on the apartment purchase price, only to spend X times the savings to remodel, money you won't get back if the neighborhood has not appreciated like the most desirable arrondissements.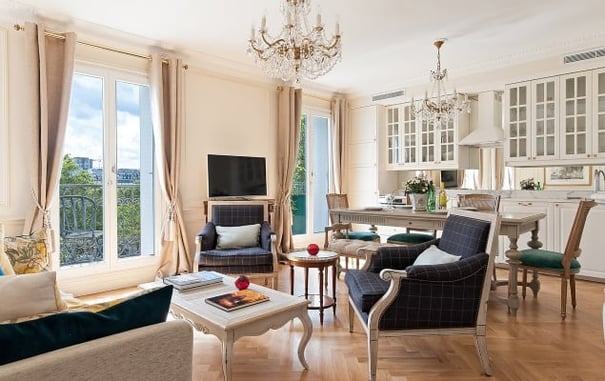 Example of Knowing the Neighborhood Which Meant Beating Another Buyer by Minutes:
We purchased the Merlot vacation rental this way. Maddy was traveling from London to Paris and waiting in the Eurostar terminal in London when she saw a copy of The Figaro newspaper. She scanned the real estate pages, a favorite activity, and saw an ad for an apartment, stating only: "Avenue de la Bourdonnais, 5eme etage" plus the price.
6 words; but they were golden.
Maddy knew the street and neighborhood well:
First, the asking price reflected a smaller, approximately 60-square meter apartment.
The smaller apartments on Avenue de la Bourdonnais always face west and therefore have a view of the Eiffel tower. (The buildings on the other side of the street are larger and more expensive and don't have an Eiffel view.)
Second, the fifth floor in Paris is generally the cherished floor with a balcony.
So a 5th floor location facing west would almost guarantee an unforgettable view! These kinds of apartments sell in a matter of hours and she knew we had to hurry.
As the train was boarding Maddy woke up the buyers on the West Coast and explained the urgency. They agreed and gave her permission to go ahead.
We called the agent who confirmed the building address. The price per square meter for the 60 meters was at the low end of the market. Maddy calmly said we would buy it at full asking price and would fax through our firm offer shortly.
An emailed offer was sent to the agent, plus Philippe called him because it was so irregular to buy an apartment via fax and sight unseen. He explained his wife was American ('What can you do, these crazy Americans…') but he established his credibility and said yes we were making a full price offer.
Until this offer was formally accepted by the owner, anything could happen. To lock it in firmly, we had our notaire call and confirm that we were upstanding citizens who banked on the corner. Our notaire requested that the offer be reflected to the owner immediately and the owner accepted; agent confirmed their acceptance.
We didn't view the apartment until that evening, and it was exactly as we surmised: an incredible Eiffel view and balcony! The agent couldn't believe his luck because a competing offer from another agency arrived 5 minutes after ours. And these other buyers were ready to raise the price.
But the seller had already received and accepted our offer, and they were legally bound to it. As we left the apartment, two more couples came in to view it, but there was no possibility to outbid the offer.
That's an idea of how fast things can happen when the location and property are perfect. You too must be prepared to act as quickly…
Long story short, we gutted and remodeled it with excitement, and were fortunate to have it featured on The Fine Living Channel as one of the most romantic apartments in the world. It is truly that.
Our advice: go for the best area you can afford, because properties in better arrondissements tend to hold their value even in bad markets.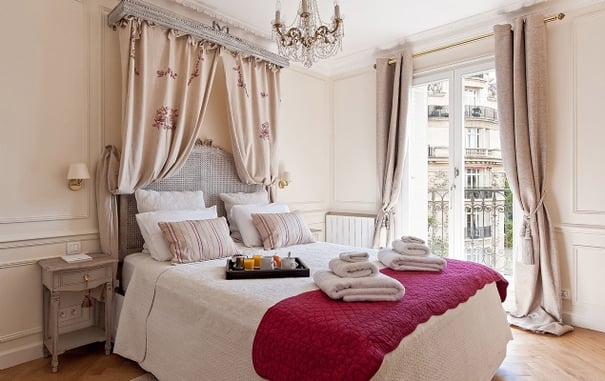 Can We Be Of Further Assistance?
With over 100 happy owners, we are proud of the search services we offer buyers. Click here if you have questions or are interested in buying a Paris apartment.
Feel free to email us for more information about our search services and to receive our brochure on The Apartment Buying Process in France – in Simple English: Contact us at: [email protected]
Sign up for our Vacation Perfect newsletter and real estate updates.