On the Ground Experience: 25+ Years and Over 60 Successful Renovations
Costs to remodel a property in Paris vary widely depending on the quality of the contractor, the sub-contractors and the work required. The most successful remodels, however, start with finding the right properties. Our skill starts with continuously searching the Paris market to identify the best apartment for a buyer, one of the hardest jobs of all. With over 3,500 independent real estate agencies in Paris, and no multiple listing service, it requires experience, dedication and passion. But our work doesn't end there! Having personally overseen the renovations of over 60 Paris apartments, there is no substitute for the wisdom that comes from this hard-won experience.
We have the in-depth experience to confidently tackle a remodel to ensure that results achieve the high standards seen in these beautiful examples from Paris Perfect Shared. We are extremely proud of this unique accomplishment and the savings it has brought for apartment owners by helping them avoid costly mistakes or unwise investments.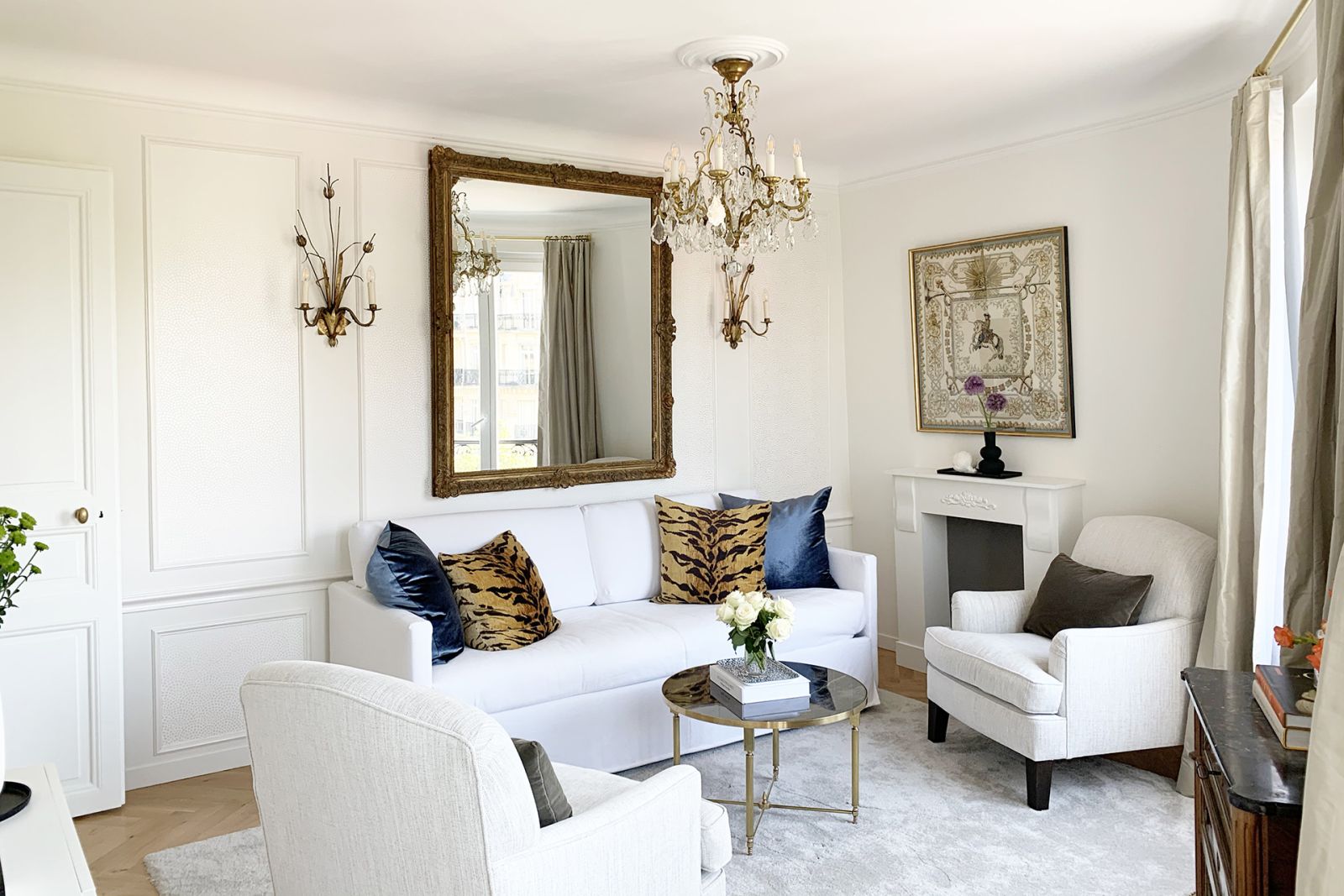 This experience has helped us create our own private resource guide of trusted contractors, designers, furnishings and appliance resources. We share these valued resources with our clients so their projects are executed to the highest standards and at the best price. In summary, we can help our clients find the perfect apartment as well as guide them through renovations, furnishing and decor and even property management while they are away.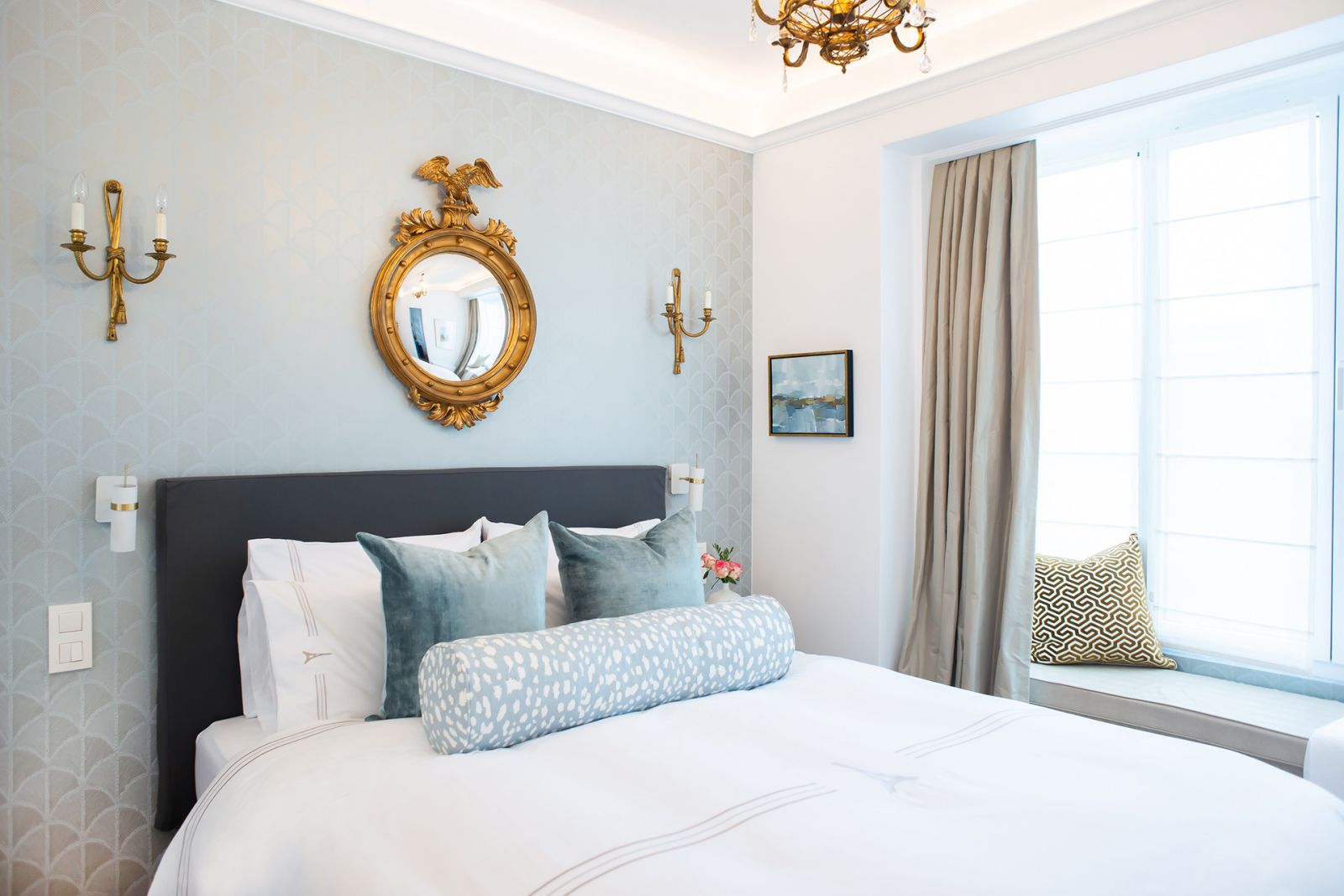 Remodeling Expenses: What to Expect
After more than 20 years of experience remodeling apartments in Paris, we know not only what needs to be included to create a comfortable home in Paris but also trusted contractors to make it happen. When it comes to estimating the cost of remodeling, the prices listed here are for a high quality remodel including:
Permits and plans
New kitchen, new bathrooms
Extensive electric wiring throughout, all pulled thru safety cables in the walls
New plumbing
Built-In Closets, decorative molding throughout adding to historic character
Highest-grade plumbing fixtures such as wall mounted faucets, highest quality appliances, and lighting
Air Conditioning if possible
New soundproof, insulated windows
Painting – including thorough sanding between 3 coats of paint
Refurbishment of floors if needed
Highest-grade designer furnishings.

| | | | | | |
| --- | --- | --- | --- | --- | --- |
| Apartment Size | Approx Apartment Size: Square Meters | Square Feet | Quality Remodel + Furnishings: Cost per Square Meter | Per Square Foot | TOTAL Cost |
| 1 Bedroom Apartment | 50 m2 - 65 m2 | 538 – 700 sq. feet | € 5,000 – € 7,500/m2 | € 465 – €697 per square foot | € 250,000 – € 600,000 |
| 2 Bedroom Apartment | 70 m2 - 100m2 | 753 – 1,076 sq. feet | € 4,800 – € 7,200/m2 | € 445 – €668 per square foot | € 350,000 – € 750,000 |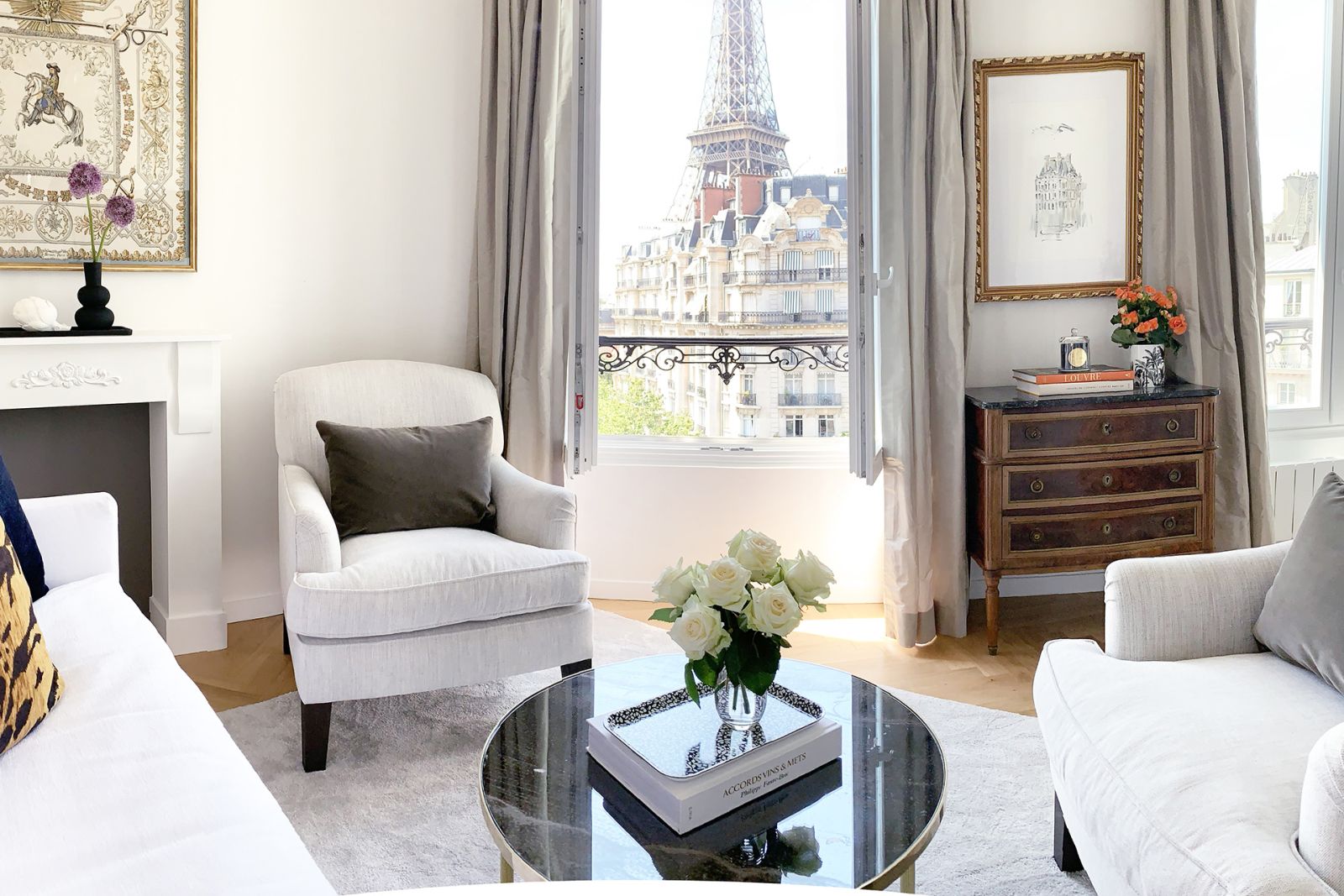 Examples of Our Remodeling Projects
We are experts at reconfiguring apartments to include features rarely found in Paris apartments. This means adding comfortable elements like air conditioning as wells as designing floor plans that allow for second bathrooms or extra powder rooms, extremely rare features in Paris. Here are some examples of our work: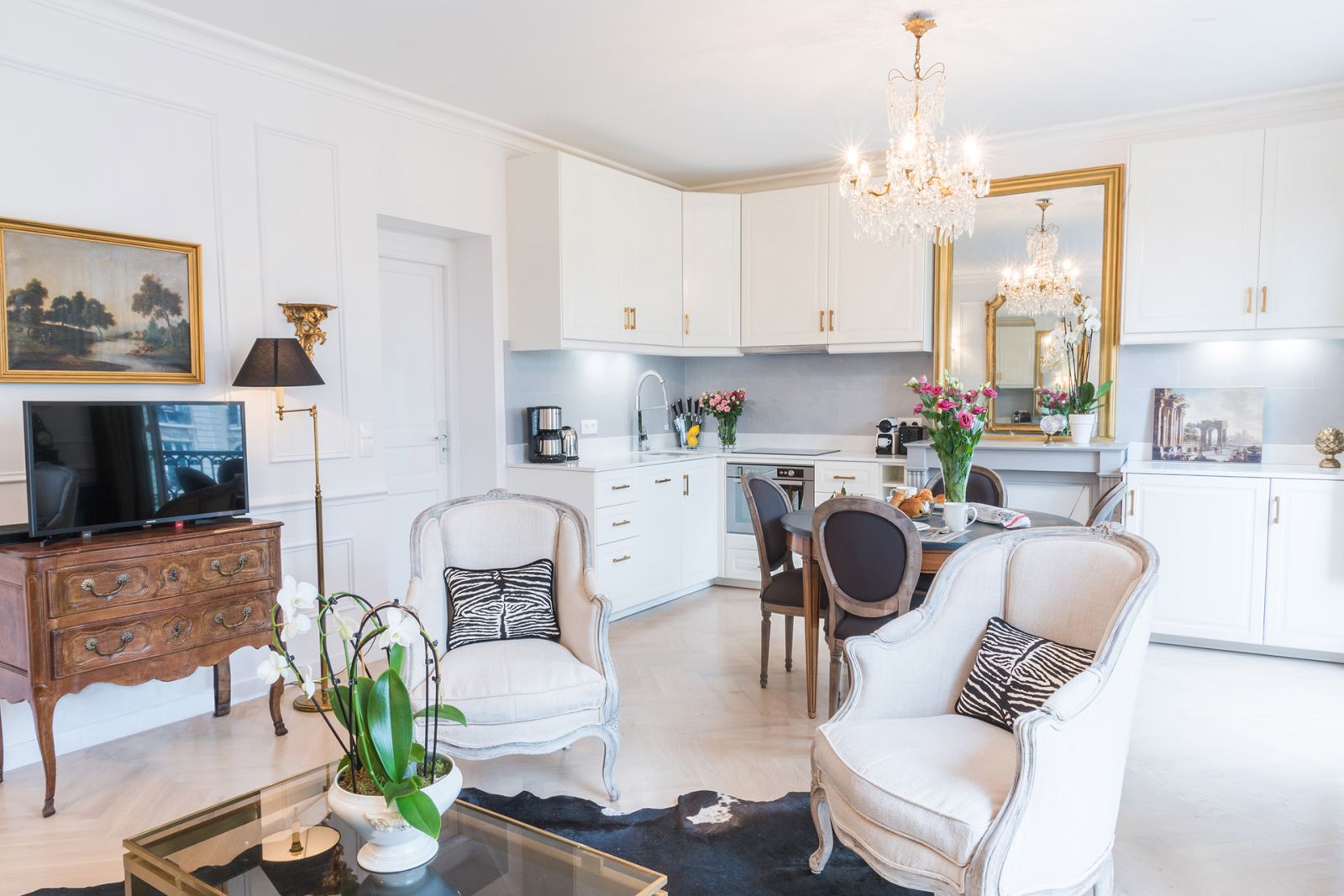 All it takes is a lot of imagination and vision to open up spaces and move things around, like this example of combining a kitchen and living room into a new bright and open space.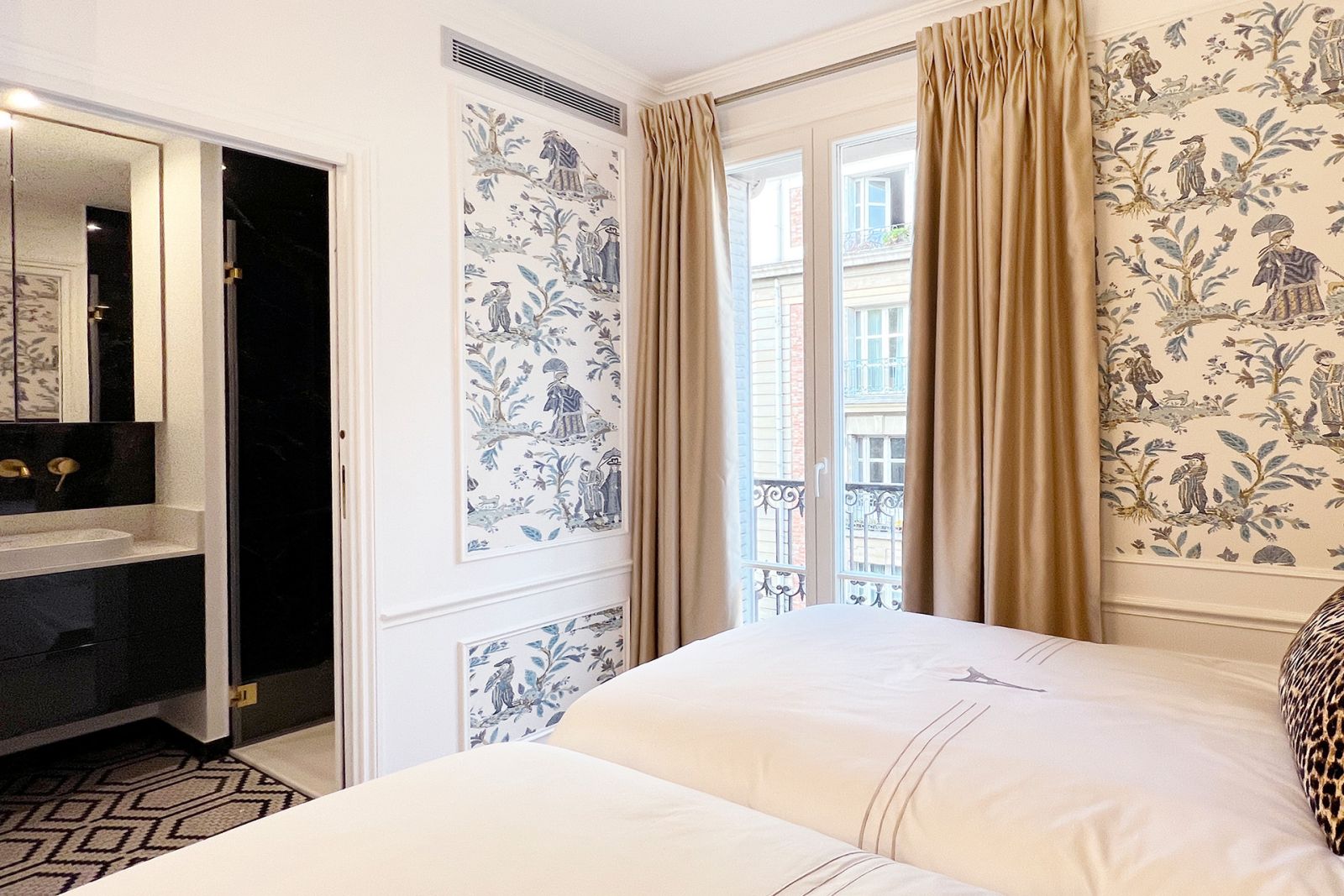 For this apartment, we transformed a kitchen into a beautiful bedroom with an ensuite bathroom. The bed was perfectly placed to take advantage of an incredible Eiffel Tower view.
For a glimpse of a complete remodel and decoration project, take a look at the stunning Beaux Rêves apartment in Paris. This property needed to be completely gutted and renovated from the ground up. During the remodel, we added an additional powder room and create an extra bathroom, turning it into a one-bedroom, two-bathroom apartment. Our design team worked their magic to create an elegant and fully furnished apartment that was move-in ready for the owner – every little detail was perfectly designed!
If you're looking to buy an apartment in Paris, please feel free to get in touch with us at [email protected].
Important Remodeling Tips
Tip #1: Finding a reputable contractor is essential. As anywhere, there are multiple ways a contractor, or their subs, might deliver an inferior job which won't be discovered until it's too late if you do not have the knowledge or are not onsite to check the work. We have seen many examples in apartments that have undergone shoddy remodels, from fake electric outlets to substandard plumbing.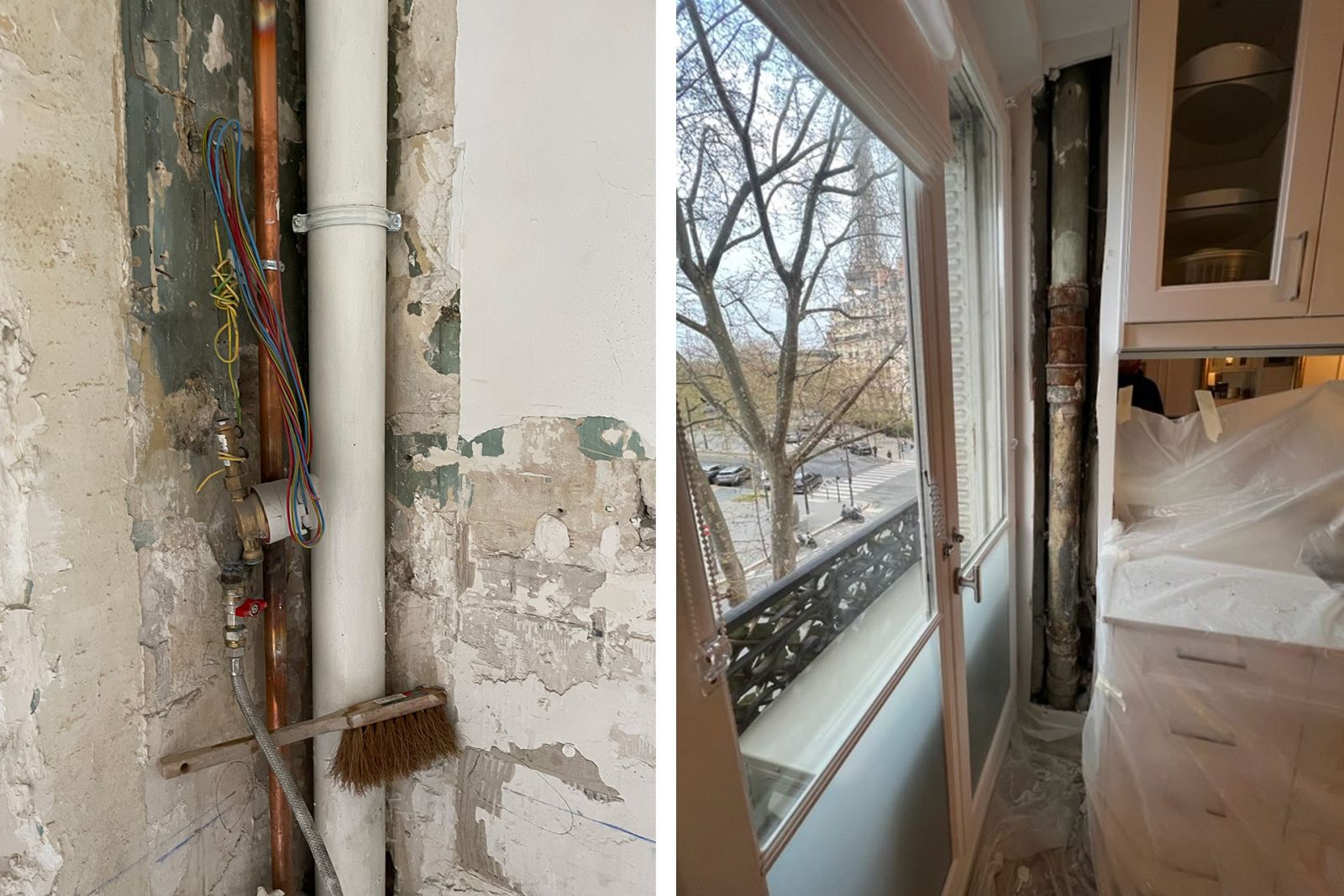 Tip #2: Make sure you find solid advisors. Many real estate agents will offer lots of suggestions to improve an apartment. However, they themselves may have limited experience in remodeling, so take anything they say about remodeling with a grain of salt. In some cases, they don't even know how to check whether a wall is a retaining wall or where the evacuation pipes are in an apartment. Definitely ask the contractor for references.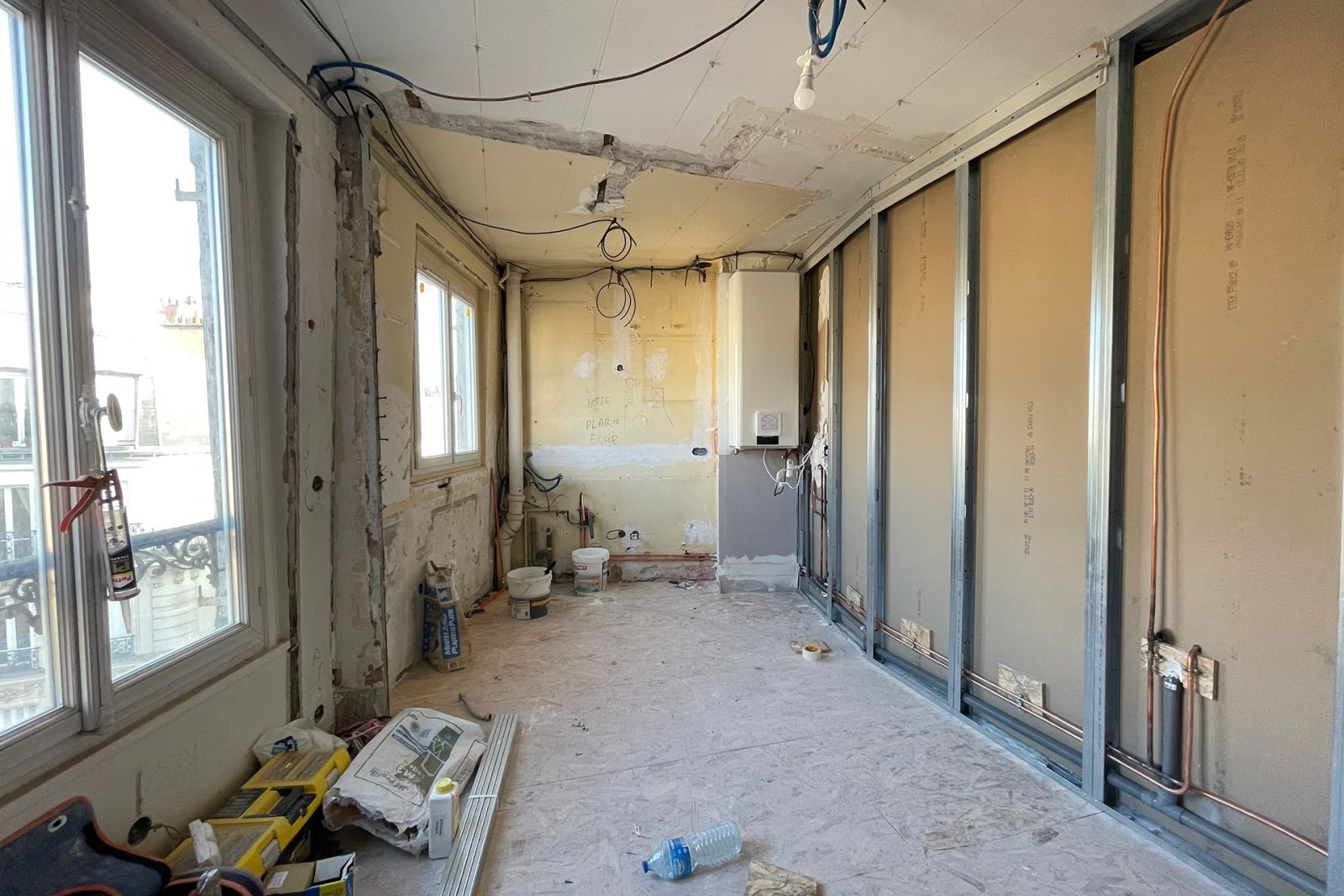 Top #3: Watch out for these common cover-ups and problems while remodeling:
Walling in the hot water heater behind a shower. Common mistake, provides no access for repairs. .
Under-powered electrical plan. And not enough electrical outlets in kitchens, charging areas, next to beds etc.
Not adding new plumbing – usually essential when many apartments have outdated plumbing and small hot water tanks.
Bad soldering in the plumbing using incompatible materials; i.e. mixing plastic and copper pipes. Same for joins.
Not respecting water pressure and distance for kitchen or bathroom drainage.
Telling you that a toilet can be installed in a location that can only take a mechanical motorized toilet which is not permitted in many buildings.
Electrical outdated wiring is a major weakness in old apartments. Plan on replacing all.
Electric norms must be to the NFC-15-100 standard (also called C15-100) requirement. You should require a "Certificat de conformité" for electrical installations.
Electricity powered for 9KVa or more: (1 kVa = 1,000 volt amps) Many electricians underpower an apartment's "puissance électrique" or electrical power. Some still use 3kVa (3,000 volt amps) as a norm; this is not powerful enough if you have electric heating and a number of electrical appliances. You'll learn too late when your fuse box trips as you run several appliances such as microwave, vacuum cleaner and heating at the same time. We recommend they set the kVa to 9 or more.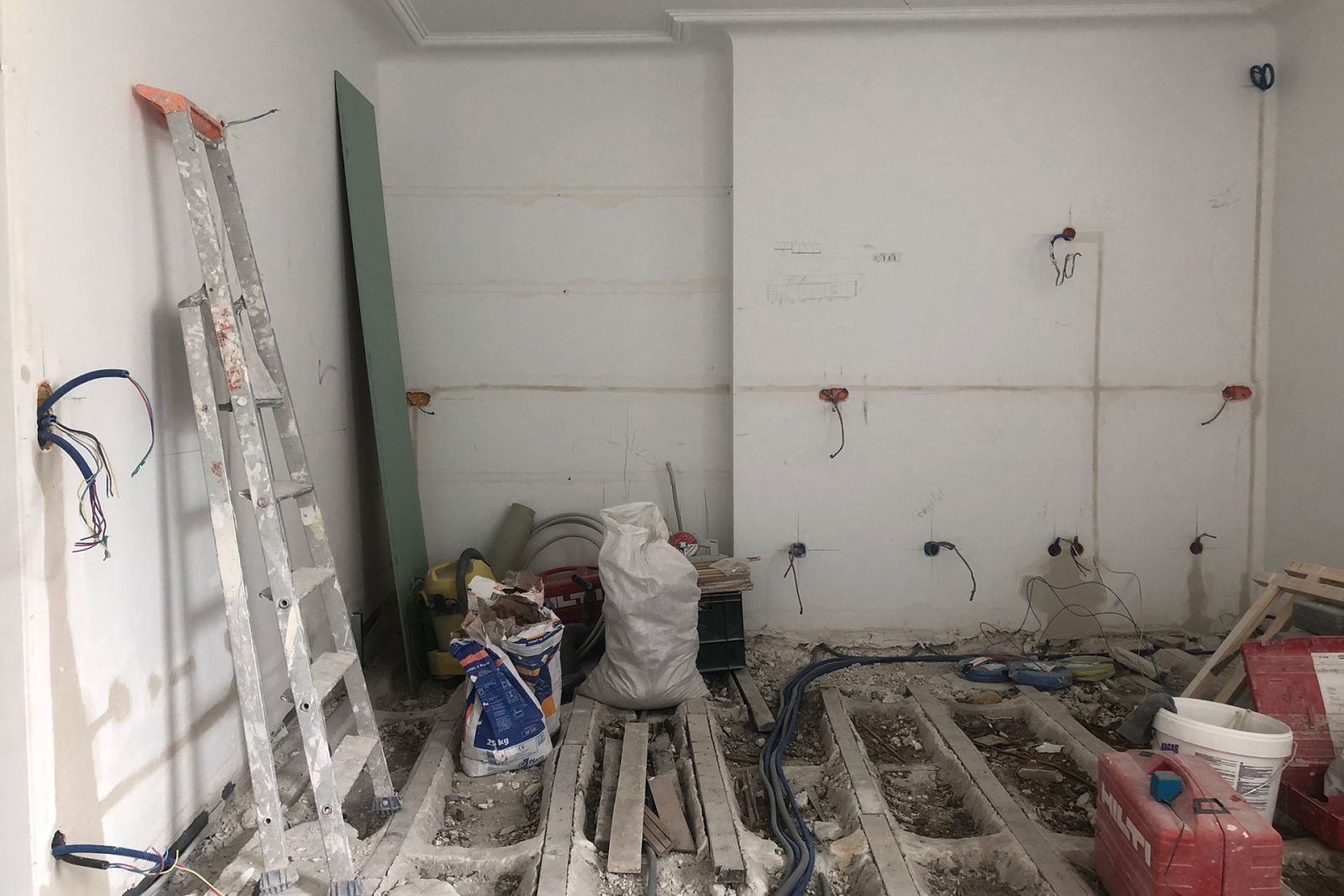 Location, Location, Location
When it comes to remodeling an apartment in Paris, the costs are the same whether you buy in the most expensive arrondissement or the least. Our value lies in helping buyers find the best apartment for the budget in the best location possible, because the renovation costs are the same regardless of location. That's why it's an important part of our services to meticulously research price trends, follow updates on the property market in Paris, to determine which neighborhoods are most desirable and which retain their value over time.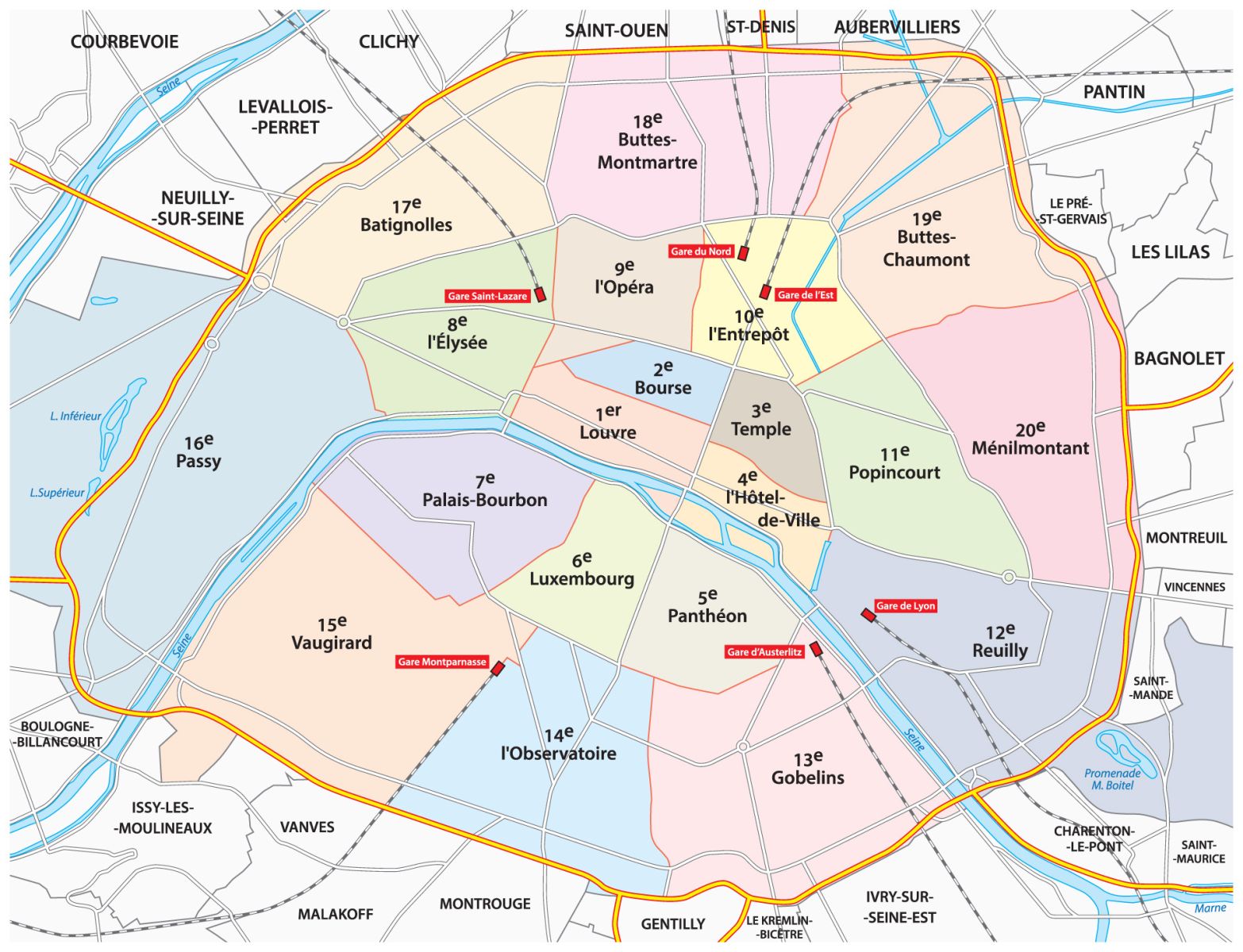 Our passion is finding the best apartment in the best location for our buyers. Please email us if you are interested in learning more.
The Importance of Location: An example was a situation where we showed a client a one-bedroom apartment in the 6th arrondissement for €1,050,000. Although it needed a complete remodel, the location, floor and building were absolutely ideal. The total cost of remodeling and furnishing the apartment would be €525,000, bringing the total cost to €1,525,000. The client also saw a larger apartment in the 13th arrondissement for the same price of €1,050,000. The remodeling costs would be slightly more due to the larger size – the total cost to purchase and remodel would be €1,600,000 for 30% more space. We advised the client that, while they would get more for their money in the 13th, prices and transactions fell more in that arrondissement during the 2009-2013 recession than in the 7th arrondissement. This was important data to consider if they planned to sell in the future. Ultimately, the client concluded that the smaller apartment in the 6th arrondissement was a much better long-term investment for their situation and goals
Building Mistakes We've Seen (and Repaired):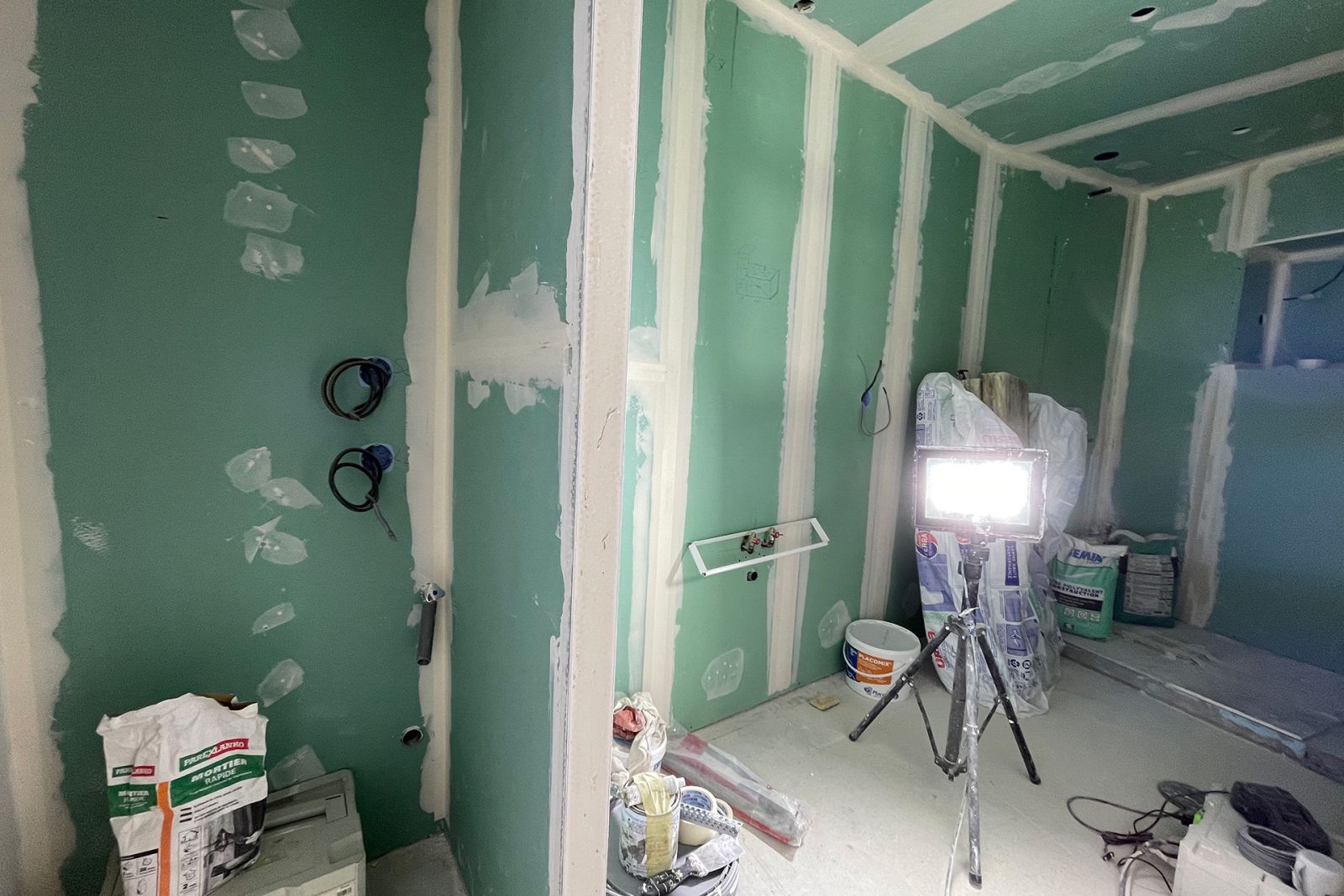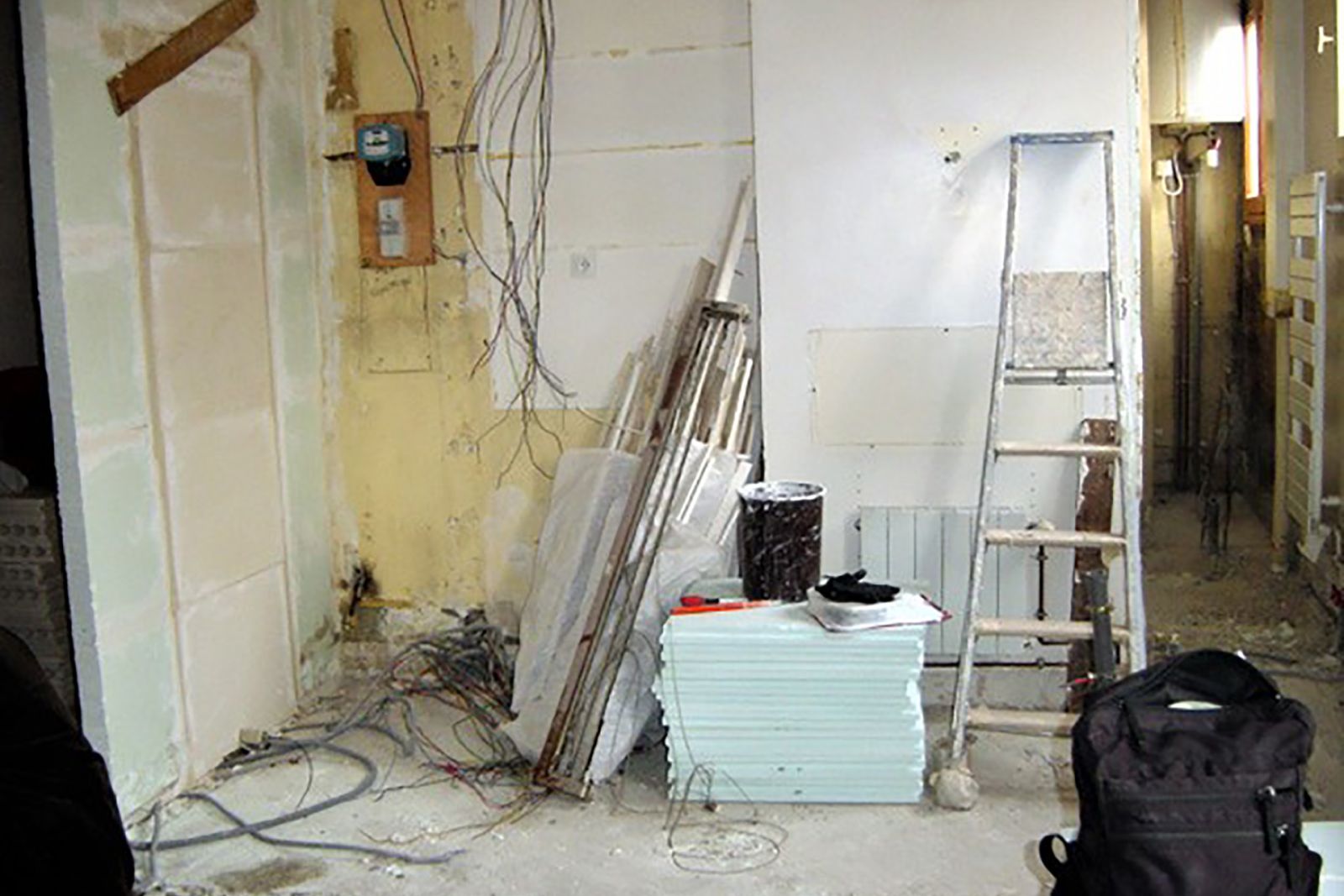 Inferior parts are a real problem, particularly serious with plumbing components and hardware. Check the contractor's receipts to ensure that the supplies are coming from a reputable store. Have a conversation with them that you'll check how the pipes are joined together.
An unknown contractor installed a water tank that was walled-in behind the shower, using inferior parts. A leak occurred, but was only discovered when the downstairs neighbor reported major damage to their flat. Our own contractor had to break open the entire wall and repair. The entire tank and pipework needed replacement, a very costly exercise which the client had to pay for.
A bathroom had a persistent humidity and mold problem. This puzzled us because the fan behind the ceiling panel appeared new and was a top brand. Our contractor crawled into the duct to discover no electrical wiring had been laid and there was no external vent. It was never hooked up! To make matters worse, the entire electrical panel was underpowered and had to be replaced.
A builder advised a client to secretly install air conditioning that ran off the water mains – without obtaining building permission or notifying neighbors in the building. The condenser was placed above the concierge's flat, and when it dripped onto the concierge's bedroom window during the summer, the owner was sued. Needless to say, their apartment no longer has air conditioning.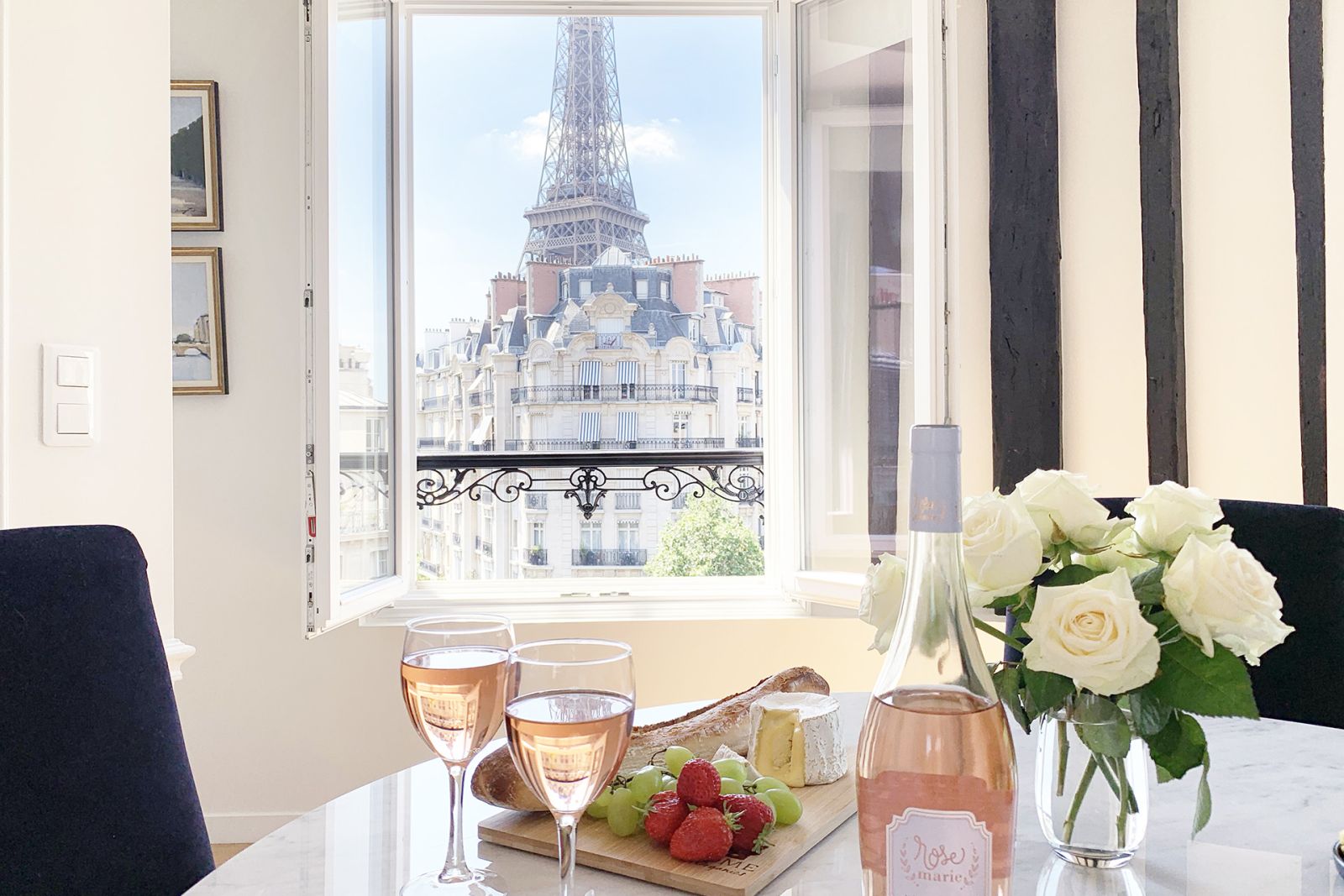 We hope these examples and anecdotes help you understand the passion and dedication we bring to our work – from finding the absolute best apartment for your budget to overseeing the best remodel you could wish for. We are proud of our deep experience and the many owners who are delighted with their beautiful homes in Paris. We will be happy to provide multiple references. If you would like to speak with us about buying and renovating an apartment in Paris, please contact us at [email protected].
Sign up for our Vacation Perfect newsletter and real estate updates.