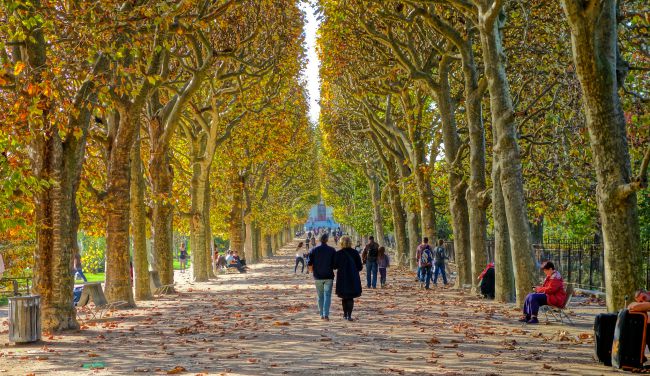 Why visit Paris in fall? It means crisp days, beautiful autumn colors and more affordable travel expenses. Sounds like a great time to visit, right? It is.
From sipping chocolat chaud (hot chocolate) on a quaint café terrace, to watching a concert at one of the largest venues in the city, Zenith de Paris, there are so many things to do and see in the city of lights this time of year.
5 Reasons to Visit Paris in Fall
Experience Gorgeous Fall Colors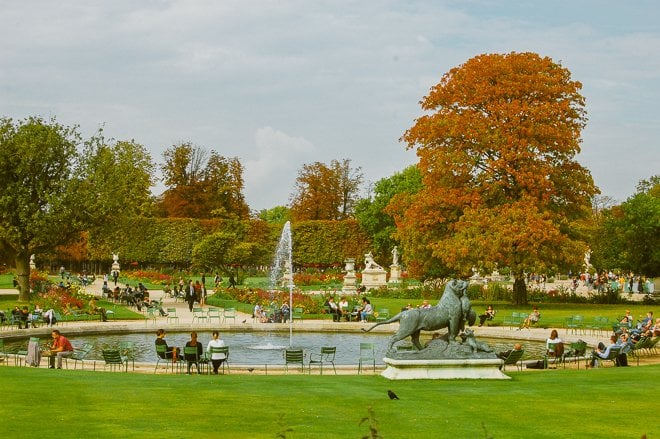 The cool days are the perfect atmosphere to see fall colors. Bring your camera to capture the bursting colors between mid-October to mid-November.
Take a walk through the 69-acre Jardin des Tuileries to see vibrant colors alongside ponds, sculptures and fountains. Travel to the eastern edge of Paris and wander through Bois de Vincennes, the city's largest public park coming in at about 2,500 acres. Fall colors are particularly great around a lake inside the park known as Lac Daumesnil.
Feel Like a Parisian
When fall hits, Parisians are returning from their month-long vacations, kids are heading back to school and the height of tourist season is over. Visiting during this season gives you a more authentic experience. You won't be run over by tourists on the sidewalks, or fight for tables on a terrace. It's just you and the locals. What better way to experience Paris?
 It's Less Expensive
From airfare to apartment rentals, visiting Paris in the fall is more affordable. During the summer months, demand pushes the price of airfare and lodging up.
In fall, rates come back down. In fact, right now, you can save up to 25% on handpicked, luxury apartment rentals in Paris.
Enjoy Smaller Crowds
The hotspots in Paris are always popular, but the crowds really thin out in fall. During the summer, attractions are bursting with non-stop tourists. Fall is busy, but it's more enjoyable with fewer people flocking to hotspots like the Louvre and Notre Dame.
Schools in Paris do take a holiday from mid-October to the end of the month, so you'll likely join the locals if you're planning kid-friendly stops during that time, but it's still calm in comparison to July.
To really cut through the crowds, check out the Skip the Line Tours.
Experience One-of-a-Kind Events
Fall is the opportune time to check out unique events in the city. In October, there's a vintage car parade, and an annual event called Nuit Blanche (White Night) where hundreds of art galleries, museums, city halls – even swimming pools – are open all night and are free to the public.
Celebrate the area's rich wine history in the hilly Montmartre neighborhood in October. The area, which was once covered with vineyards, welcomes wine-samplers young and old to an event called, Vendanges de Montmartre.
Convinced to visit Paris in fall? Check out more events in October and November on the Paris Perfect website.
(Image Credits: Falcon Photography, Hannah Wilson, Georgianna Lane, and ErasmusOfParis.)