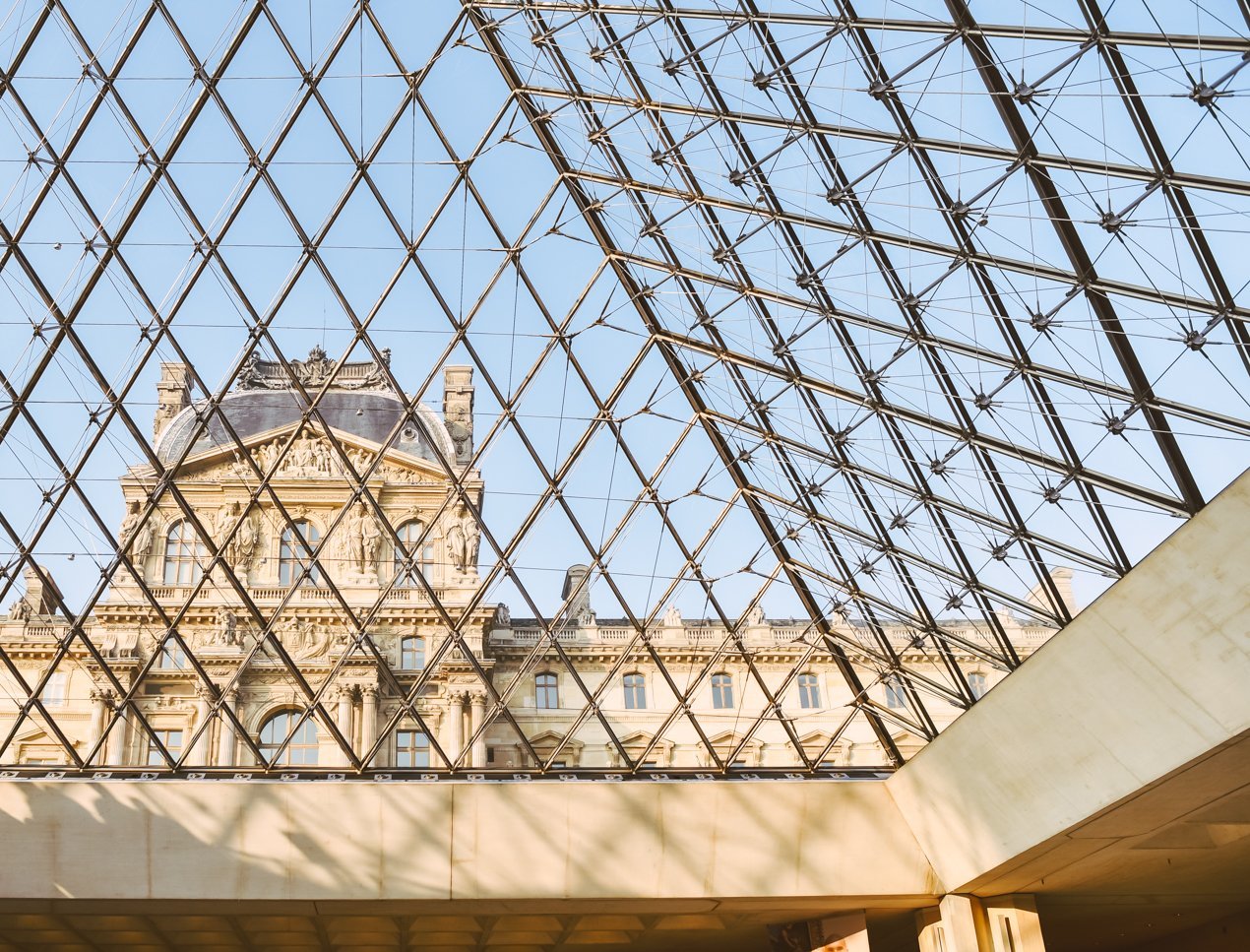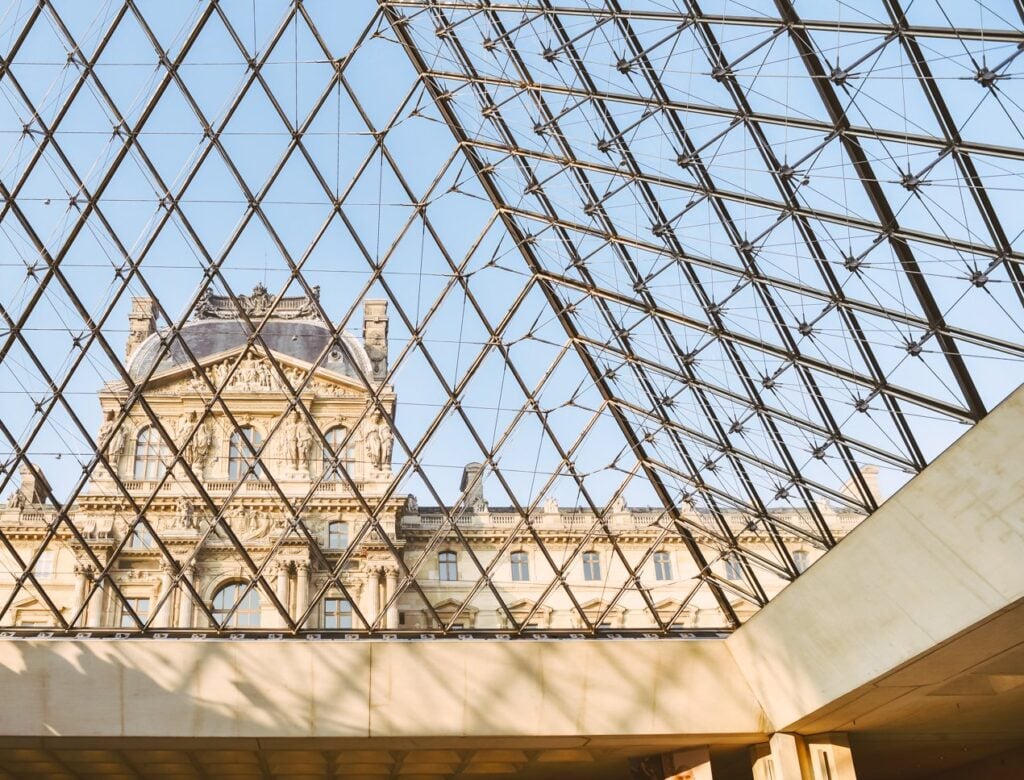 The Louvre: According to many, it's the best museum in the world. So much art, so much history and so many gorgeous palatial rooms. In fact, it's so incredibly huge that it would be literally impossible to appreciate every single work of art in a single week.
There are already tons of guides out there telling you which artworks to see – the Louvre website even has recommended Visitor Trails – but how often have you seen suggestions for which rooms to visit? These spaces combine not only incredible artwork but stunning architecture as well.
In this list, I'll tell you what's so special about each space and where to find it in the Louvre, but the layout can be a bit confusing, even for seasoned visitors. Just use your handy map – don't forget to pick one up before setting off into one of the wings! Keep in mind that the French use a slightly different system for numbering floor levels. Ground level is Level 0, while the first floor above that is Level 1, and so on. When you first enter the Louvre's central foyer, under the large glass pyramid, you'll be on Level -2, two floors underground. If you get lost, don't be afraid to ask a museum guard for directions!
Keep reading to discover 5 truly incredible rooms inside the Louvre palace!
1. Large-Format 19th Century French Paintings Gallery
Where: Level 1 – Denon Wing. Rooms 75-77.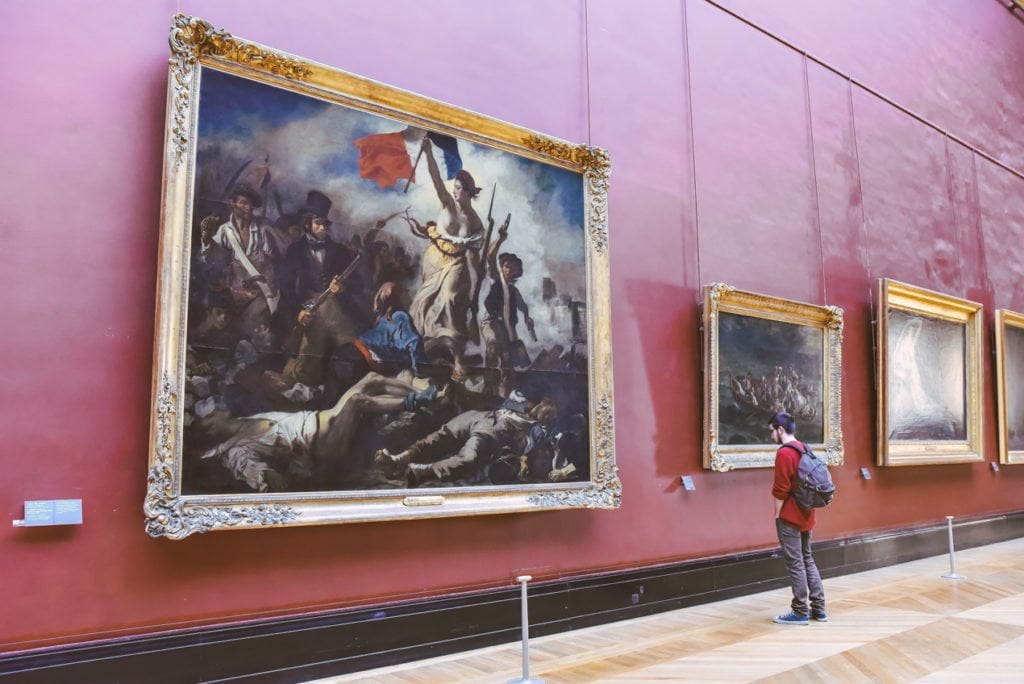 If you've ever opened an Art History book or taken an Art Appreciation course, you'll recognize many of the works in this impressive gallery. The architecture itself is stunning, but the paintings are out of this world. The size alone is incredible, some canvases reaching up to 20 feet tall and 32 feet wide (6 by 9.7 meters), such as The Coronation of Napoleon I by Jacques-Louis David. Other highlights include Liberty Leading the People by Delacroix and Oath of the Horatii by David. We highly recommend grabbing an audio guide or taking a tour to learn the historical significance behind these famous paintings. When you're able to see the context and understand the stories taking place in these paintings, they truly come to life. (PS: The Mona Lisa, known in French as La Joconde, is housed in an adjacent room, but don't get your hopes up too high, this tiny painting is widely agreed to be slightly underwhelming.)
2. Victory of Samothrace Staircase
Where: Level 0 – Denon Wing. Escalier Daru.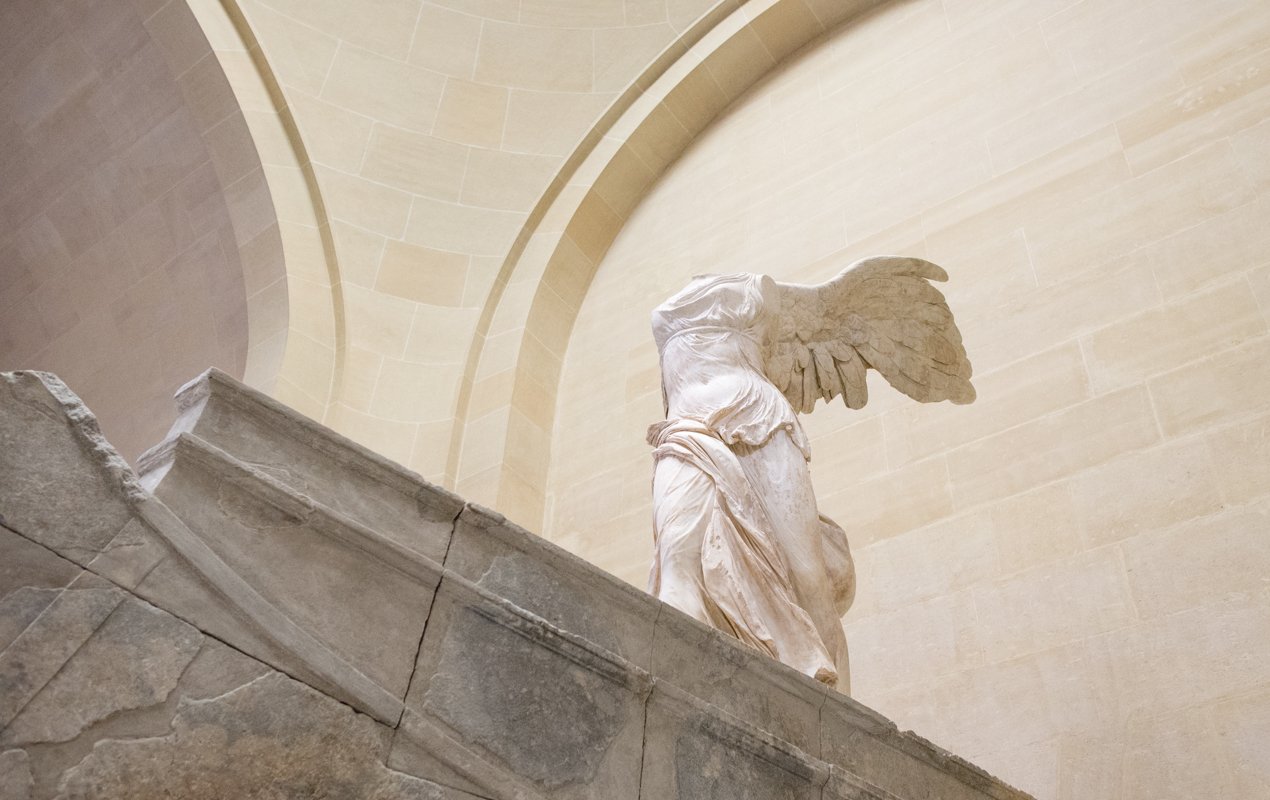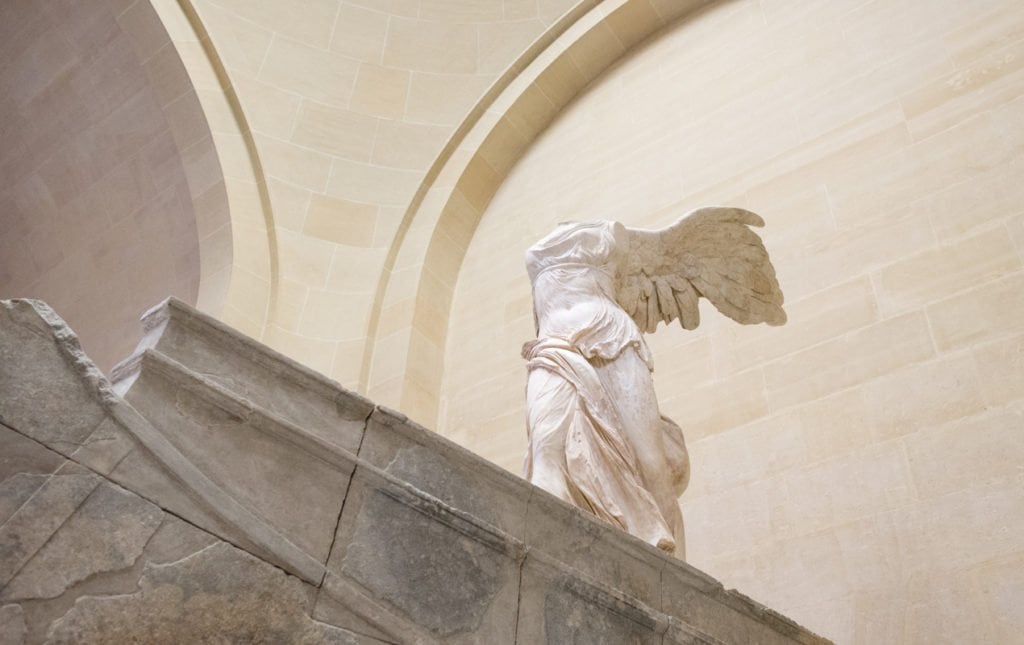 This is one of the most famous rooms in the entire museum, and for good reason. The only work of art inside this expansive space is the Winged Victory, or Nike of Samothrace, sitting at the top of a magnificent marble staircase. You can see it in the distance from the adjoining room, and it's almost goosebump-inducing. No picture really does it justice, but looking at it, you can almost imagine the fabric rippling in the wind as the winged figure stands atop the prow of a boat. Be sure to read the story of how it was found on the large information plaque nearby, it's fascinating.
3. Glass-Covered Sculpture Courtyards
Where: Level -1 – Richelieu Wing. Cour Marly and Cour Puget.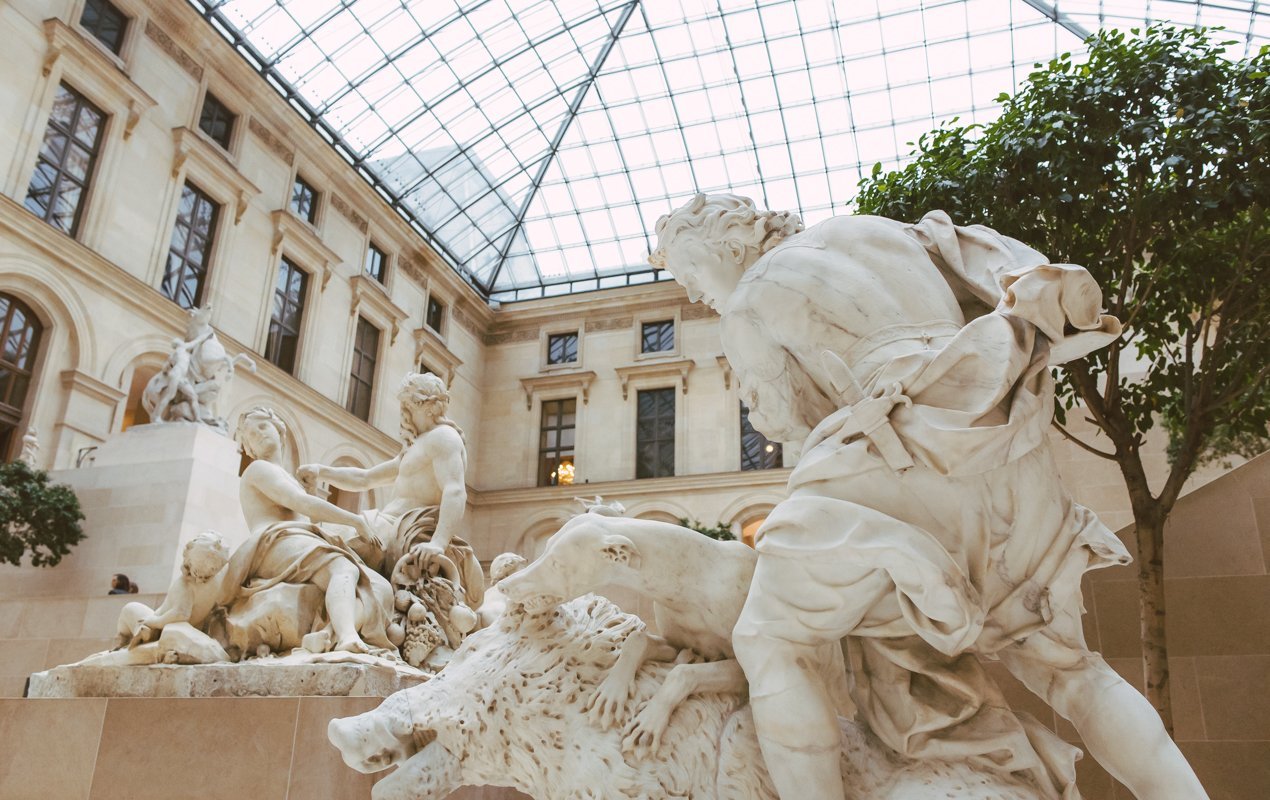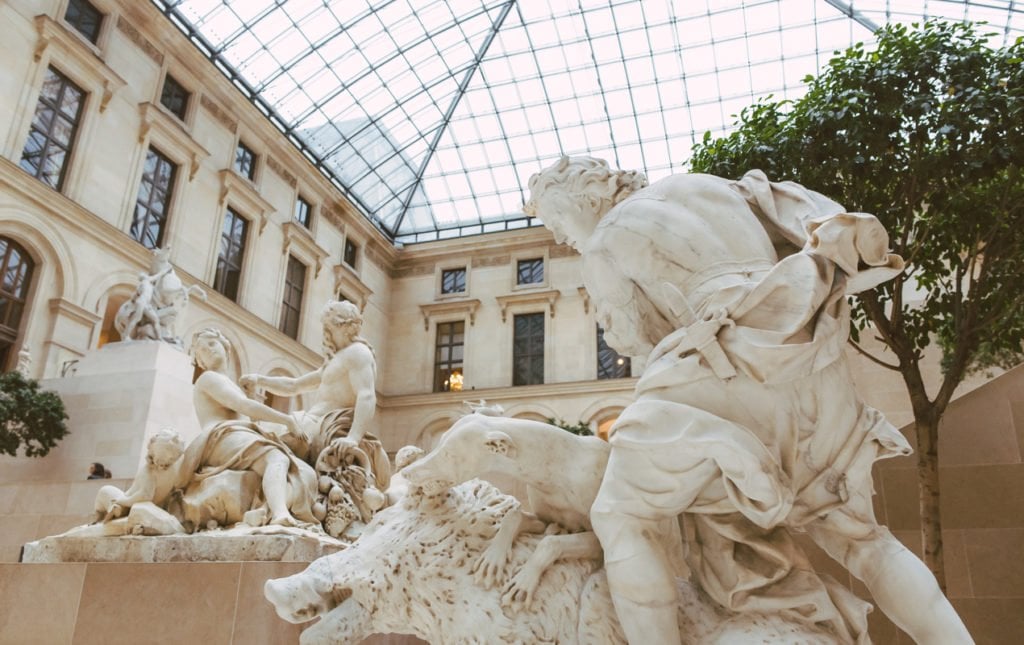 These two courtyards are covered entirely by expansive glass ceilings, allowing tons of light into the space. Each courtyard is interspersed with a few trees, which make it feel a bit more like a garden than a museum. The white marble sculptures look best under natural light, and there are plenty to admire here! This is a great spot to take a rest, since there are lots of benches and your feet will most likely be pretty sore.
4. Napoleon III Apartments – Grand Salon
Where: Level 1 – Richelieu Wing. Room 87.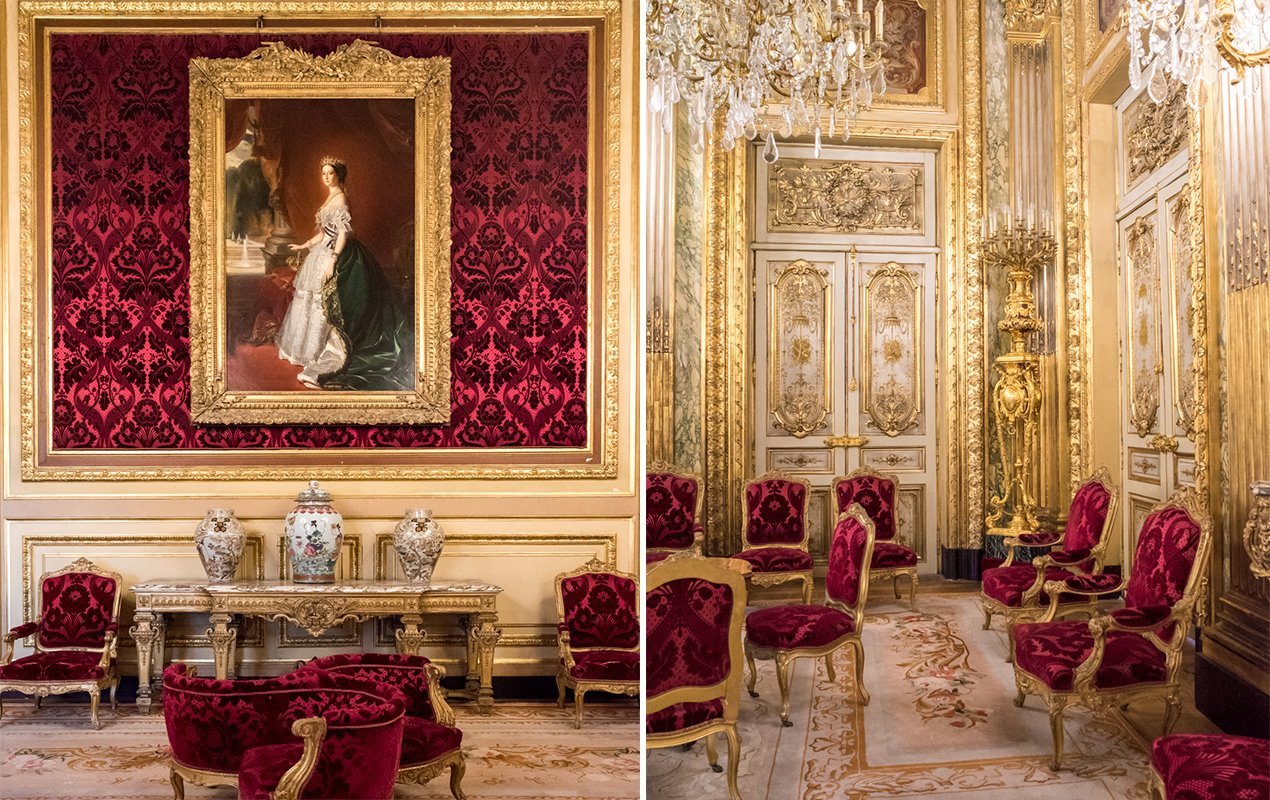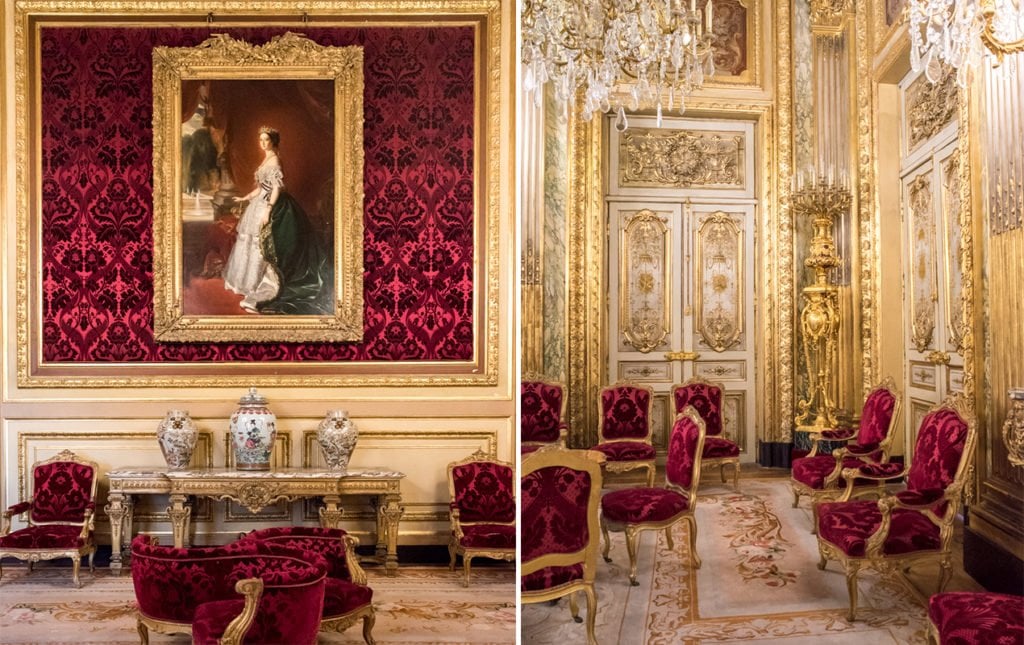 After the somewhat predicable flow of framed paintings on walls and white sculptures against neutral walls, it comes as a visual shock when you step into the Grand Salon of Napoleon III! It's dripping in gold and covered in rich crimson-hued upholstery. I could even go as far as to say that it's more opulent than Versailles – which is saying something! The painting of Eugénie (wife of Napoleon III) on one wall is beautiful, and the adjacent dining room is seriously impressive.
5. The "Optical Illusion" Staircase
Where: Level 1 – Richelieu Wing. Lefuel Staircase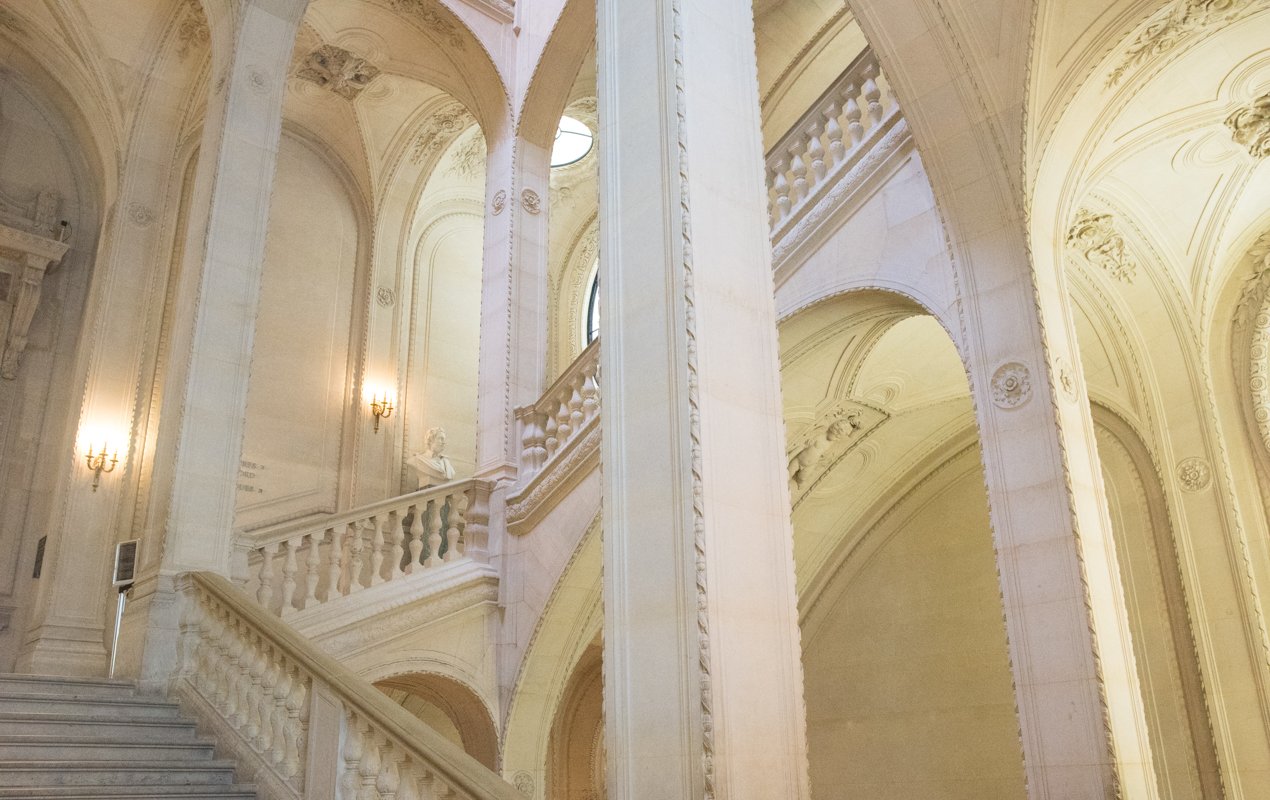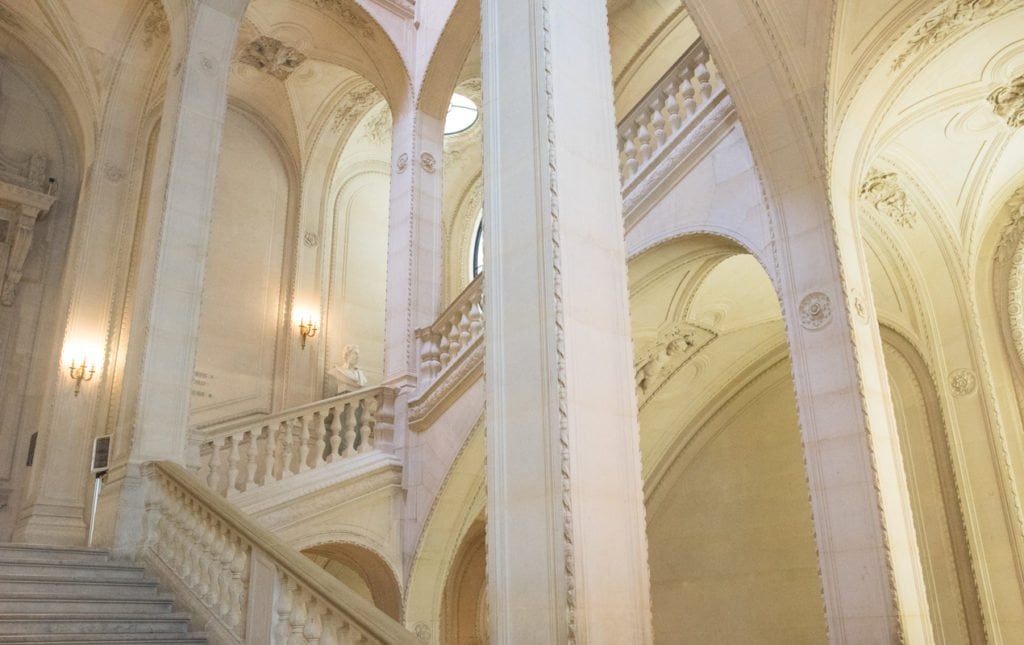 I like to call this the "optical illusion staircase," but that is not its official name. The reason why is that it reminds me of a surreal M.C. Escher print, famous for his intersecting staircases that somehow seamlessly blend into other staircases – you can't figure out where one ends and another begins! That's a little how this staircase feels, with multiple levels, columns, and arches that criss-cross over one another in a sublime assemblage of marble. This room can be a little tricky to find, so ask a museum attendant for directions if you get confused.
_____________
The Louvre displays 35,000 works of art in 652,000 square feet of permanent collection space – that's a lot of art! We hope that this guide helps make your trip to the Louvre a little more manageable and a lot more exciting. However, if you'd like to get a deeper knowledge of the museum, then check out one of our incredible tours!
Also check out this very helpful guide before you go: How to Skip the Lines at the Louvre.
One last thing – here is a link to the map of the Louvre museum in 13 different languages: Louvre Floorplans.
(All images by the Author.)