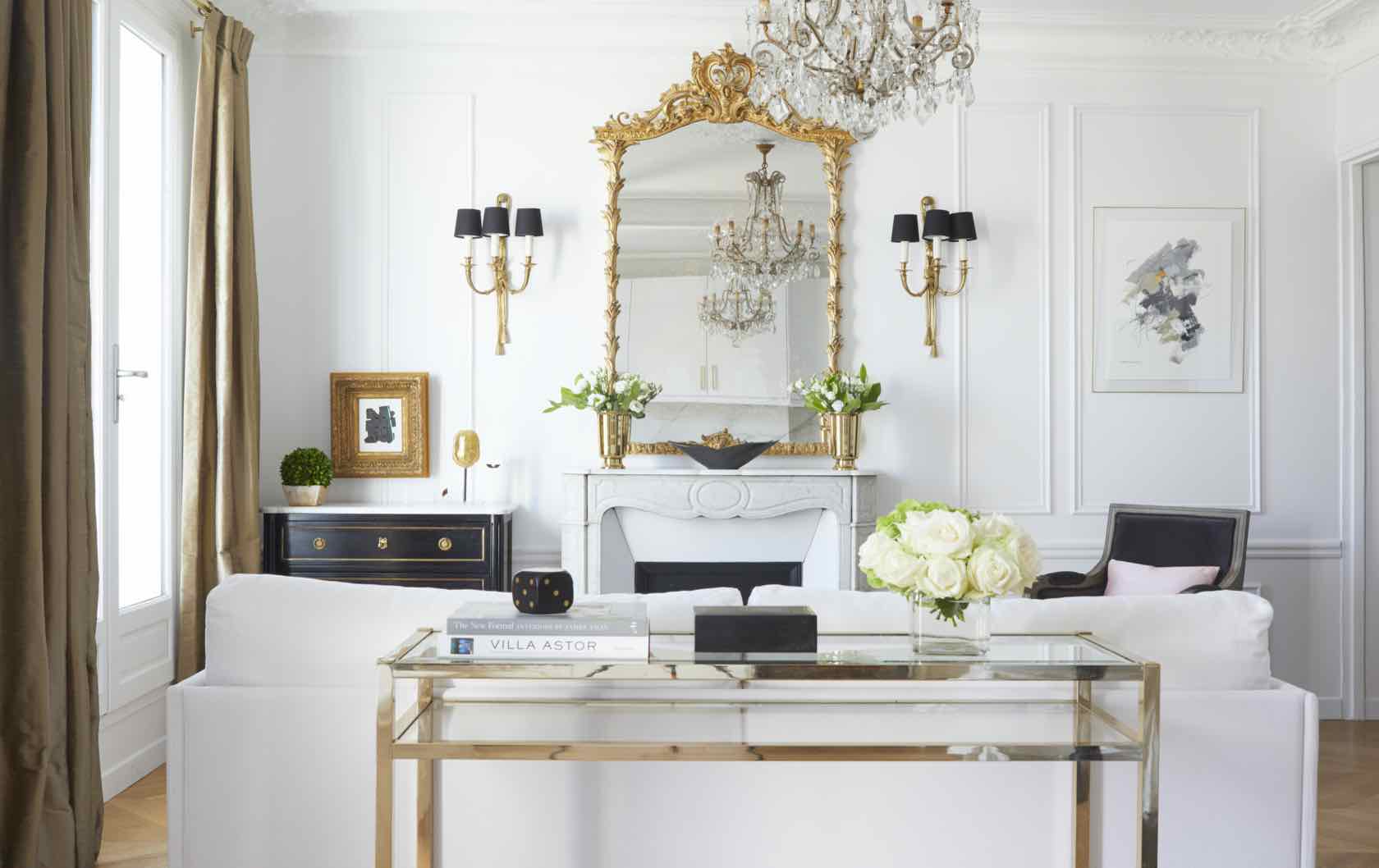 For many years, Paris Perfect has had pleasure of working with Ann Huff, the marvelous design talent behind many of our most beloved apartments. Delightful and a joy to work with, Ann is the co-owner of Huff Harrington in Atlanta, a home furnishings store, art gallery and interior design firm. Alongside Paris Perfect founder Madelyn Byrne, Ann has led the design of Paris Perfect's fractional co-ownership apartments since the beginning. How did this long-term relationship come to be? We sat down with Ann (always a pleasure!), and got the scoop.
For more information on our Paris Perfect co-ownership opportunities email us at [email protected]. For regular updates on exciting interior design projects, fractional co-ownership properties and before-and-after apartment renovations, follow us on Instagram! Also, see our blog answering some of our most frequently asked questions about fractional co-ownership.
Paris Perfect:  Ann, you have been renovating and designing the Paris Perfect Fractional apartments for some time. How did this happen?
Ann: Maddy and I bonded over some pink chairs!
Several years ago, my husband and I, fulfilling a lifelong dream, bought an apartment in Paris' 7th arrondissement, with a lovely view of the Eiffel Tower. I knew it was going to be hard, but had no idea how hard! I set about to renovate it long distance, using a team of unknown contractors recommended by our concierge. I wish I'd met Paris Perfect's renovation team before we took on the project, but with the help of my team at Huff Harrington Design, we painfully struggled through the transatlantic process and finally finished it, with stories to tell and words of caution to the uninitiated!
On a whim, but feeling pretty good about how it all came out, we invited Maddy to stop by for a glass of bubbles. To our great relief, she walked in, loved it and the rest is history.
What about the pink chairs?
Initially, the apartment was a typical Haussmann-style railroad flat, with the kitchen tucked in the back at the end of a long hallway. We juggled the rooms and created a traditional French country kitchen in the front, facing the Eiffel Tower, and built around a beautiful marble fireplace, while keeping some of the pretty original details of the apartment. We found a gorgeous painting that had some pink in it and decided to play with that color by covering the back of the chairs in a pink check. Maddy loved that feature, took this picture and she posted it in a blog – and the next thing we knew, those chairs went viral and were all over Pinterest! I'd like to think that those pink chairs cemented our relationship.
How did Maddy happen to hire you?
We rented our apartment through Paris Perfect for several years, until we sold it. I believe that those chairs helped make it one of their best-rented apartments! In the meantime, Maddy had a few other projects that she asked our design team to work on — first in London, then Paris and finally in New York. Each time, she was the most enthusiastic and supportive client, and we discovered how much we had in common and became good friends.
How did the work evolve?
After working on several projects together, we developed a deep trust and appreciation for each others' businesses. One day, Maddy found a little gem on the 6th floor of one of the best streets in Paris, with a stunning view of the Eiffel tower and two windows, one facing southeast and the other southwest. She asked if we could renovate it. Of course, we agreed instantly! A chorus of doubters told us that the apartment could never be transformed to a one bedroom, but against all odds, we did it! Maddy was thrilled; the apartment turned out to be a real jewel and it cemented our partnership.
What was next?
In her inimitable way, Maddy found another apartment, just down the street that was larger, had an incredible view of the Eiffel Tower with a small balcony, and a bedroom in the back. (We tried desperately to stretch it into a two bedroom, but this time reason won out, and we instead created a beautiful one bedroom, with a pull-out couch in the living room.)  Much like our first apartment, we decided to move the kitchen from the back to the front rooms, creating a light-filled double living room with a stunning view.
What other projects have there been?
Our next project was one for which I had initial doubts, although Maddy was insistent. Many of the apartments that we've found are in such bad shape that you feel great about gutting them, moving walls, and starting from scratch. This one was already renovated, and at first, I tried convincing Maddy that with a little lipstick, we could make it beautiful. But she is a visionary, and with her persistence, we took it down to the studs and rebuilt the loveliest, light-filled apartment that quickly became a favorite.
Our most recent renovation was more of the typical "great bones, great view and bad layout" type that we love to tackle. Although the setting is superb, and the view sensational, this one dealt us a lot of challenges due to the location of some of the pipes and some unmovable walls. Plus, there was an additional challenge called covid. After our initial apartment visit, we couldn't get back to measure, photograph, and monitor the progress. Because this one was fraught with so many issues, I find the result even sweeter. I love the Vivant apartment and could move there in a heartbeat!
I understand you've found a few apartments in Paris. Is the Paris real estate market easy to penetrate?
Oh my gosh, no! The Paris real estate market has always been extremely competitive. In a city that can't expand up or out, there is just a limited amount of real estate, compounded by the fact that many Parisians don't want to give up their patrimoine – which basically means real estate, but it has an even bigger emotional meaning to it. So with very limited supply and lots of buyers (I believe there are 10 buyers for every apartment), you have to be on top of the game, if you're going to find an apartment. If you want to play the game, you've got to be very competitive – like Maddy! She is a real pro who taught me to look for things like light, view, building quality, neighborhood and anything sexy like a balcony or high ceilings.
I used to wake up at 4 a.m. just to look at the day's new offerings and pounce on them before they hit the wider circuit. Paris real estate agents are always very cagey about the locations, so I became an expert at walking up and down the streets on google maps, identifying some little element, like the shape of a balcony or a roof line, that would indicate the location. (I called it my morning exercise!) If it looked OK, I would pounce – and despite this, and my deep knowledge of the 7th arrondissement, I would still lose out more often than not.
Hence, the fractional co-ownership concept?
That's right. Our clients figured it out, as did we, that while many of us dream of owning a little pied a terre in  Paris, we don't want to go through the hassle of finding an apartment, buying it, dealing with the financing, the renovation, furnishing and the taxes, only to figure a few years later that we're paying for a costly, empty apartment that we can only use a few months per year. (Although, we may have gained popularity among our friends!) The shared concept is such a smart idea, and we are huge proponents of it. I also love the idea that all of the maintenance and cleaning is included, so when you arrive, the beds are made, the towels are fluffed. All you have to do is show up!
What are some of the renovation challenges in the Paris apartments?
The toilets! Keep in mind that all of the buildings are at least 100 years old, and typically there is only one sewer pipe for each building, usually hidden in a corner of the back. So you have to be pretty clever and lucky to hook up more than one toilet in an apartment. We have figured out ways to get around this in most cases, but when we identify this issue in a potential apartment, it can be a deal killer. We also run in to issues with load-bearing walls and chimney flues that can eat up wall space, especially as you go up higher in the building. It's a lot like working on a jigsaw puzzle; it's a great feeling when all the pieces come together!
Are there any challenges to the decorating?
Yes indeed, we joke about this all the time!  In Atlanta, you can source anything antique to contemporary just by going to the design center and a few retail stores.  There is a plethora of choice in everything from upholstery, to wallpaper, furniture, decorative accessories, rugs, fabrics and more.  But in France, the selection is limited and very different. Like finding contemporary plumbing fixtures in brass!  Good luck with that.  And yet, in the U.S., that's the most popular finish.
While we're accustomed to buying antiques and one-of-a-kind furnishings from vendors all over Europe, it's a little trickier when it comes to contemporary furniture and upholstery.  In France,  upholstery is on a smaller scale, furniture is lower, variety is lacking and taste is more contemporary.  Try finding an upholstered swivel armchair with contemporary lines that is comfortable enough to sit in and watch TV and you're out of luck!  On the other hand, there are some beautiful antique and contemporary one-of-a-kind pieces that we just love and often they come with an interesting story which is all part of the fun.
How do you determine the style of the décor?
Before we bought our first apartment, we had rented several apartments from Paris Perfect and were struck by how they always managed to marry history with modern conveniences and elegance with comfort. Maddy is an expert at hospitality and knows that when people travel, they seek luxury and convenience, elegance and comfort, which is what the Paris Perfect apartments all offer. So we strive to make every fractional apartment warm, welcoming, elegant and French, with all the comforts of an American home!
For us, the inspiration often starts with a piece of original art, which dictates the tone and drives the rest of the décor, like the one above, which came from Maddy's collection. It usually involves mixing antiques with a few contemporary pieces like a modern table, some comfy American-style seating, great lighting, beautiful drapes, interesting accessories and luscious bedding. And of course, we always embolden the view and try to preserve or recreate the historic character of the building, with details like mantels, molding and flooring.
How do you keep the designs fresh?
Each apartment is different, and each one has its unique features that we try to bring out. We spend a lot of time gathering a sense of place and letting that dictate the style. We let the bones of the apartment, the light and the view take a lead in the direction, whether it's a very modern and sleek kitchen or a traditional style that would be more reminiscent of a French country estate. And we've learned a lot! Our clients want sleek and clean-looking bathrooms, comfy beds, luxurious sheets, great lighting, high-speed internet and lots and lots of USB and other outlets for charging their numerous devices. I also think that having original art is what gives each apartment uniqueness and soul.
What would you tell the uninitiated about taking on a Paris apartment renovation?
It's not for the faint of heart – even if you speak the language, work with some wonderful contractors, know the area and have great taste! You also have to deal with French bureaucracy, working with limited vendor resources, finding products that don't exist in France, shipping, receiving, timing and incurring the wrath of your neighbors for all the construction. Frankly, I tell them, "Don't bother doing it yourself: Buy a fractional ownership instead!" It's a lot easier and affordable and you'll get to spend more time gallivanting around your favorite Paris haunts, instead of hunting down tile in the back alley of an unfamiliar arrondissement!
Do you have three design tips for our readers? 
We always love a big, antique and luscious mirror somewhere. And two mirrors are better than one!  We often joke that if you have two gorgeous mirrors facing each other and one chandelier in between, you've just bought yourself a dozen chandeliers – all in the reflections!
Original art — we can't live without it. It personalizes any space and gives it soul. It doesn't matter if it's a 50 euro one-of-a-kind flea market find or an important piece by a reputed artist. If you love it, it will work.
And finally, it's all about the mix, which is a key French ingredient and infuses a space with personality and energy. We love to mix new with antique, sleek with crusty, high and low, Louis and Lucite and polished with organic!  There's a French expression that sums it up:  "l'un fait chanter l'autre" which literally means, "one makes the other sing."  And we love to sing!
What's on the current agenda?
Well, I'm happy to announce that we are working simultaneously on two new fractional co-ownership apartments in Paris!
The first is a stunning one-bedroom apartment, from whose 6th floor windows, you can practically reach out and touch the Eiffel Tower! It's on the sunny corner of a one of the most charming and shopping-friendly streets in Paris.
And we're working on another apartment, actually in the same building, that is a beautiful two-bedroom, two-bath apartment. This one overlooks avenue de la Bourdonnais, which in my (completely unbiased!) mind, is the prettiest avenue in Paris.
Oh, and last but not least, we also have a dreamy project coming up in Rome! It's a stunning apartment, with a private terrace in one of the most exclusive, historic parts of Rome. This will be a whole chapter in and of itself, and because of the many twists and turns, may turn in to a book!
We are so grateful to Maddy and the amazing team at Paris Perfect for entrusting us to do what we love best. So, it's cheers to those pink chairs that cemented our relationship so many years ago!
We have two new Paris fractionals coming very soon — a one-bedroom and a two-bedroom! If you're interested in learning more about Paris Perfect Shared and fractional co-ownership, please email us at [email protected] or enter your name and email address in the box below. Our sales team will be in touch with more information and can also schedule a call at your convenience. Don't miss your chance to put your name on our ever-growing fractional waiting list.

To learn more about our fractional transformations, check out the before and after video series for Conti and Vivant. And don't forget to follow us on Instagram for all-things Paris!