Is vacation home ownership in a favorite city such as Paris on your wish list? Paris Perfect has quickly become one of the premiere companies bringing fractional co-ownership to the City of Light. There's been a lot of interest in fractional co-ownership, because it gives the benefits of owning a vacation home for a portion of each year, without the hassles and responsibilities of full second-home ownership.
Anyone who has bought a second home overseas can attest that owning and managing it thousands of miles away is not for the timid, especially when you factor in cultural, legal and zoning differences. The dream is achievable, but the reality is often so fraught with missteps that it has spawned books, movies and TV series all about the follies of owning and renovating a home abroad.
Having been the leader in Paris vacation rental property development and management for over twenty years, locating and renovating over 50 individual apartments and also an entire 400 year-old building, we've learned a lot. Combine that with the many requests from our valued guests who asked us to help them find, renovate and manage Paris apartments. We've documented some of these projects in past blogs, such as the story about helping owners renovate the Merlot apartment.
Not only have we made lifelong friendships with property owners, but we realized there was an under-served niche: people who want to own an apartment in Paris, but feel the investment and responsibilities to buy, remodel and manage a property from afar is too burdensome. We came up with an elegant and affordable solution that provides the best of both worlds: fractional co-ownership.
We have a bounty of information on our website about Paris Perfect Shared, including this FAQ page and this blog. After speaking with a multitude of potential buyers, we gathered some more of the most common questions about fractional co-ownership and compiled them in this blog. From the purchase process to ownership, we're answering your most-asked questions. If we didn't answer your question, please email [email protected].
"After looking and thinking about a pied-à-terre for many, many years and various other groups, Maddy, Phillipe, Ann, Leah and Jennifer made this a very easy yes for us! In fact, they are the very reason for the yes! And it's a yes because they've created a plan which offers your very own piece of Paris … with kindness … immaculate management … storied real estate … beauty … and the opportunity to live and breathe Paris in your own pied-à-terre." –Christy & Todd, US real estate attorneys

BASICS OF FRACTIONAL CO-OWNERSHIP
What's the difference between fractional co-ownership and a time share?
Shared or fractional co-ownership came about several decades ago and was initially launched in resort areas of the United States. It has expanded well beyond to include luxury hotel chains now selling fractionals as part of their portfolio, recognizing the trend of people having more flexibility in their schedules and the ability to live and work from just about anywhere.
An important distinction is that fractional ownership is not the same as a time share. Time shares only qualify you for a stay at a property, but you do not own any part of that property. With fractional co-ownership, buyers have a fully deeded ownership share in THAT specific property. This deeded ownership can be resold or passed on to loved ones. Read an interview with a long-time Paris Perfect guest who became one of our first fractional owners.
PURCHASING A FRACTIONAL CO-OWNERSHIP SHARE
What are the steps of the purchase process?
Step 1: Contact

[email protected]

to learn more about our fractional co-ownership program. Our friendly team will respond promptly and can answer all your questions before you decide to proceed.
Step 2: When you're ready to purchase, we send the contract for your review and signature.
Step 3: The signed contract is returned to us to start the purchase process, followed by a mandatory 14-day review/waiting period. By EU law, we cannot accept any funds until after this 14-day period.
Step 4: After the deposit is received and contingencies are signed, you have 30 days to pay the remaining balance in full.
Is buying one your fractionals a safe/secure process?
From the beginning to the end of the process, we take every precaution. First, we engaged the most respected fractional lawyer in the United States who oversees the process and legal contracts. Once the contract is signed, there is a 14-day mandatory waiting period under European Union law to allow time for due diligence on the part of the buyer, before any money can be accepted. All money paid goes directly to the lawyer's escrow account, and the entire monetary process is monitored by the law firm.
Do you offer financing?
At this time, financing is not offered. If you need financing, we suggest a personal or home-equity loan.
How does owning a fractional versus renting one of your Paris Perfect apartments compare?
Unlike renting, as a fractional owner, you participate in the property value. This also means that you can deed and bequeath your share as you would any other asset. Just like owning a house, you are responsible for the upkeep and expenses of the apartment.
Why is the fractional share price higher than 1/13 of the price of a whole apartment?
You are buying a premium turnkey property, thanks to our expert property search, top renovation, design and management. Paris Perfect Shared fractional co-ownership properties are much more than square meters in a building. Importantly, it includes a full-time management team to handle everything from owner questions to repairs and payment of bills, taxes, insurance, etc. The result is fractional co-ownership, in the best Parisian apartments, without all of the responsibilities of full second-home ownership.
Can I resell my share if my circumstances change?
This is an important indicator of value and staying power. We are proud to say that our share resales have sold quickly and have appreciated in value. In addition, all of the resales to date have been to purchase a share of a new fractional apartment from us or a whole property. Thanks to these impeccably maintained properties, there is even a waiting list for future resales. Should you choose to resell your share, we can market it for a 10% fee.
Do I have to be an American to purchase a fractional share?
No! While many of our owners are American, we also have owners from around the globe. The only thing to note is that the contracts and the owner meetings are in English.
I can't get to Paris to view the property. How do I know what I am buying?
Paris Perfect's vacation rental business was founded in the late 1990s by Madelyn Byrne and Philippe Willems, starting with a single apartment they owned in Paris. With 20+ years of experience, Paris Perfect has been recognized as leaders in guest hospitality. In more than two decades, Madelyn and Philippe have remodeled 50+ Paris apartments, all of which meet their high standards for location and appreciation potential.
We've given live virtual tours and neighborhood walks for potential owners that are unable to visit in person. We've also shown properties to prospects' local friends for an independent point of view. For the Vivant apartment, we created a 3-D virtual tour. See that here. Basically, we're open to anything that will help you become more familiar with our fractional apartments from afar.
Your fractionals seem to sell out very quickly. How do your waiting lists function?
First, contact us at [email protected]. In that email, please let us know if you prefer a one bedroom, two bedroom or larger. We will reply quickly, and we are also happy to arrange a phone call, if that's your preference. We maintain fairness in the order in which we contact people, but if you would are ready to purchase NOW vs. in the future, please provide that information in your email as well.
We can also put you on waiting lists for resales, if there are no current shares available.
Can I purchase my share in a trust?
Yes, you can buy the fractional as if you were buying a whole apartment, be that in a trust, as a couple, as siblings or as family members.
FRACTIONAL OWNERSHIP
Will I have a tax footprint in France?
Our ownership structure is set up so you will not have a financial footprint in France. There is no requirement for a French bank account, tax declaration or even a utility bill and we have created a full administrative and management structure to handle everything for the owners. This was a considerable investment and allowed us to provide the most pragmatic and comprehensive structure.
What is covered in the dues?
The all-inclusive, no-surprise dues cover cleanings before and during your visits, maintenance of the property and building, property taxes, management, utilities, etc., plus a contribution toward periodic refurbishments. This yearly fee takes care of all planned expenses.
In terms of building fees, they are remarkably low in Paris and even significant repairs are extremely affordable, as they are split among all the apartments in the building, then among the 13 owners of the apartment. We have almost 25 years experience with dozens of apartments in dozens of buildings in Paris and know well what eventual maintenance work might cost. We include those eventualities in the reserves which are all part of the annual fees.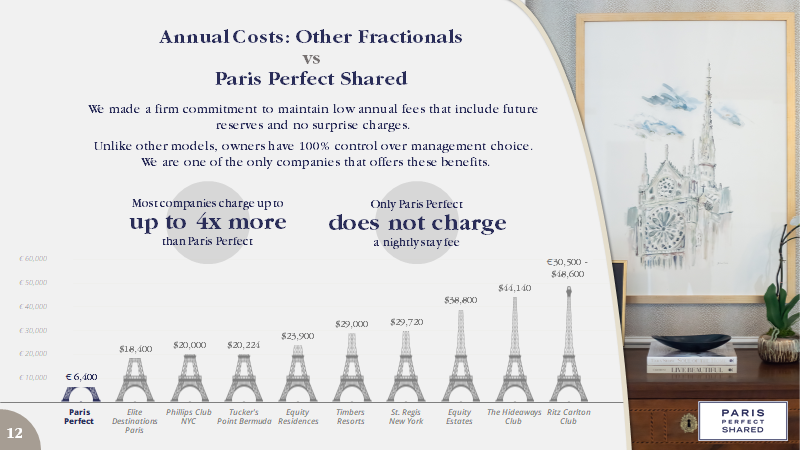 When we studied successful fractional models of luxury hotels and resorts in the U.S., we decided the most important feature was to have low and predictable annual fees, and we succeeded. Our fees are among the lowest in the industry, and we believe one of the reasons for the success of Paris Perfect Shared. We are unique in the industry for "no surprises" management, because our core business is property management. We even have our own laundry division and cleaning company, which is also used for our vacation rentals. The result is that it costs owners very little to stay in a beautiful Paris home for four weeks each year, which is much less than a single week in a five-star hotel room.
How do I select my weeks?
The choice of weeks is done on a rotation basis of two weeks each, similar to professional sports draft. If you are in position one for the first round, then you have first choice of your first two weeks and last choice of the second two weeks. The first-round pick moves down by one each year, and the second-round pick moves up by one each year. This ensures that everyone has the opportunity to select their favorite weeks, either in round one or two.
Importantly, owners get to know each other and can opt to exchange weeks to suit changes in their schedule and longer stays. It must be said that there are no "bad" weeks or seasons in Paris! Every season is special, from snowy days in winter to picnicking in the summer at nearby parks. Please read more here.
Can I rent my weeks if I can't get to Paris?
In short: No. However, you can trade weeks or offer to other owners for the price of pro-rated dues. Also, with your Paris fractional co-ownership comes membership to Third Home, the #1 luxury exchange company in the world. The benefits include complimentary lifetime membership, plus travel credits representing a value of over $10,000 each. The Third Home exchange program includes over 11,000 luxury homes in 95 countries, with an average value of $2.3 million.
Can I give my weeks to a friend?
Yes, you can gift your weeks. You are responsible while friends are using your weeks. Non-owners staying in the apartment are required to pay a greeting fee, which ensures that guests understand the ins and outs of the apartment, helping keep it in the best condition possible.
Can I have more than four weeks? Could all of my weeks be consecutive?
Several of our fractional owners have bought two shares in order to have eight weeks per year in Paris. While there is no guarantee that all of your weeks will be consecutive, owners often get their first picks in a row and sometimes their second, depending on their draft order and what other owners have chosen. We also encourage trading and buying/selling weeks between owners, so everybody gets their desired time.
What if there is a problem during my stay?
We have our expert full-time management team on the ground, the key difference between Paris Perfect Shared and every other company. We are not only experts in maintenance and repairs, but also nearby to respond to any question or problem.
Can I bring my dog?
Currently, property bylaws only allow for licensed service dogs.
Where else do you offer fractional properties?
With the success of Paris Perfect Shared we have expanded our offering to Italy Perfect Shared with the launch of our first Florence, Italy fractional, the Maestro apartment, in late 2022. Maestro is a beautiful apartment with a lovely terrace in the heart of Florence near the famed Ponte Vecchio.
Make sure to get on our wait list by contacting [email protected]. Understanding what potential owners want will help us plan future projects. Also, you can subscribe to our newsletter.
Each of your new shared properties sold out in a matter of days, and there is always a waiting list for the next one. Is there any way to jump the queue? (Yes, we have been asked this a lot.)
Unfortunately, no, but we're excited about upcoming Paris properties, as well as new locations. As an added incentive, existing owners have priority for new locations such as Rome.
What's the best way to keep up to date on your news about new properties and locations?
Feel free to email [email protected] with your questions about Paris Perfect Shared. And be sure to keep in follow us on Instagram, Instagram Stories and Facebook!